November 23, 2018
Christmas Tree, Wreath Sale to Benefit Local Charities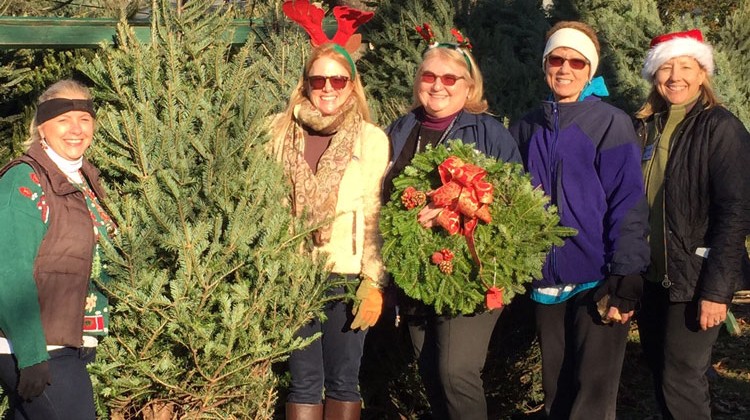 As the holiday season approaches, Binney Park prepares to welcome back a festive annual visitor. Just across Sound Beach Avenue, on the front lawn of First Congregational Church, the 2018 Christmas Tree & Wreath Sale will get underway on Saturday, Nov. 24.
Volunteers from the church and the surrounding community will gather at 8 a.m. to unload over 500 New Hampshire-grown trees off the long flatbed delivery truck and onto display racks on the front lawn of the church at 108 Sound Beach Ave. "Hot chocolate and donuts will be on hand to keep up the energy for the unloading crew," said Pat Mendelsohn, Outreach Chairperson at First Church. "We're grateful for all the wonderful folks who come out early on a Saturday morning to show their commitment to supporting local charities."
The sale itself will begin as soon as the trees have been unloaded, at about 9 a.m. It will feature premium Fraser Fir and Balsam Fir trees of all sizes, plus beautifully decorated and undecorated wreaths, natural pine roping and premium quality "Last Stand" tree stands. All proceeds will go to support six vital local charities: Kids in Crisis, The Den for Grieving Kids, the Young Adults Program at Pacific House, the Soundwater Young Mariners Academy, Building One Community, and BackCountry Jazz, which provides music enrichment to Bridgeport students.
Trees and wreaths will be offered for sale on Saturdays from 9 a.m. to 6:30 p.m. and on Sundays from 11 a.m. to 5 p.m., beginning Nov. 24. In recent years, the sale has grown into a traditional community event, staffed with volunteers of all ages, including church members, ambassadors from the benefiting charities, and students from Greenwich public and private schools.
"What makes our tree sale so special," said Mendelsohn, "is that buying a fresh cut Christmas tree, beautiful wreath or pine roping for your family is a gift that keeps on giving to those in need, long after the holidays are over. All of the profits from the sale go to support local charities that are addressing critical needs."
This year the church is offering free local delivery of trees, as well as special treats for dogs who bring their owners to the sale.
The Tree Sale is scheduled for three weekends, ending Saturday, Dec. 9, but in recent years most of the trees and wreaths have sold during the first two weekends. "Most people in the community know about our tree sale by now," said Chris Hartwell, Community Relations Chair at First Church. "They love the convenience of picking out a high-quality tree right in the neighborhood, so we get very busy soon after Thanksgiving. We urge people to come early to find the perfect tree for their Christmas celebration."
For additional information, contact the church at 203-637-1791.
Tags:
Christmas Tree
,
First Congregational Church
,
greenwich
,
old greenwich
,
tree sale
,
Wreath Sale