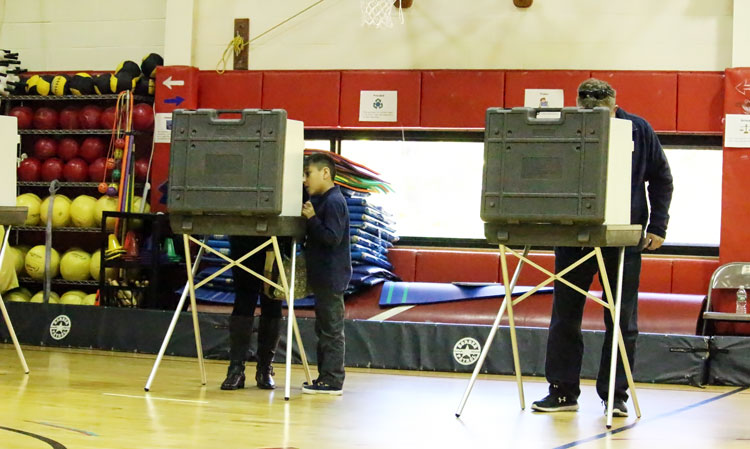 After countless political advertisements, more lawn signs than you could possibly add up and heated debates between candidates, today is the day that Greenwich residents vote for several elected offices.
The polls are open and State of Connecticut residents are coming out in force to make their voices heard.
For the offices of Governor and Lieutenant Governor, Connecticut residents will choose between Democrats Ned Lamont and Susan Bysiewicz, Republicans Bob Stefanowski and Joe Markley, Libertarians Rodney Hanscomb and Jeffrey Thibeault and Griebel Frank for CT Party's Oz Gabriel and Monte Frank.
For the Secretary of State, people will vote for either Denise Merrill (D), Susan Chapman (R), Heather Lynn Sylvestre Gwynn (L) and Green Party's S. Michael DeRosa.
The battle for State Treasurer is between Democrat Shawn Wooden, Republican Thad Gray and Libertarian Jesse Brohinsky.
Five people are looking to become State Comptroller, as Kevin Lembo (D), Kurt Miller (R), Paul Passaarelli (L) and Edward Heffin (G) are looking for votes.
When it comes to Connecticut's Attorney General, the contest is between Republican Sue Hatfield, Democrat William Tong and Green Party Pater Goselin.
For United States Senator, the battle is between incumbent Christopher Murphy, a Democrat; as well as Republican Matthew Corey, Libertarian Richard Lion and Green Party's Jeff Russell.
For the Representatives in Congress, the Connecticut will be voting for two Greenwich residents, as incumbent Democrat Jim Himes is going up against Republican challenger Harry Arora.
Locally, Greenwich will be casting its vote for both State and House representatives in Hartford.
In the State Senator race, Republican incumbent L. Scott Frantz is going up against Democratic challenger Alex Bergstein and Green Party's Megan Cassano.
For State Representatives, In the 150th District, incumbent Republican Mike Bocchino is up against his Democratic challenger Steve Meskers, while in the 151st District, incumbent Fred Camillo, a Republican, is running against Democrat Laura Kostin.
Republican Livvy Floren is running unopposed in the 149th District.
And the Sentinel has you covered. Starting around 8 p.m., Sentinel editor Paul Silverfarb will be reporting from the Democratic Headquarters at the Greenwich Senior Center and Sentinel reporter Richard Kaufman will be at the Republican Headquarters at the Millbrook Club. Both will give updates from the floor on both social media and on Greenwichsentinel.com.