November 6, 2018
Greenwich Democrats Eager for Strong Voter Turnout
Throughout the day, the Town of Greenwich, along with the entire State of Connecticut, has made their voices heard by exercising their rights to vote. With several key contests up for grabs, voting in Greenwich, is at a high. For example, by 6 p.m., just over 60% of the Town has voted.
Paul Silverfarb, Editor of the Greenwich Sentinel, is at the Democratic Headquarters, located at the Greenwich Senior Center, and will update this page throughout the night with poll results and some color and commentary from the event. In addition, check the Greenwich Sentinel Facebook, Instagram and Twitter pages for live updates and some real-time photos and video throughout the night.
To read what it is like with the Greenwich Republicans, Greenwich Sentinel reporter Richard Kaufman will be posting from the Millbrook Club throughout the night. To read his numbers and updates from the GOP, click here.
UPDATE: Nov. 6 at 9:25 p.m.: That moment when you realize that a victory is mere inches away. With only absentee ballots still to count, Steve Meskers leads Mike Bocchino in the 150th District race.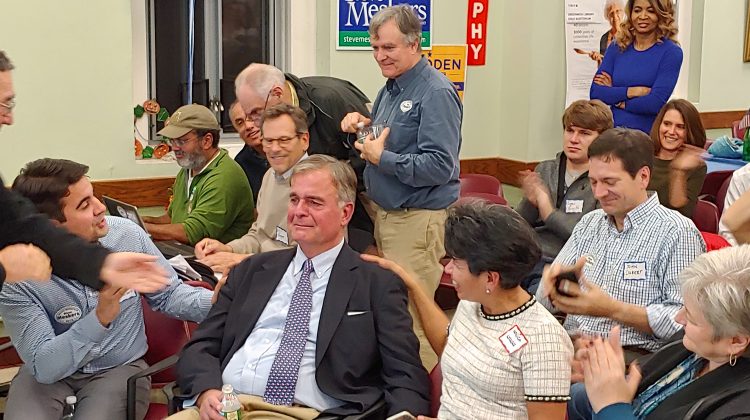 UPDATE: Nov. 6 at 9:20 p.m.: With more results coming in, Steve Meskers has fired up the crowd at the Democratic HQ at the Senior Center. With everything other than District 5 and absentee ballots in, Meskers is up on Mike Bocchino by 429 points. Meskers has 3,833 votes to Bocchino's 3,404.
UPDATE: Nov. 6 at 8:51 p.m.: Some results are filing in, as people at the Greenwich Senior Center eagerly watch the big board of results. So far Meskers  is trailing Bocchino by 170 votes, while Kostin is trailing Camillo by 909 votes. For State Senate, Frantz has a 938 vote lead over Bergstein.
UPDATE: Nov. 6 at 8:08 p.m.: People are filing into the Greenwich Senior Center and the mood here early on is very festive.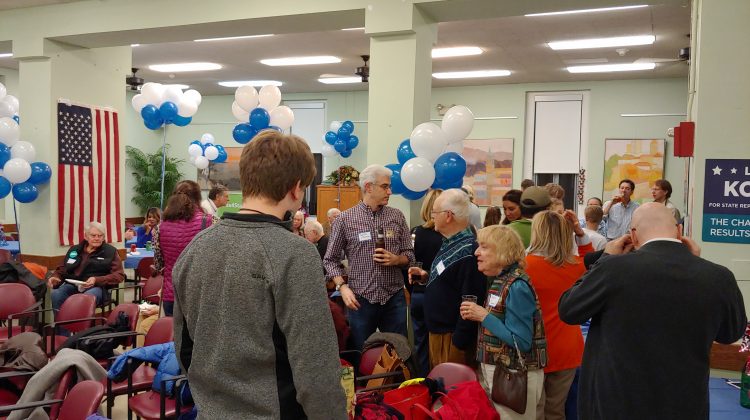 UPDATE: Nov. 6 at 7:51 p.m.: We are mere minutes away from the polls closing and the anticipation, with not only the Democrats, but with Republicans, Libertarians, and the Green Party as well, is building.
Just as a refresher, the Democrats have Ned Lamont running for Governor, Susan Bysiewicz for Lieutenant Governor, Denise Merrill for Secretary of State, Shawn Wooden for State Treasurer, Kevin Lembo for State Comptroller, William Tong for Connecticut Attorney General, Chris Murphy for United States Senator, Jim Himes for Representatives in Congress, Alex Bergstein for State Senator, Steve Mekers for State Representative in the 150th District and Laura Kostin for State Representative in the 151st District.
As results come in after 8 p.m., refresh this page for updates and a running thread from the Greenwich Democratic Headquarters at the Greenwich Senior Center. The updated posts will be at the top of the page.
Tags:
Connecticut
,
ctpolitics
,
democrats
,
greenwich
,
greenwich democrats
,
Greenwich Dems
,
state of Connecticut
,
Town of Greenwich