November 1, 2018
One Shift with Greenwich Police's Beattie Speaks Volumes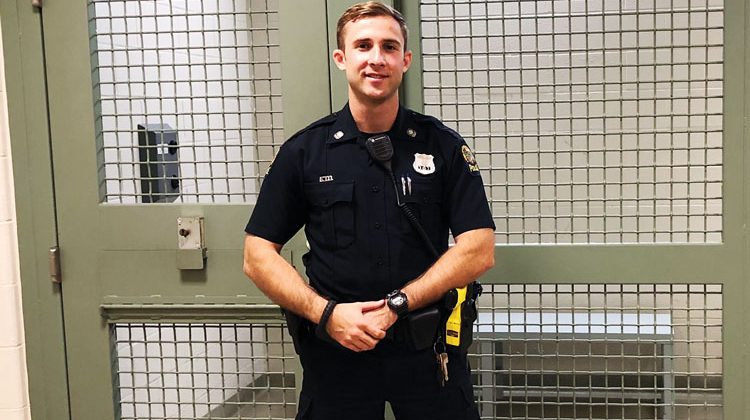 By Michelle Moskowitz
Sentinel Correspondent
According to a recent report by safehome.org, a leading authority on home security, Greenwich is ranked the safest community to live in the U.S.
Last year, Greenwich received top ranking for being the safest place to raise a child, according to SafeWise, a professional review site.
Contributing to those top accolades, the Greenwich Police Department (GPD), centrally located at 11 Bruce Place, is comprised of 155 highly trained police officers, dedicated to the protection of the town's citizens, and to the preservation of the public peace.
Under the responsibility of First Selectman Peter Tesei as Police Commissioner, in conjunction with the leadership of Police Chief James Heavey, operations within the department are vast and include that of patrol, the detective division, including forensics, narcotics, and special victims, as well as operational functions such as traffic, the E-911 communications center, marine operations, and much more.
In its last fiscal year, the GPD responded to 49,345 calls for service.
Perhaps, one key factor contributing to town-wide safety was the creation of the Community & Police Partnership (CAPP), formed in 2004. The CAPP was designed to foster a working, symbiotic relationship between police officers and residents through open communication channels and programs – an essential step when dealing with today's increasing societal challenges.
In concurrence with that effort, the department implemented its Citizens' Police Academy, held twice per year, whereby residents can enroll in a 7-week course, and get a firsthand look at the complex and varied role of local enforcement.  It also gives residents the chance to serve the community, in a capacity they had never thought possible.
Spearheaded by seasoned police officers, topics such as an introduction to policing (including role-playing exercises), crime prevention, patrol operations and narcotics investigations are covered.
Applicants must be 18 years of age or older and must be a Greenwich resident or town employee.
In addition, the department offers a variety of other community-engagement programs including a women's self-defense class for ages 18-55, and an official Police Day open house, held for the past 6 years.
This reporter signed up to do a ride-a-long with Officer Ryan Beattie to experience a day in the life of one of our committed officers and eyewitness that which makes Greenwich the safest town in the nation.
Beattie, who was named officer of the month last Feb. for his extraordinary efforts capturing criminals, is a Field Training Officer (FTO), currently training to become a member of the SWAT team.
While first getting an up-close look at the bustling facility, including the statement rooms, booking area, and stark detention facilities, there were a plethora of officers hard at work in the report room, where officers are required to enter detailed reports on each and every call that comes in.
One such officer present was Siuyan Su Ah Sor, who joined the GPD about one year and a half ago who said she was really happy that she joined the force.
Currently, about 10 percent of Greenwich police officers are women.
After signing a waiver and gearing up with a bullet-proof vest; the plan was to start our ride-a-long around town.
However, several women and men that morning had walked in to the station seeking help, all with domestic abuse complaints that Beattie had to attend to promptly, keeping us at the station for quite some time.
Witnessing these exchanges, Beattie had the utmost calming demeanor, but more so provided each of the parties with detailed, professional advice that put each of these visibly concerned people at ease.
In fact, domestic violence is the most prevalent crime in Greenwich, resulting in more than 200 investigations per year.
Due to this high volume of on-going disputes, the GPD created the Domestic Violence Unit (DVU) back in 2006.  These cases include a myriad of relationship issues from dating, marriage and family strifes.
The DVU conducts investigations, provides protective restraining order enforcement and coordinates with the Domestic Violence Prosecutors at the Stamford Superior Court, adult probation and the Department of Children and Families.
As stated on its website, the goal of the DVU is to "provide victims with the necessary resources to empower them not only to survive, but to move forward with their lives."
After the morning's disputes were documented, we eventually made our way into the patrol car to monitor the downtown Greenwich area, Beattie's jurisdiction.
Officers carry about 30 pounds of gear on them at all times and each vehicle is fully stocked with emergency medical equipment, crime scene processing tools, police tape and other items that need to be maintained on a daily basis.
Patrolling the streets to ensure safety, Beattie's watchful eyes (which consists of 20/20 vision as is required of all officers or with corrective glasses) are heavily focused on the nuances of the streets and traffic flow of the town, all while actively listening to the dispatcher 24/7.
"Having high visibility enforcement is the number one way to reduce traffic fatalities," said Beattie.  "I love my job because every single day is different. It could be saving somebody or a high-speed car pursuit."
"But most rewarding is getting drugs off the street – that one bag could kill somebody."
Considering the pervasiveness of opioid addiction and ensuing fatalities, as well as the alarming incidences of school and community shootings, the GPD and the Board of Education agreed to add a second School Resource Officer (SRO) at Greenwich High School this year.
The SRO's underlying task is to provide resources for students and staff members pertaining to all matters affecting and protecting the Greenwich youth.
Beattie took some additional time to answer this reporter's questions and provide further insights as to what it takes to ensure the well-being of the community.
GS: After going on a ride-a-long and spending time at the station, it is evident that a day in the life of a Greenwich police officer requires a great deal of both mental and physical acuity. How do you prepare for your shift each day and how do you decompress afterwards?
RB: I prepare with coffee of course. I just try to make sure I'm focused, and all of my equipment is in good condition before a shift. I also like to work out before most of my shifts.  I really love what I do so getting motivated to come to work isn't hard. Afterwards, I decompress with hobbies like judo, cooking and spending time with loved ones.
GS: You were named Officer of the Month in Feb. 2017 for apprehending eight criminals. What did that entail and what did that mean for you?
RB: The first two arrests were for a bank fraud scheme and entailed a pretty lengthy foot chase leading up to the arrests. The next was a motor vehicle stop in which narcotics were located inside the vehicle. And the final five criminals all stemmed from another simple motor vehicle stop where after a vehicle pursuit, all five occupants were arrested in connection with an organized crime ring responsible for identity theft throughout the east coast.
For me, it was an exciting and rewarding experience in which I (and all of the officers who helped me) were able to keep career criminals from committing crimes in our community.
GS: Your grandfather was the chief of police in Greenwood Lake, NY, who you said inspired you to become a police officer since you were young. What was the spark for you, and what steps did you take to ensure it would happen?
RB: My grandfather was always an inspiration to me and hearing about his experiences on the job got me interested at first. I always made sure I did well in school and stayed out of trouble, because when applying for a police job, everything counts.
GS: Has there been a decline in DWI incidents due to the use of Uber?
RB: I'm not sure what the statistics are regarding that, but with how easy it is to call for a ride using apps such as Uber, nobody should even be thinking about trying to drive under the influence.
GS: The GPD is currently recruiting full-time officers. Can you briefly describe what the application/training academy entails and how one can go about the process?
RB: GPD is currently accepting entry level applications until Nov. 4 and applications can be found at greenwichct.gov. After a written test, several interviews, more screenings and a background investigation, you can begin the police academy which entails 6 months of both classroom and hands on practical learning.
GS: What does it take to be a police officer?
RB: Being a police officer is a great job that is both uniquely challenging and rewarding.  It takes dedication to service, respect, courage, fairness and diligence.
GS: How can the residents of Greenwich help assist the GPD in ensuring the community is as safe as possible?
RB: The residents of Greenwich are one of the greatest assets when it comes to ensuring the community is safe. We can't be everywhere at once, so I would encourage all residents to help by reporting anything suspicious or out of the ordinary to the police. The watchful eyes of the community often result in the prevention of many crimes and the apprehension of criminals.
GS: The department offers an explorer club for kids in 6th, 7th and 8th grades as well as an exploratory career education program for kids age 15 and up.   From your experience in the field, what messaging is particularly critical for our youth today?
RB: Our youth today should be exposed to positive role models who exemplify what it is to be an upstanding citizen. They should know that it's ok to make mistakes but take responsibility for them and learn from it. The GPD Explorer program is a great opportunity for kids to be exposed to people of this character and offers an opportunity for teens interested in a career in law enforcement to get an inside look at how it is.
GS: In what capacity of law enforcement do you see yourself in 5 years? 10 years from now?
RB: I hope to serve the community in an investigatory or supervisory role.
GS: What about your job brings you the most joy/reward and how do you combat fear of the unknown?
RB: I find that I get the most joy out of making a victim of a crime feel whole again and catching the bad guy, of course. A simple "thank you" from a citizen never fails to make my day. I don't necessarily fear the unknown. You just have to approach things, see what happens and adapt to them as needed.
Visit greenwichct.gov for more information on the GPD and its training programs. To report any criminal activity, call (203) 622-8004 or via the email tip line or call (203) 622-8000 for non-emergency contacts.
Tags:
GPD
,
greenwich
,
Greenwich Police Department
,
Ride-A-Long
,
Ryan Beattie