October 27, 2018
United Way Screens 'Resilience' to Promote ECAGS Program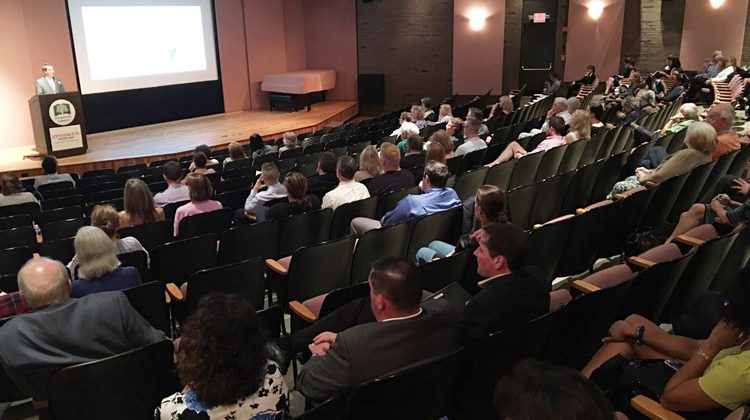 On Sept. 26, the Greenwich United Way (GUW) along with Direct Impact partners; Family Centers, YMCA of Greenwich, and Greenwich Public Schools, hosted an event to promote the new Early Childhood Achievement Gap Solutions (ECAGS) program. GUW launched their research-based approach to narrow the achievement gap which focuses on two approaches: (1) Greenwich Parents as Teachers and (2) Pre-school Instructional Coaching.
Dr. Janice Gruendel Ph.D., a leading expert on early childhood development and education, was invited by the Greenwich United Way to moderate the event which included the screening of award-winning film, Resilience, followed by a discussion with the audience. Greenwich International Film Festival partnered with Greenwich United Way to promote the event.
Resilience chronicles "the dawn of a movement" that is determined to protect children from the insidious effects of toxic stress through cutting-edge science and field-tested therapies. Resilience premiered at the Sundance Film Festival in 2016 and has been presented at other film festivals around the country. "This film demonstrates how toxic stress at a young age is putting youth at a greater risk for disease, homelessness, prison time, and early death," explained Dr. Gruendel, a Senior Fellow at the Institute for Child Success. She continued, "I am so eager to think with Greenwich United Way about our advancing the Baby Bundle work in Greenwich."
During the event, Greenwich United Way CEO, David Rabin provided attendees with an ECAGS program update and talked about the importance on collaboration among local agencies. "When we think about meeting a health, education or self-sufficient need in our community we ask ourselves how this need developed and who is best positioned to address it," said Rabin. He continued, "We're on a mission to uncover needs and foster collaboration within our town but we also have a responsibility to maintain our reputation of providing lasting results. To do this we need to understand the full scope of the issue by taking a closer look. During a time when there are so many agencies in need of funding, we're looking towards the future and how to best and most efficiently invest in our community. We believe the answer is at birth."
The first prong of the ECAGS program is Greenwich Parents as Teachers (GPAT), an evidence-based home visitation program for at-risk families and their children from the prenatal period through 3 years of age which is being administered by Family Centers. The second prong supports community preschools at Family Centers and the YMCA with instructional coaching.
The Parents as Teachers (PAT) model for providing services to families with children from the prenatal period to kindergarten has been tested by rigorous peer-reviewed studies and shown to produce results. According to research, at-risk children in Greenwich are entering kindergarten 28 to 36 points behind their non-at-risk peers. The second prong of this program focuses on supporting 13 classrooms that serve children three to five years old with a preschool instructional coach to enhance and enrich those settings. A Yale University study showed that inserting an instructional coach in preschools is eight times more effective than sending those teachers to traditional workshops. Research also showed that the achievement gap starts before kindergarten and when at-risk children go through both programs they will enter kindergarten on a level playing field with their non-at-risk peers.
Last fall, Robert Moore was brought on to the Greenwich United Way staff as the Director of Community Impact. During this past year, Mr. Moore has met with Direct Impact partners to ensure the program launches successfully and is working with experts in childhood education to develop and tailor the ECAGS program to best meet the need in the Greenwich community. "Part of my process in leading this initiative at Greenwich United Way is to help the community understand our challenges", said Moore. He continued, "The documentary reveals, through following pioneers and innovators in pediatrics, education, and social welfare, that there is a way to predict and prevent the negative impacts from toxic stress. It was interesting to see how the community reacted to this presentation and information."
The Greenwich United Way has plans to screen the film again. For more information please contact the Director of Community Impact, Rob Moore, by phone at 203-612-9587 or email rmoore@greenwichunitedway.org
Tags:
Direct Impact
,
Family Centers
,
greenwich
,
Greenwich Public Schools
,
greenwich united way
,
GUW
,
YMCA of Greenwich