October 23, 2018
CCI to Hold Halloween Pumpkin Carving Contest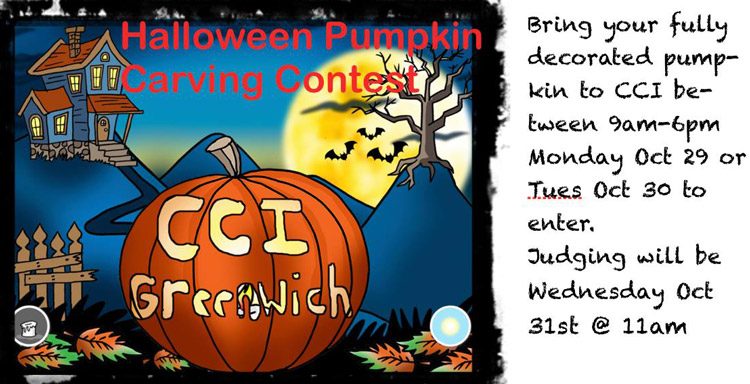 Community Centers Inc. of Greenwich will hold a Halloween Pumpkin Carving Contest featuring special judge Celebrity Gardener Kent Russell, on Wednesday, Oct. 31 at 11 a.m.
To enter: Bring your fully decorated or carved pumpkin to CCI Greenwich between 9 a.m. and 6 p.m. on Monday, Oct. 29 or Tuesday, Oct. 30. Judging will take place Wednesday, Oct. 31 at 11 a.m. at CCI Greenwich.
Make sure to attach your name, number, age, town and email when dropping off your pumpkin.
1st Place Prizes:
10 and under: LED BBOP Balls – Smart Kids Toys
11 to 17: Introductory workshop for four friends – MacInspires
18 +: One night complimentary stay – J.House Greenwich
Pumpkins should weigh between five to 30 lbs. Not restricted to Greenwich residents.
Entry fees: $5 per contestant under 14, $10 per contestant 15 and over.
For more information, contact 203-869-1276 or office@ccigreenwich.org or visit ccigreenwich.org
Tags:
CCI
,
Community Centers Inc. of Greenwich
,
greenwich
,
Halloween Pumpkin Carving Contest