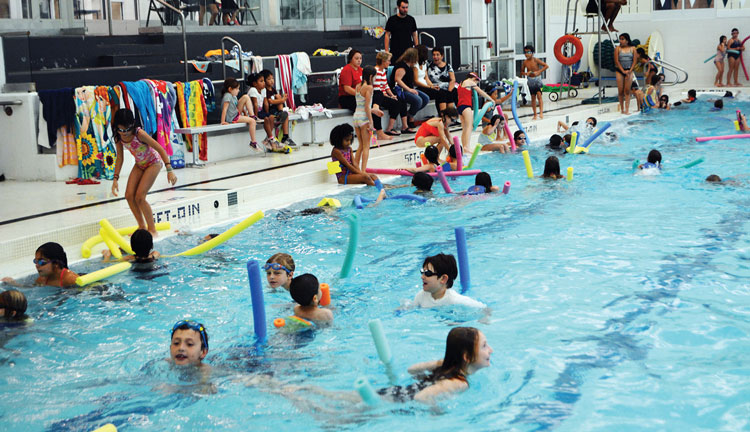 By Paul Silverfarb
Sentinel Editor
When the community needed some support last week, the Boys & Girls Club of Greenwich and the YWCA Greenwich sprung into action, and Bobby Walker Jr. and Mary Lee Kiernan made some new friends along the way.
Back on Oct. 6, Cos Cob School had a plumbing disaster. Water flooded several rooms and took down ceiling tiles, including the art room, media center and computer room. Water leaked to the first floor, as well, impacting the nurse's office, main office, three classrooms in first grade, two kindergarten classrooms and the music room.
While the Greenwich Board of Education was coming up with a relocation plan for sections of Cos Cob School, the school was closed for the entire week. And, although students were excited for the impromptu vacation, parents were quite nervous. What was going to happen to students when many parents still had a full day of work during the week?
That's when both Walker and Kiernan sprung to action.
"The truth is that, for us, it was very important for us to be there for the community," said Walker. We are here to serve the town of Greenwich. I got a phone call asking for help, and all we needed was time to organize and not time to make the decision. The decision was made the minute the phone call was made. I think it's really important for people in Greenwich to know what we do. We help the town and serve the town's kids."
For all of last week, both the Boys & Girls Club of Greenwich and the YWCA Greenwich opened their doors and their daycare program, cost free, to working families while Greenwich Public Schools assessed the damage to Cos Cob School.
"It's enormously important for Cos Cob families with parents working or fulfilling other commitments to have a structured, safe and welcoming environment for their children to spend each day that the school is closed," said Kiernan. "YWCA's mission is to support the community, and we are happy to welcome students and minimize disruption for families."
For both organizations, the question was never if they were able to host children from Cos Cob School. It was about the logistics.
For YWCA Greenwich, Kiernan's staff sprang into action. In no time at all, the building was staffed with caregivers ready to not only offer a full day of fun, but to help them explore all the YWCA Greenwich has to offer.
"YWCA staff jumped into action, particularly Arthur Smith, our Manager of Elementary Aged Programs, when we heard about the Cos Cob School closing," Kiernan said. "Arthur and his staff are experts at offering full-day vacation camp and summer camp programs that are structured, well-supervised, educational and fun."
For the Boys & Girls Club of Greenwich, the only challenging aspect was the time frame. Normally the Club is an after-school program, so a majority of the staff works from 1-9 p.m. So, some of the workers shifted to 10 a.m. to 6 p.m. while others worked from 9 a.m. to 5 p.m.
"My program director Don Palmer, on the first day to make sure everything worked out, pulled a 12-hour shift," said Walker. "A lot of other full timers altered their schedules. We also had a bunch of part timers that volunteered to come in early. I also had to recruit some people. It also really helped that Cos Cob School sent their paraprofessionals, and we all worked together. Also, some of their faculty members came over a spent part of their day with us."
But for Walker, what made things so worth it was the fact that the BGCG had the opportunity to interact with new kids.
"The kids that came from Cos Cob School got to know my staff and got to see a building that they have never been a part of and got to be a part of some of the Boys and Girls Club activities," Walker said. "In the end, we made some meaningful connections with some young people. We got to meet some of their families and we were able to spread the gospel of what this club does, which is to take care of kids."
And, while both facilities were stretched to their limit, it was something that both Kiernan and Walker would do again without even giving it a thought.
"I am so proud of our staff's enthusiasm for doing this for our neighbors," said Kiernan.
"Because we are an organization that cares about kids, I think for other people to know how seriously we take our job, and frankly how well we do it, was really satisfying to see that," Walker said. "Knowing that we help people in a time of need, that's what we are all about."