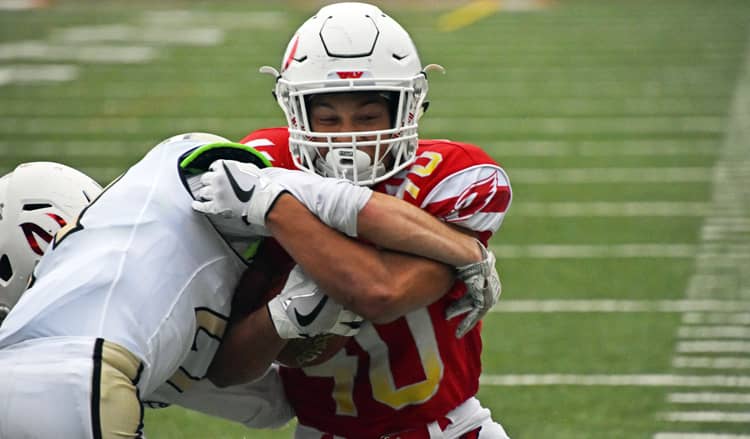 By Paul Silverfarb
Sentinel Editor
With the first of Greenwich High School's two bye weeks now in the rear-view mirror, head coach John Marinelli and the rest of the GHS football team will be gearing up for two big football games coming up.
Heading into the bye week, Big Red had a perfect 2-0 overall record. However they will be tested starting Friday, as Big Red will battle high-flying Norwalk High School before they travel to New Canaan for a contest against perennial powers NCHS.
While the times have changed and the bye week in the Fairfield County Interscholastic Athletic Conference is becoming more and more common, that doesn't mean that Marinelli doesn't miss being on the sideline during that week.
"Bye weeks are more normal now, and I think there's a science to it," Marinelli said. "The less mature by age your kids are, the harder it is to get them to be focused. I think it's really hard for youth football and really hard for freshman, sophomore football and JV coaches to keep your kids focused on a weekly basis when you have a lot of bye weeks. Varsity bye weeks are a little easier because there is more of a set schedule and there's a little more focus there.
Marinelli and his coaching staff make sure that they get the most out of their bye week. And, that doesn't mean extra practices, learning a whole new system or athletes learning to play a new position. In fact, Greenwich gives its athletes some extra time off.
Last week, Big Red practiced Monday and Tuesday. Thursday was a film, hit the weight room and run day. They had Wednesday and Friday to spend away from football. Greenwich also spent some quality time in the weight room during the bye week, lifting four times last week. In addition, Marinelli said that he waited until the bye week to deal with the 21 penalties that plagued the Cardinals during their week one victory against Trumbull.
"It's very important to change it up during the bye week," Marinelli said. "Kids need time away. We try to give the kids weekends off when we can, and we try to have them strike a nice balance. They are kids. We want them to have a social life or to be at home with their parents and family. When you give kids time off and you have great senior leadership, which we have, when they come back they are more energized, focused and ready to go.
"The reverse is that if you give them more time off and you don't have great leadership, the first couple of days back takes a good amount of time to get reacclimated back to practice," added Marinelli.
As of press time, Greenwich entered the bye week with a perfect 2-0 record, thumping both opponents in the process. They beat up on Trumbull High School 42-7 and a week later blanked Trinity Catholic High School 56-0.
Despite the opening victory against the Eagles, Marinelli wasn't overly pleased with his team's performance.
"It was disappointing in the way that we were not disciplined," Marinelli said. "We had 21 penalties, but the positives in that game was that we had the 21 penalties and we still beat a team by five touchdowns and had a little extra change when we took our starters out. I looked at that the game and said that obviously the execution is there, but at half we gave up seven points and we didn't have to because of five penalties in their scoring drive. Later in the game we had a bad interception while in the red zone down the middle of the field to a kid in double coverage. For a very veteran team, we were very immature in some changes of that game.
In the second game of the season, against Trinity Catholic, Big Red corrected its mistakes from the previous week. The 21 penalties from the week before were gone. Against the Crusaders, Greenwich's starters only committed two penalties. In total against TCHS, the Cards had four penalties for 25 yards.
"From a 21-penalty debut to a four-penalty game a week later is pretty good," Marinelli said. Of those four penalties, one was a block in the back during special teams, one was a defensive encroachment and the other two were false starts. Those are all controllable penalties, so I see teaching moments."
Overall, Marinelli is quite pleased with the team's fast start and playmaking abilities.
"In the two games, we fought through adversity that we created ourselves," Marineilli said. "Trumbull is going to be a very good football team in the near future, and Trinity is a little down this year. But both coaches do an amazing job, so for us to execute the way we did against two well-coached teams is impressive."
And now, Greenwich has to get ready for a tough two games on the road. On Friday, Big Red travels up to Sam Testa Field for a contest against Norwalk High School. A week later it's up to Dunning Stadium for a contest against Marinelli's father Lou and New Canaan High School.
But, first thing's first. Battling a high-powered offense from Norwalk High. The Bears come into Friday night's game with the Cards 2-1 overall and firing on all cylinders offensively. In the three games, NHS has scored 131 points. In fact, in their only loss of the season, against Fairfield Ludlowe High School, the Bears scored 42 points and came up one point short.
In that game against the Falcons, Norwalk was up before Fairfield found the end zone with time running down. On their two-point conversion, Ludlowe converted, however not without controversy, as it was up for question whether the receiver was out of bounds of not.
"After last week's game, they are going to be a little pissed off," Marinelli said. "They have an axe to grind and the results from last week don't really sit well with Norwalk. Norwalk is so talented that it's scary when you put them on film. They can run the ball effectively, throw the ball to their various weapons and they spread the ball around so well. Their quarterback could both throw the ball effectively and run with it. They can stretch the field either east and west, as well as north and south. Defensively, this will be a test for us, and I am excited for it because I don't think we have been tested yet."
Greenwich's secondary, Ryan Raybuck, Hunter Cusimano, Charlie Ducret and Nick Veronis will be looked upon to stop Norwalk's potent receiving core.
"The ball is going to be in the air the next couple of weeks and those four guys are going to be looked upon to keep us in the ballgame," Marinelli said. "I'm not concerned about what the other team is doing. I'm concerned about what we are doing. With four seniors back there, as well as with our linebackers Jack Feda, Evan Weigold and Lawrence DeLuca, I feel like they are always in tune with each other and in a perfect spot on the field. They can't stop every pass, but they try and make every ball competed on over the course of the game."
In addition to the secondary and linebackers, Greenwich's defensive line will need to step up its game as well. Marinelli said that two guys on the line that he's going to be putting a lot of pressure on will be Eddie Iuteri and Joe Kraninger, Greenwich's interior linemen.
"Everyone is going to give the credit to the defensive ends that apply the pressure, Emilio Camou and Mozi Bici," Marinelli said. "They are very good football players and make a lot of plays, but the two interior guys allow them to make those plays. The interior guys are taking on double teams and taking up offensive linemen to give those guys one-on-one pass rush routes. I think when you play teams like New Canaan and Norwalk, a lot of the attention is going to be out on our defensive ends. I want to see what Eddie and Joe can do on the interior. They are going to get some one-on-one matchups and they got to push the pocket, create plays and hurries."
Like Norwalk, Greenwich has had no issues when it comes to putting points on the board.
Receiving the ball this season has been a plethora of talent. Senior Stephen Bennett has 88 yards on eight receptions, while fellow senior Lance Large has grabbed the ball six times for 84 yards. While the two seniors have been offensive threats, so is A.J. Barber, as the GHS sophomore has stepped up in a big way. He leads the team with four touchdown receptions and 56 yards on five receptions.
"A.J. is in the zone, and I give Lance Large a ton of credit," Marinelli said. "Stephen also does a great job helping A.J. during practice to get him better. You can't separate the three of them. They are all communicating and helping each other. I credit the senior leadership when there is a sophomore that is excelling. They are so unselfish across the board. It doesn't matter who catches the ball. They block for each other, and A.J. has taken the advice the seniors give and works on things. A.J. is a tremendous football player and a great student. He's consistent in every phase of his life."
In the backfield, Greenwich's duel threats of Jack Warren, a junior, and senior Tysen Comizio, have been on fire this season. Comizio has 145 yards on 22 carries and three touchdowns, while Warren has 45 yards on seven carries and two touchdowns.
"They are, pound for pound, some of the strongest kids on the team," Marinelli said. "Their work ethic is amazing. They are great backs, but they grind out yards. People have been keying in on Tysen, so Jack becomes a big part of that and needs to step up even more."
And, Big Red will be getting a little healthier in the backfield, as Spencer Hartley, who has been dealing with back issues since the start of the season, is expected to rejoin the team in the next few weeks.
When it comes to Greenwich quarterback Gavin Muir, Marinelli has his usual set of lofty expectations. So far this season, Muir has gone 30-for-43 for 382 yards and six touchdowns. He has only been picked off once. Not too shabby, however Marinelli wants more from his senior QB.
"We worked on some minor things, and his foot work has come a long way," Marinelli said. "It's something that we spent a lot of time on, and I'm happy with how he's looking. I really don't spend a lot of time on the positives with Gavin. Those are what we expect. We want him to come into practice every day and work hard. He learns from every mistake that he makes and that, to me, is huge."