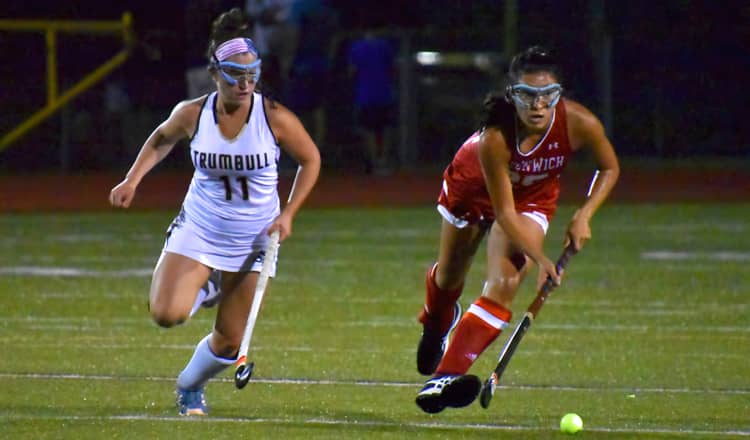 By Paul Silverfarb
Sentinel Editor
The Greenwich High School field hockey team rebounded from Saturday's tough loss against Mamaroneck High School with a performance on Monday that made head coach Allyn Orrico smile from ear to ear.
"I was thrilled with the way we played today and with how we are improving," Orrico said. "Our girls are starting to develop chemistry now."
Traveling to McDougall Stadium for a Monday night contest with the Eagles, Greenwich let up an early goal, but dominated the rest of the way, cruising to a commanding 4-1 victory.
"It's been tough because we have had a really hard schedule to start the season," said senior captain Paige Finneran. "So we just kind of have to get back in our groove, and this game was a great confidence booster and a great overall team win. We had so many contributors and so many kids on the field. It was a really good team effort."
While it was back-and-forth early, Trumbull grabbed the early 1-0 lead with 27:19 to play in the first half. Instead of hitting the panic button, Big Red settled down and continued to play fast-paced field hockey. Only 3:10 after the Eagles found the back of the cage, it was Greenwich's turn, courtesy of junior Demi Janis and her ability to beat the THS goalie.
"The way that they gave up that first goal, letting it roll off their shoulders and getting right back at it, was amazing," said Orrico. "Our captains are tremendous leaders, not only with the things they say to the team but the way that Sam [Chabot], Zoe [Metalios] and Paige [Finneran] lead by example. It's phenomenal."
"We didn't get down, and we didn't let that game get away from us," Finneran said. "That first goal didn't defeat us. We came right back, and I think that goal actually fueled our fire. We came out ready to go after that."
And, from there it was all Greenwich the rest of the way. With 7:18 to play in the first half, senior Jen Kelly gained control of the ball and fired it to the back of the net for the 2-1 advantage. With less than a minute to play, the Cards put an explanation point on the first half, as senior captain Zoe Metalios wouldn't be denied, and gave Greenwich the 3-1 halftime lead.
"We try not to let the first goal get in our way," said Metalios. "If they score the first goal, we come out even stronger. That's our motivation to try and work harder and get the next goal. We kept the momentum and didn't let the foot off the gas. We had a really fast-paced game, and everybody was passing really fast. Everybody was in their positions. We worked on goal containment this week, with everybody being in the right spot, and I thought we did a great job with that."
With 12:16 to play in the second half, Greenwich scored its final goal of the game, as senior captain Sam Chabot fired the ball past the THS netminder for the 4-1 lead.
"This was a great victory," Metalios said. "We came off a loss in our last game, and tonight we had a great team effort. We all did our job. We were spread out and hustled. We got every 50/50 ball and looked really good out there."
Greenwich, which improved to 3-2 on the young season, finished the game against Trumbull with 17 shots on goal, and some of those shots were mere inches away from finding the back of the net and adding to the lead. Big Red's victory against the Eagles was impressive for Orrico because she said it showed how much Greenwich has grown in such a short amount of time.
On Saturday, Big Red battled a tough Mamaroneck squad and was blanked at home, 3-0. On Monday, it was obvious that, after the game, Orrico was incredibly proud of the way her Lady Cardinals responded to Saturday's loss.
"They work really hard all the time," Orrico said. "That game on Saturday was a lot closer than the 3-0 score. It was a really tough loss. We had a couple of breakdowns, but the girls learned from that, and they moved forward. They shook it off and came back and played a phenomenal team game tonight against Trumbull. This league is really hard, and the teams we play from New York are exceptional as well. You have to keep learning in every single game and on every single play. Even the most skilled player on the field is invested in thinking about what we are trying to do as a team. And, I love that."
Despite the young athletes on this year's roster, Orrico said that they are all highly-skilled field hockey players and that they have grown tremendously since the start of the season.
"This team is very receptive to buying into what we are trying to do as a team and understand that, because we have so many highly-skilled girls, one individual can't win a game for us," Orrico said. "They are really buying into what we are trying to do as a team and implanting it on the field. When you have a team that buys into that, is selfless and executes what your game plan is and what the team tactics are, great things can happen."
And, to see a massive improvement in such a short time speaks volumes. Due to the wild weather that blanketed the tri-state area, the Lady Cardinals had their practices effected. Heavy downpours, frequent lightning and extreme heat cancelled several practices.
"We weren't allowed to have practices, and that sets you back a little bit with your development," Orrico said. "With that said, I couldn't be prouder of the girls because they worked extra hard to try and make up for that time that they lost. We are starting to see great things with our chemistry now."
"We have been awesome so far this season," said Finneran. "We have some really young players and a really new team. But, we are really talented. Those young girls have stepped up, and it's great to see the new players contributing. Overall, we are really meshing together as a team. We are moving the ball well, working together, and I think it really showed against Trumbull."
Orrico said that she has noticed early on that one of the key strengths for Big Red this season has been how balanced the squad is.
"I believe that is the biggest strength of this team," Orrico said. "We can play great defense, but we can also play great attack as well. That Mamaroneck game, we had so many opportunities that we didn't finish on. So, we worked on finishing, and the girls put that finishing into play against Trumbull. Sometimes the ball doesn't bounce your way, but you have to capitalize on the opportunities that you get, and we did that today against Trumbull. We were in the right place and capitalized on nearly all our opportunities."
Despite the tough schedule that Greenwich plays this season, Orrico said she has no reason to think her team can't obtain some lofty goals.
"I absolutely think that we can be a dangerous team late in the season," Orrico said. "We are focused on one game at a time and we aren't even thinking about the postseason, but we if we get better and if we keep that mindset of not looking ahead and focus on each game, I think great things can happen for us."
And, Metalios agrees with her head coach.
"We would like to make it all the way, but we are still taking it one game at a time," she said. "We are not looking past our next opponent, but we have that thought in the back of our minds. I could see us making a big impact on the FCIAC and state tournaments."
Greenwich High School will be back in action Sept. 21 at 4 p.m., when they travel to Westport and battle Staples High School. The Wreckers will enter the contest against the Cardinals as one of the best teams in the league. They are currently 4-0 and have outscored their opponents 26-2 this season.