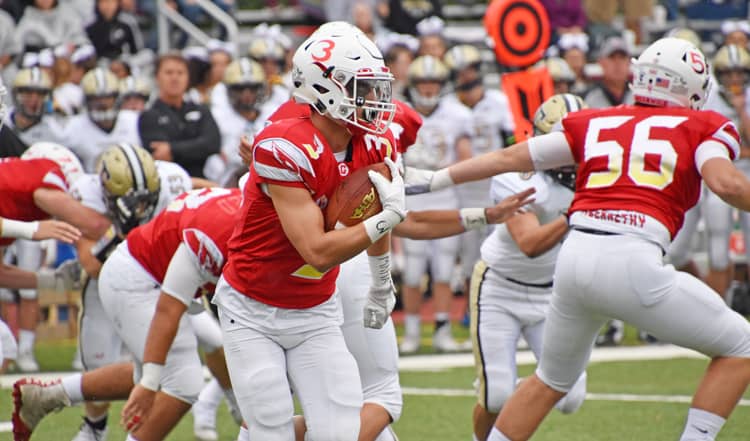 By Paul Silverfarb
Sentinel Editor
The Greenwich High School football team started its quest for a repeat run at the state championship game in grand fashion Saturday afternoon, beating a new-look Trumbull High School team 42-7.
"I'm happy overall," GHS head coach John Marinelli said. "Obviously we overcame all those penalties. Good teams are supposed to overcome adversity, so I am happy with the way that our guys responded in the second half. I am happy that we had less penalties in the second half. I am very happy with the way our guys played. The offensive line did a great job all day long. Gavin [Muir] only got sacked once. Defensively our secondary showed up and did a great job."
The Cardinals, who debuted a stunning new video scoreboard in their home opener, scored 14 points in the first three quarters.
GHS quarterback Gavin Muir threw for two touchdowns and finished 9-for-16 for 159 yards.
"I felt great out there," Muir said. "I definitely could work on a few things, but the offensive line really stepped up and looked great today. Tyler Dietrich, Jacob Belmont, Nolan Connerty, Callum Abernethy and Jack McBreairty did a great job on the line."
Not to be outdone was running back Tysen Comizio, as the senior carried the ball 12 times, ran for 65 yards and found the end zone once.
Muir's favorite target on the day was wideout AJ Barber, as the receiver only caught the ball twice, but made the most of it. He gained 64 yards on the day but more impressive was that both catches resulted in touchdowns.
On the defensive side the ball, no one was better than Ryan Raybuck. Raybuck helped extend the GHS lead to 21-7 when he picked off Trumbull's Colton Nichols and took the ball all the way back for the touchdown.
He also picked off another pass later in the game and was mere inches away from running that back as well.
"He's unbelievable," Marinelli said. "All of a sudden May comes around and he's a completely different player. Something clicked. He has some interest by some Division I schools. He has a shot, if he continues this, to go to school for free. That's a credit to what he's done. He flipped it and did it all on his own. It shows today what hard work can do for kids."
Early on, it was anybody's game. Greenwich came out firing and quickly carved up the THS defense for the early score. With only 1:33 gone by, Muir stepped out of the pocket on the sixth play from scrimmage and fired the ball to Barber downfield, who made the catch and ran it in the rest of the way for the 48-yard touchdown.
"It was so exciting to get out here with my brothers," Muir said. "It was a long preseason, doing all that lifting in the summer and training and finally coming together today. We are all satisfied with the win today, but we definitely have a lot to improve on."
Although the Eagles came back to tied the game at 7-7, the Cardinals assisted Trumbull. Six Greenwich penalties helped Trumbull march down the field 70 yards for the touchdown. Nichols stepped away from pressure and threw a perfectly-placed ball to wideout Kyle Atherton, who found the corner of the end zone with 6:39 to play in the quarter.
"We were sloppy and undisciplined and we're not going to win many games that we want to win like that," Marinelli said. "That's the takeaway that I have from it. We reiterated it to our guys that it's the exact opposite of everything that we have been preaching. I was told that we had 14 penalties in the first half and I don't know we had a game last year with 14 penalties. That's got to change and it will change in practice. We have to go back to the drawing board as a staff and obviously reiterate and try to refocus our guys on what's important."
One of those improvements for Greenwich has to come from its discipline, as Big Red was penalized 16 times for 145 yards.
"We need to work on discipline," Muir said. "We need to be the most disciplined team in the state if we want to win. Those penalties really killed us, especially during their first drive when we let them drive down the field. We need to work on that for next week. I think everybody was a little jittery. The hits came a little harder and later because everybody wanted to just hit someone. We are tired of all the scrimmages. All those offsides and false starts, it seemed like people wanted to get off the ball right away, get down the field and do their assignments."
The Muir to Barber connection struck again late in the opening quarter, as the senior quarterback found Barber for the 17-yard touchdown with 3:30 to play.
With the score 14-7, Greenwich broke open the game in the second quarter, courtesy of its defense and special teams. With Nichols under pressure all game, he looked to find one of his receivers along the GHS sidelines. Instead, Raybuck was there for the interception and bolted 53 yards down the sideline for the touchdown.
Nichols seemed to have a Greenwich defender within striking distance the entire game, as Big Red's Jack Feda, Joe Kraninger and Emiliou Camou each was able to get the THS quarterback to the ground.
"I thought Colton played very well," Trumbull High School head coach Marce Petroccio said. "The interception, unfortunately, is a part of football. That doesn't define who he is. He's a great kid. He was throwing the ball fairly well today and he was under duress, that's for sure. I think he's going to get better and better, but I was happy with his play overall today."
Greenwich kept its foot on the gas. On the ensuing onside kick attempt, Big Red scooped up the loose ball and regained possession. With the ball on the Trumbull 1, Muir found Barber for his third touchdown reception of the day and gave Greenwich a 28-7 lead with 1:34 to play in the half.
Both Comizio and Jack Warren each ran into the end zone once in the third quarter to round out the scoring for Greenwich.
With the win, Greenwich  High improved to 1-0 on the season. While Trumbull was defeated, it wasn't as deflating as last year, when the Eagles fell to Greenwich in the opening game of the season 70-16.
"They are way more improved than last year," Marinelli said. "Their quarterback looks completely different and he does a great job. They were a play or two away from keeping it pretty interesting. I am happy overall."
Despite the loss, head coach Marce Petroccio was pleased with his team's effort.
"The kids played hard for four quarters," Petroccio said. "That's a super football team. I think, at times, we were a little outmatched up front but we never gave up. We made some mistakes. The interception and the onside kick were momentum changers. We will get batter at that, but for game one, between all that we have to overcome, it's fine. We're going to be fine. We're going to keep building and get better. But I like the fact that today we did not give up. They fought."