September 10, 2018
New Leb. September Construction Update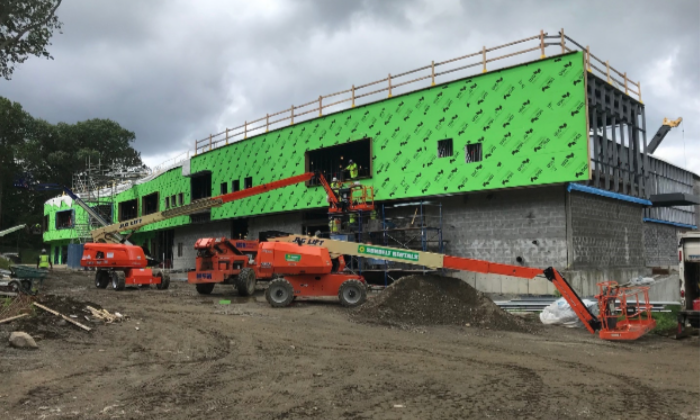 By Richard Kaufman 
With the 2018-2019 school year underway, the brand new New Lebanon School is beginning to take shape.
Last week, Greenwich Public Schools, on behalf of the New Lebanon School Building Committee, released its September construction update.
The following work has been accomplished:
Walkway bridges have been installed; a temporary egress on the east of the existing building has been established; site excavation, storm drainage and underground utilities have been prepared which included excavation on Richard Street and electrical service from Mead Avenue; the roof has been installed and is watertight; ductwork, sprinkler piping, domestic water and electrical conduit were worked on and will continue in the future; furniture bid packages have been received and purchase orders have been issued.
The following work is anticipated in the coming weeks:
There will be exterior wall framing and sheathing (envelope) with masonry ongoing; glass will continue to be installed; and interior framing and MEP rough-in is ongoing.
The New Leb. project has received two reimbursements from the state so far totaling $8.2 million. The school's nearly $40 million price tag will receive the maximum reimbursement of 80 percent from the state.
New Lebanon School is currently cramped and was in violation of the state's racial balance laws. The new school aims to reduce racial imbalance by attracting magnet students from other areas of town.
There will be a centrally located learning commons equipped with flexible furnishings and adaptable technological infrastructure, which will allow for multiple zones of simultaneous learning. There will be an instruction area, small group collaborative areas, independent study areas, a Lego wall and a small-tiered read-aloud story corner.
The building is also being designed to meet the sustainability goals established by the Educational Specifications and to achieve a gold-level LEED rating from the U.S. Green Building Council. 
The building will serve 374 students in grades PreK-5. It will contain 21 general classrooms, four dedicated classrooms for art, music and other activities, along with a media center, gymnasium and cafeteria.
Overall, 466 tons of steel, 56,592 cubic feet of concrete, 15,330 units of masonry, 7,400 square feet of metal wall panels and 239,490 lineal feet, or just over 45 miles, of wire and cables will be combined to build a brand new school the town and students desperately need.
The building will obtain a Temporary Certificate of Occupancy this December, and students are slated to move in after their break in February of 2019.
Tags:
greenwich
,
Greenwich Board of Education
,
Greenwich Public Schools
,
New Leb
,
New Lebanon School
,
Town of Greenwich