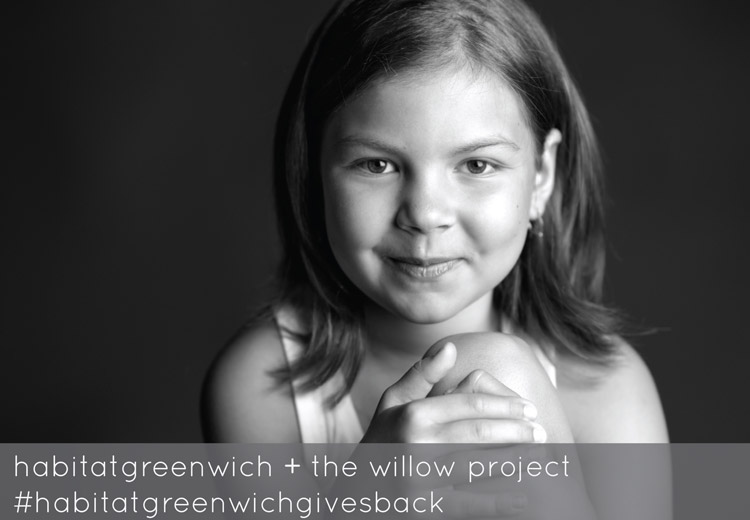 habitatgreenwich, a design haven and specialty boutique in Cos Cob announced that a percentage of September sales will benefit The Willow Project. The shop, founded by Greenwich resident Kim Caravella, which opened its doors in July, offers handpicked items including furniture, textiles, jewelry and gifts that support local and worldwide artisans. While keeping a philanthropic mission of giving back close to heart, every month a portion of habitatgreenwich's sales benefits a charity of Kim's choosing.
The Willow Project, a community fund in Greenwich, launched in 2017 immediately after Lynn Willow Gulli's diagnosis with Acute Lymphoblastic Leukemia. The mission of The Willow Project is "to harness the power of community to provide support for local families battling childhood cancer." With a mission echoing the habitatgreenwich message of giving back to the local community, the Willow Project is the first non-profit habitatgreenwich will give back to. For the month of September, a portion of sales will go toward The Willow Project and support families during the critical time of cancer diagnosis and initial treatment.
"We're thrilled to be partnering with The Willow Project for the month of September," states Caravella. "Part of my vision when creating habitatgreenwich was to find a way to help and support members of our community in need. This idea led me to the idea where each month the shop will give back to different local non-profits." All funds raised for The Willow Project support families through the critical time of cancer diagnosis and initial treatment by absorbing the financial burdens brought on by the diagnosis. This enables the family to focus on the recovery of their loved one. Since 2017, The Willow Project has raised over $75,000 to support the Gulli family through Lynn's first year of treatment.
In addition to visiting the habitatgreenwich storefront in Cos Cob, any habitatgreenwich off-site purchases at September promotional events will also support The Willow Project. Caravella will be set-up at the First Bank of Greenwich's B2B Network Event at the J House on Thursday, Sept. 6.
Visit habitatgreenwich.com to learn more.