August 20, 2018
Art Society of Old Greenwich Presents Awards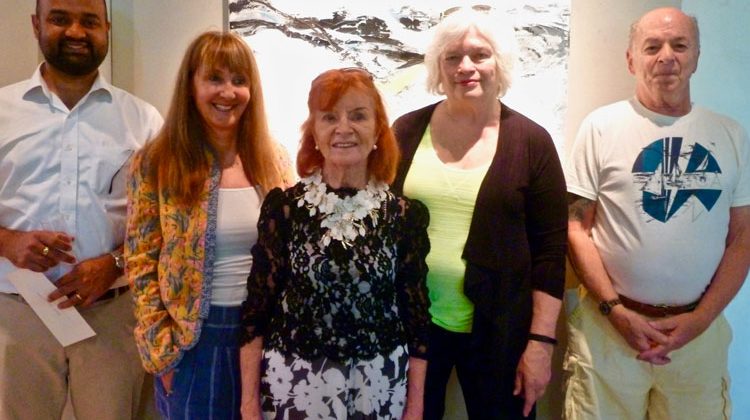 The Art Society of Old Greenwich recently presented awards in two current art shows: the ͞Escape͟ art show at the Flinn Gallery, Greenwich Library and the Open Juried Show at the Bendheim Gallery, Greenwich Arts Council. In both shows, artists have created an array of artworks in watercolor, acrylic, oil, drawing/graphics/pastel, mixed media, photography and sculpture.
Juror and judge for the Flinn show was Robert Pillsbury, President of the Salmagundi Club in New York City. For the Bendheim, juror and judge was Isabella Garrucho, owner of Isabella Garrucho Fine Art in Greenwich. These artists selected first, second, third, and honorable mention winners in each media category. The ASOG presented the awards at the show receptions – June 28 at the Flinn Gallery and June 15 at the Bendheim Gallery.
First place award winning ASOG artists in the Flinn Gallery were: Tom Ecay, watercolor; Jo Ubogy, graphics; Sotiraq Kuqall, acrylic; Nina Cocchi, mixed media; and Greg Presley, photography. First place winners were: Concetta E. Volpa, oil; and Myra Lehman, sculpture.
At the Bendheim show, first place award winning artists were: Sashi Raghunandan, watercolor; Marta Beltramo, mixed media; Lucie Anderes, oil; Carolyn Lyngholm, acrylic; and Robert Cestone, drawing; Sally Harris, color photography; and Olaf Soot, black and white photography.
There were second, third and honorable mention winners.
Tags:
Art Show
,
Art Society of Old Greenwich
,
awards
,
Escape
,
greenwich
,
old greenwich