August 2, 2018
Offering Positive Ways to Grasp the Challenge of Parenting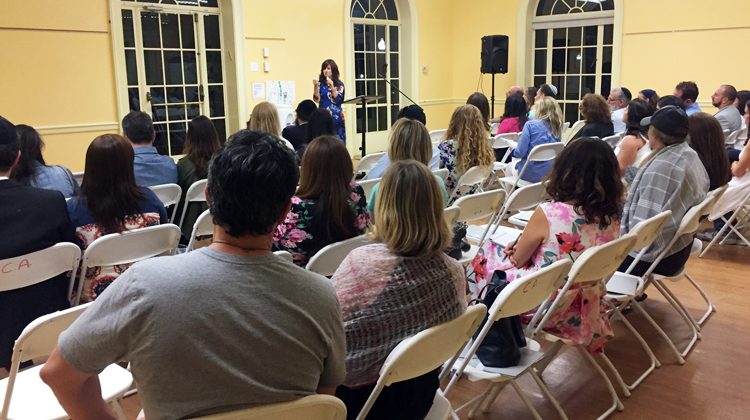 By Michelle Moskowitz
Sentinel Correspondent
Focused on building strong families in the Greenwich community, Chabad of Greenwich hosted its 17th annual parenting conference, held at Carmel Academy, at 270 Lake Ave., on July 19.
This year's central theme focused on equipping parents to handle the spectrum of challenges they face raising children today, particularly in an era where technology impacts the family unit, making the challenges for both parents and children that much more complex.
On a mild summer night, parents first mingled over a rainbow display of kosher sushi, complimented with wines and spirits.
After dinner, parents were invited to attend one of two workshops: one targeted for preschool to elementary age children, and the other for tweens and teens, both tailored to provide simple, yet powerful tools to foster harmony in the home.
The elementary workshop, "How to Guide Your Child Away from Peer Pressure," was hosted by Goldie Plotkin, co-director of Chabad of Markham, in Thornhill, Ontario, director of the Torah Tots Pre-School, as well the featured keynote speaker of the conference.
Plotkin's bright energy and strong faith shined through as she referenced the wisdom and customs provided in the Torah as setting the foundation for her guiding principles.
"To give our children the value by spending time with them, in their moments of joy and in their moments of challenge, we are with them; let your children know their value never fades," said Plotkin.
Plotkin recently lost her son Zalmy, who passed away in his sleep unexpectedly, two days before his fifteenth birthday. Zalmy was born with Down syndrome.
"God only gives each one of us what we can handle," said Plotkin, who shared glimpses of her heartfelt, yet challenging plight with her son, and said that when Zalmy was first born, she and her husband committed to doing their very best, both for him, and for their other children.
"The physicality of this world could not obstruct his view of people and of his goodness and kindness," Plotkin told the Canadian Jewish News after his passing.
Plotkin offered three instrumental ways and key message points designed to build a strong sense of self in young children and set them on a healthy path of spiritual development:
1.  Encourage your child to believe in a higher power. By doing so, you are encouraging your child to believe in themselves and to know they are unique and should take pride in their 'uniqueness.'
2.  Teach children to be proud of their faith as you give them the gift of belonging (even when they get left out of a school activity or a party).
3.  Be grateful every day, that as a parent, you are given the strength to be a parent. When challenges arise with your children, rather than focusing on the tough situations, focus on the gift that you were given the power to help your child grow and succeed. 
The workshop catered to parents of teens was titled, "A Home with Heart: How to Engage with Your Children in a Digital World," and was moderated by Dr. Christopher Bogart, a licensed clinical psychologist and executive director of the Southfield Center for Development, in Darien.
Bogart's easy and gentle demeanor helped soften the delivery of some startling statistics on mental health in teens today.
According to a 2010 study by the National Institute of Mental Health (NIMH), 20% of teens report symptoms of a mental health disorder, including 10% with Attention Deficit Hyperactivity Disorder (ADHD) and 8% of teens who reported some type of anxiety disorder.
Furthermore, a 2018 JAMA study reported that high frequency users of digital technology had two times the likelihood of exhibiting ADHD symptoms.
While Bogart attributed some of these findings to closer monitoring of teens' behaviors, he provided some key contributing factors affecting children on a wide scale.
First off, Bogart pointed out that the vast increase in technology usage and gaming, coupled with the impact that social media has on one's identity prematurely – leads to a domino effect in teens, including sleep disturbances, poor concentration, and a decrease in exercise and outdoor activity.
Ultimately, Bogart stated that electronic over use causes children's brains to become less adaptive, affecting a child's overall nervous system.
He added that on top of the mounting technology use, many teens tend to be overscheduled and overstressed, also contributing to increased anxiety and mood swings.
But despite these modern-day culture challenges, Bogart was seemingly optimistic, and fully equipped with valuable, turn-key solutions that parents can utilize in their everyday toolkit, making the adjustment to raising teenagers more viable.
"Trials keep you strong, sorrows keep you human, failures keep you humble, and family keeps you going," said Bogart, which resulted in a deep sigh from many parents around the room.
Bogart discussed the two fundamental "foundations of wellness" that parents can instill in their kids, namely resilience, defined by the human capacity to face, overcome and ultimately be strengthened by life's adversities, and self-control, particularly of one's emotions and desires.
Bogart also asked parents to reflect on their individual parenting styles, and he identified the "Backbone", or authoritative style, as optimal. This style is defined as giving choices, not commands and sticking to that "final no" when you say it, so children can understand the consequences of their actions.
"It's important to model your own self-control for your kids, such as how much TV you watch," said Bogart. "Kids are so keyed into everything their parents are doing and observing very closely."
Bogart also shared five positive parenting messages that help foster a deeper connection with teens and open the channels of communication.
1.  "I believe in you."
2.  "I trust you."
3.  "I know you can handle life situations."
4.  "You are listened to."
5.  "You are cared for."    
"The idea of connection, before correction enables kids and parents a feeling of respect for one another," said Bogart. 
Following the workshops, guests were invited for coffee and dessert before Plotkin addressed the full audience with her keynote speech centered around the challenges and blessings of raising children. 
Plotkin, the sister of Marayshie Deren, educational director at Chabad of Greenwich, smiled and said, "There is something so powerful in the Greenwich community."
Plotkin's firsthand reflections on raising a child with special needs, and then suffering from his recent loss, united the audience in rapt attention.
"It's so important to look at the moments that seem drastic and see if you can turn it around, as our attitude is what's in our control," said Plotkin.
"It was my choice to find the good," she smiled, after sharing one particularly difficult morning when Zalmy had had an unfortunate, and quite messy accident in his room, where she consciously chose to embrace the joy of just being with him, instead of getting worked up.
Plotkin went on to share the story about world-renowned violinist, Itzhak Perlman, who in 1985 gave a stellar performance at Lincoln Center in New York City, despite one of the strings on his violin breaking shortly after the concert began.
Stricken with polio as a child, Perlman required the use of crutches and leg braces to walk, hence making his way up on to the stage a laborious and lengthy one, making it quite difficult for him to have stopped and secured another instrument and/or string in that moment.
So instead, Perlman signaled to the conductor to start again, and despite the unexpected, went on to play a melodic, and remarkable performance that drew an outburst of applause.
"Sometimes it is the artist's task to find out how much music you can still make with what you have left," said Perlman after the concert.
Plotkin likened the story to that of her own family struggles and the challenges that she said we all face in one way or another, adding, "We all have three strings, but we can still make beautiful music, despite that missing string."
Throughout her speech, Plotkin often discussed the importance of one's positive attitude in life, but also how the energy and temperament we exude not just as parents, but as spouses, as friends, as neighbors and with people we interact with at the grocery store, all count – ultimately setting the bar for who our children will become, much like what Bogart referenced about children observing and then modeling what they see.
"The words we use with one another release energy, and we need positive language in the home if we want to cultivate a warm atmosphere," said Plotkin referring to how hearing the words "shut up," for instance, create a negative feeling.
"We are all parents in training," said Plotkin. "But we can change the destiny of our children by being positive, and through eye contact can see the beauty of their souls."
Chabad of Greenwich also provides a summer-long day  camp which includes a dedicated sports camp, intensive theatre program, circus training, as well as fun-filled field trips, including overnights.
In addition, enrollment is currently open for its popular preschool and Hebrew school programs which start in September.
For adults, the center offers a roster of introspective, spiritual courses from its learning institute, led by Rabbi Feldman.
Upcoming this October is, "Wrestling with Faith," designed to help individuals carve out their own spiritual rhythm and connection to their faith through the exploration of Judaic literary, psychological and theological insights.
The course begins on Oct. 23 and runs for six Tuesdays at 10 a.m. or 7:30 to 9 p.m., at Chabad of Greenwich, at 75 Mason St.
Visit chabadgreenwich.org for more information.
Tags:
Camel Academy
,
Chabad
,
Chabad of Greenwich
,
Families
,
family
,
greenwich
,
Parenting