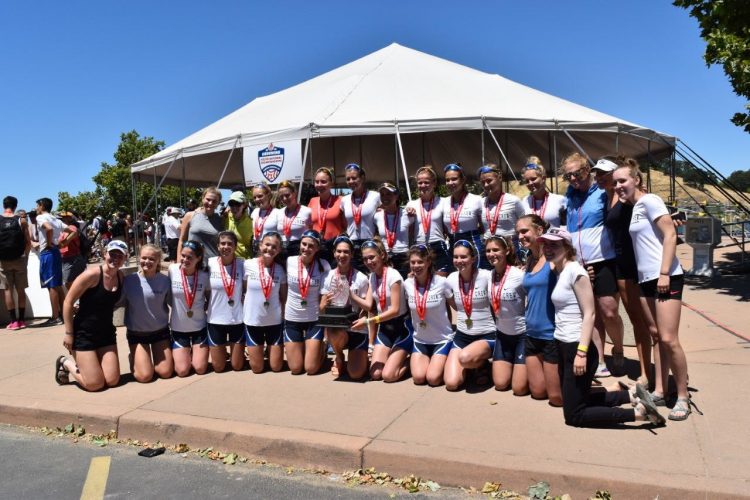 By Richard Kaufman
Even though Greenwich Crew experienced historic spring and summer seasons, the goals and aspirations for the program remain high for the future.
Back in May, at the Northeast Youth Championships on Lake Quinsigamond in Worcester, Mass., Greenwich Crew captured both the men's and women's points trophy, as well as the overall team points trophy. It was the first time in program history that the men's varsity team won gold, and the first time ever that both the men and women earned top spots together.
In June, at the USRowing Youth National Championships in Sacramento, Calif., the women's lightweight 8+ boat won the national title, and the silver medal in the varsity 8+ race. On the men's side, the varsity 8+ boat finished fifth in the A final, essentially placing them fifth in the entire country.
In their latest competition, which took place from July 11-15, at the Club National Championship in Camden, N.J., Summit Gillespie, Ted Frascella, Chris Stich, Michael Steinthal and Peter Scott, collected two gold and two bronze medals in the U19 4+ race, U19 4-, Intermediate 2-, and Senior/Elite 4+ respectively.
"This group of guys did a fantastic job," said men's varsity head coach, Cary Wasserman. "Their training from Youth Nationals to Club Nationals was very focused."
Program head coach, Robert Montague, said the rowers had just five weeks to get ready after their trip to California. "That was tough, but it's a testament to our athletes' dedication. They didn't really need a break, they just got right back down to business and delivered the results that we wanted," he said.
For Gillespie, a rising senior and varsity coxswain, seeing hard work pay off is a big thrill.
"It's really cool to see because we've been slowly gaining momentum and placing better in these regattas. It's finally really cool to see the men's side of the program medaling and getting first in events and doing really well," Gillespie said.
At Club Nationals, Greenwich faced various college teams which made for some hard races, but they were up to the challenge. "It was really fun to race against some really serious competition," Frascella, a rising senior and captain, added.
Stich, who served as captain this season, will head to college next month. For him, his time with Greenwich Crew was rewarding because he essentially grew up with the program.
"When I came on my sophomore year, we almost had no recognition as a major powerhouse team. We wouldn't ever think of making Youth Nationals, but now it's an expectation that we're going to qualify at least two boats," he said. "We keep on upping the bar."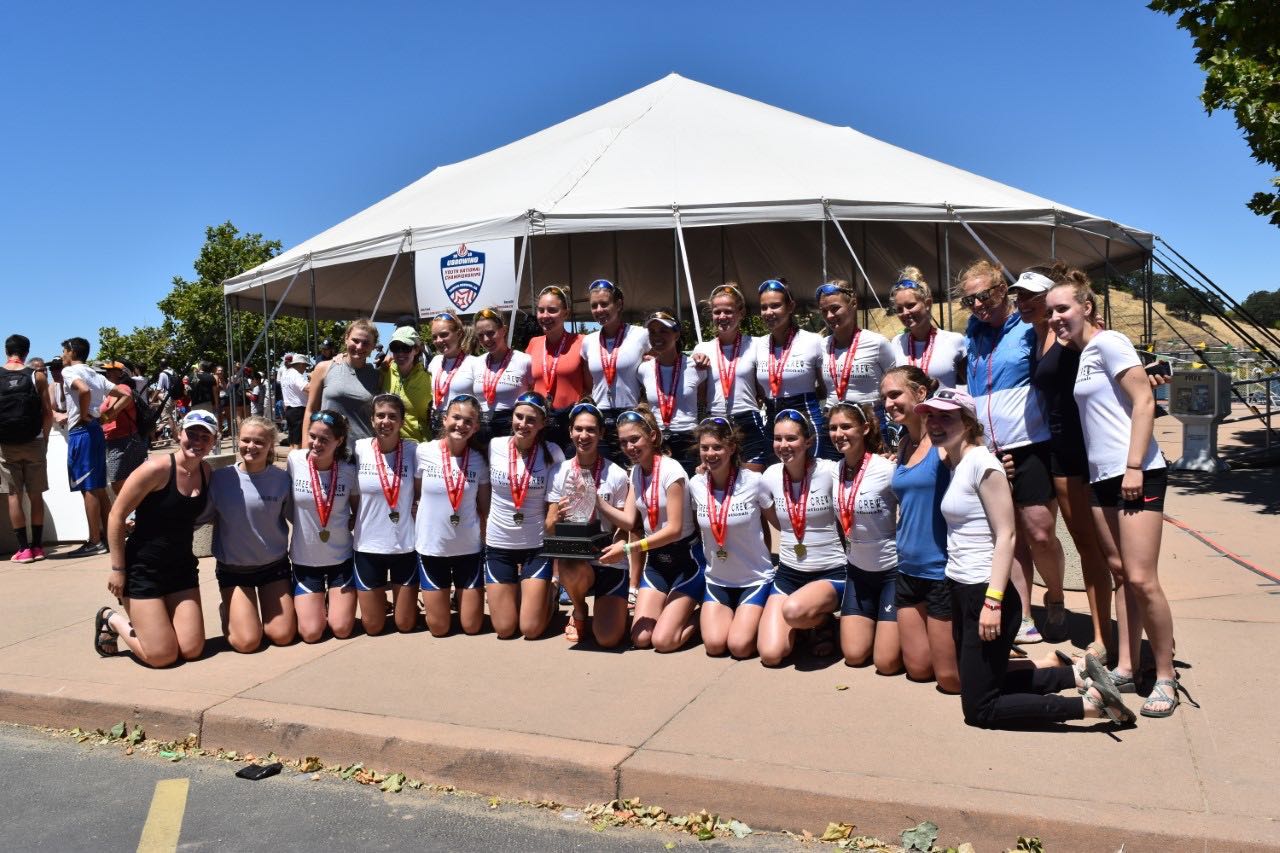 For the women, the past few months have been filled with success, beginning at the Northeast Youth Championships and continuing in California at Youth Nationals, one of the biggest competitions of the year.
"That was a really great weekend in California. It was a really special moment," said women's varsity head coach, Heidi Hunsberger, on medaling.
At Club Nationals, it was more of the same for the women, as rising junior Alexa Zavattaro, and rising senior and captain, Katie Turk, took home the silver in the Intermediate Lightweight 2-. 
The U17 4 boat took silver and included Lydia Garnett, Zavattaro, Sophia Gilroy, Maddie Brody and Jenna Brendel. The Senior 4- composite boat took first, and held Lucy Koven, Isabel Wilkowski, Katie Zaslaw and Caitlin Esse, who is from Saugatuck, Conn.
In addition, the Greenwich composite U19 women's pair of Koven and Esse, who will now head to Prague on Aug. 1 for World competition, took gold in two other events.
"I think we set a lot of goals for ourselves going into the spring season. It was amazing to see the progression our whole team has made and the risks we've taken every practice mentally and physically to reach those goals," Zavattaro said.
Turk said the competition at Club Nationals, which featured a lot of composite teams, was a good measuring stick. Assistant women's varsity head coach, Catherine Starr, added that Club Nationals can be used to teach the kids about rowing by putting them into boats they wouldn't normally be in.
"It's just really fun to go against competitors from all over the country and see how fast you can go compared to them and see how much your work has paid off," Turk said.
Going forward for the women, both Zavattaro and Turk said that the seniors set the standards for the team to follow. For the upcoming fall season, everyone needs to step up to fill the void left by graduating seniors.
"It's great to see everyone stepping up into leadership positions and putting in the extra work and trying to be the fastest we can be. We definitely just want to keep it going and not drop off with our training," Turk said.
Overall, Greenwich Crew has been on a steady rise towards becoming a powerhouse, which is exactly where they want to be. "The goal is is that this program becomes the fastest boathouse in the country," Wasserman said.
Women's varsity head coach, Heidi Hunsberger, agreed.
"It's really fun," she said of training and leading her squad. "[Trying to be the best is] something that I think we work together on really well as a coaching staff. I think it's nice to see both teams come along and have great success. I think last year was a good start, and no one's ready to settle. The kids have bought in."
All off this success for Greenwich Crew stems from hard work and a positive team culture which has been instilled into some of the rowers at a young age, according to Director of Rowing, Mike Wieneke.
"We're super proud of the athletes and the coaches. The amount of time and effort they put into training and getting better is really starting to pay off. It's great to see. Kids that we started off in middle school have been here seven, eight years and getting up to be juniors and seniors in high school," Wieneke said. 
"One of our goals as a program is not to just develop good rowers, but to develop good people. Not just fast rowers, not just good workers, but kind, caring individuals who are going to help their teammates."
Fall registration for Greenwich Crew begins on Aug. 1. No prior experience in rowing is necessary. For more information, go to greenwichcrew.com.