July 20, 2018
Trendy Eyewear Brand Opens Its First CT Store in Greenwich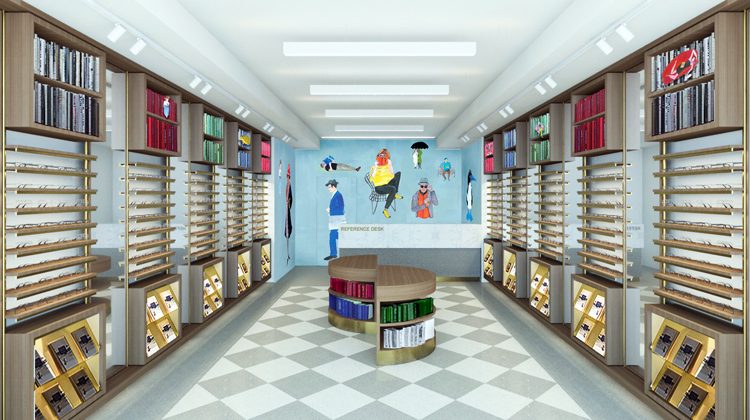 By Michelle Moskowitz
Sentinel Correspondent
Warby Parker, the contemporary eyewear brand, unveiled its premier Connecticut boutique, located at 356 Greenwich Avenue last weekend.
The popular brand, which first launched as an online venture and now boasts over 70 brick and mortars across the country and has two in Canada, offers a vast collection of sleek, sophisticated prescription glasses and sunglasses at reasonable price-points.
The company was founded in 2010 by four friends; Dave Gilboa, Neil Blumenthal, Jeff Raider, and Andy Hunt while they were graduate students at the Wharton Business School in Philadelphia.
The idea first germinated when Gilboa, now co-founder and co-CEO, lost his prescription glasses on a backpacking trip the summer prior to his first semester.
He told the Sentinel that he spent that first semester without glasses, often complaining about it to his friends (now co-founders).
"I was reluctant to buy a new pair because the cost was so high," said Gilboa.
That led the group on a mission to transform the eyewear industry as they knew it – to provide a premium, yet cost-effective, product that would have a positive impact.
"Warby Parker was born, employing a new model that involved designing glasses in-house, and engaging with customers directly, leading to higher-quality, better-looking, more accessible prescription eyewear at a fraction of the price," said Gilboa.
Bypassing licensing fees and by not selling wholesale to other retailers leads to significantly lowered price points for consumers.
For example, a pair of Warby Parker glasses with single-vision prescription lenses and anti-reflective and anti-scratch coatings, cost $95; compared to that of a competitive product that costs typically $400 or more.
The up-market brand is a welcome addition to downtown Greenwich, which has seen a dip in new, fresh retailers over the past year.
"Finally, we have a place in town to buy glasses which are both affordable and chic," said Greenwich resident and designer Catherine Aaron. "I don't have to make a trip into NYC any longer."
"Plus, the 'Buy a Pair/Give a Pair' program is an added bonus," added Aaron, referring to the companies' give-back initiative for which one pair of glasses is donated to someone in need for every pair sold.
According to Warbyparker.com, almost one billion people worldwide lack access to glasses which they very much need. To date, over four million pairs have been donated by the company.
Inside the shop, sprawling oak shelves of spectacled wears are artfully displayed among the designs of New Yorker illustrator Maira Kalman, including wall murals and three-dimensional figures which also decorate its store-front, providing a colorful intrigue for passers-by.
The store also sells geometric Parker eye-ware cases, lens-cleaning kits, and a curated collection of books from independent publishers.
Gilboa took time out of his busy schedule to answer questions from the Greenwich Sentinel on the store's opening and share some of his key insights on the successful brand.
GS: Congratulations on your first-ever store opening in Connecticut. What made Greenwich your choice destination?
DG: We have a large and loyal customer base in Greenwich that has been shopping with us both online, and in our eight stores in New York. We've had our eye on the area and have been waiting for the perfect spot to set up shop and couldn't have asked for a better location than right on Greenwich Ave.
GS: What makes Warby Parker glasses unique and how do you best describe the brand experience?
DG: Each of our retail stores exudes the spirit and values of Warby Parker, but in a way that is customized to the neighborhood, people and traditions surrounding it. Throughout the Greenwich Ave. store, you'll find design details reminiscent of a classic library, including marble-topped tables and a colorful display of books alongside our full collection of eyeglasses and sunglasses. Advisors are on hand to help customers find the perfect fit and offer a seamless check-out experience using a point-of-sale system we built ourselves, Point of Everything.
GS: What was the impetus for your partnership with New Yorker illustrator Maira Kalman in the Greenwich boutique?
DG: We've worked with Maira in a number of ways over the years and have always been big fans of her work which is brilliant, distinctive and full of humor. We've never incorporated an artist's work into so many aspects of a store's design before, and we're happy to have done it here on Greenwich Ave.
GS: As co-founder of Warby Parker what advice can you give to young entrepreneurs?
DG: I'd advise young entrepreneurs to two key things. First, focus on solving real problems. The best businesses solve real pain points for existing customer problems. A good starting point is to think about what problems you encounter in your own life and then think about what it would take to change that.
My other guiding principle is that sometimes a good strategy is saying no to things. Once you have a business, countless growth opportunities will arise, promising to steer the company in different directions. The best businesses stay focused on their core mission and customer base and say no to anything that doesn't move its goals forward.
GS: Tell us about the creation of your Greenwich-exclusive sunglass: 'Hunt Wide in Paloma Crystal with Flash Mirrored Iridescent lenses.'
DG: We released the Hunt Wide earlier this year with our Quintessentials collection and the frame quickly became a customer favorite. We wanted to share a frame that was beloved, while introducing it in a new, seasonal way to surprise customers and share our excitement for the store's arrival with the Greenwich community.
The company accepts a number of vision plans with health insurance companies including UnitedHealthcare, Cigna, Anthem BlueCross BlueShield, Spectera and also provide some out-of-network reimbursement depending on the plan.
For customers that need to renew their prescription, store advisors can guide them through their custom-build Prescription Check app that helps them get an updated prescription within minutes.
Also, the brands at-home try on program allows users to test out five frames for five days for free.
Store hours are 10 a.m. to 6 p.m.; daily. For more information on the store, visit Warbyparker.com.
Tags:
eyewear
,
glasses
,
greenwich
,
Greenwich Avenue
,
Warby Parker