July 6, 2018
Glenville's Little Fire Truck That Could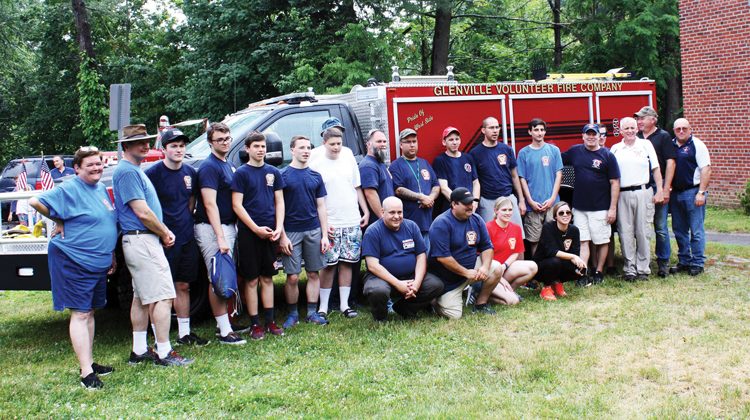 By Paul Silverfarb
Sentinel Editor
After years of planning and fundraising, the Glenville Volunteer Fire Company officially showed off its new Brush Truck during a wet-down ceremony last week.
In a little less than three years, the Glenville Volunteer Fire Company and Fire Chief Michael Hoha raised the $306,000 needed for the new brush truck.
According to the fire company, the truck was purchased using funds raised by the volunteers, with no additional impact to the town's budget.
"This is like an extension to those bigger fire trucks," Hoha said. "It's able to go off-road, where the bigger trucks can't go off-road to get better water sources or to actually fight brush or forest fires. If there's a tight driveway type of incident or if there is snow and ice due to bad weather, its four-wheel drive capabilities can go through all that."
The brush truck is a Ford F-550 chasis and holds 250 gallons of water on board. It also has a 1,250 gallons per minute pump. In addition, the new brush truck has a few structural firefighting lines if needed, and there is 1,200 feet of forced line hose on board and an additional 250 feet of booster reel. There is also a large diameter hose on the truck.
The tires on the new truck can certainly get the job done, as they are special off-road 36 x 13.5 inch tires. The aggressive treads allow the vehicle easily to go off road and gain access to hard-to-reach fires.
And for Hoha, this is a dream come true…literally. A few years ago, Hoha was camping with his son at Camp Seton, situated out in the furthest camp site. He was sitting outside and eating, looking at the fire pit in front of him, when his firefighter instincts arose.
"Being the firefighter that I am, I looked at it and thought that if that fire ever got out of control, how would we be able to put out the fire," Hoha said. "We would have to stretch out a lot of hose to get to that area. So that's where the concept of the brush truck came from."
Training for operation of the brush truck is mostly universal. Almost anybody who can drive the engines in town will pick up operation of the brush truck fairly quickly. The Glenville Volunteer Fire Company will have to partake in some basic training in order to become familiar with the truck.
"We need to familiarize everybody with the workings of the truck, but if someone has driven a regular fire engine, it's pretty simple to pick up and quick," Hoha said. "For any other members, there is a training process that they have to go through."
While the wet-down ceremony took place late last week, the brush truck has been in operation for nearly a month now. And, it's already been put to good use.
"There was a rubbish fire in the back of a yard that was pretty far away and it would have been a long stretch for the regular fire truck," Hoha said. "We were able to drive to the backyard and get the truck within 20 feet of the fire. And, they used the booster line to extinguish the fire."
While the brush truck rests in the Glenville Volunteer Fire Company's garage, it's not just being used for that side of town.
"It's for the Town of Greenwich, not just Glenville," Hoha said. "It can be used in any of the parks. Anywhere the dump trucks from the Parks and Rec. can go, we can go easily. If something happens way deep in the woods, we are able to get in there, help out and assist when needed. And, we're not just using this for Greenwich. It can be used for anybody that needs help. Maybe Stamford, Bedford, Banksville, or anybody that's around us can call us to help out and assist."
Tags:
Brush Truck
,
ctfire
,
fire department
,
Fire Truck
,
Glenville
,
Glenville Volunteer Fire Company
,
greenwich