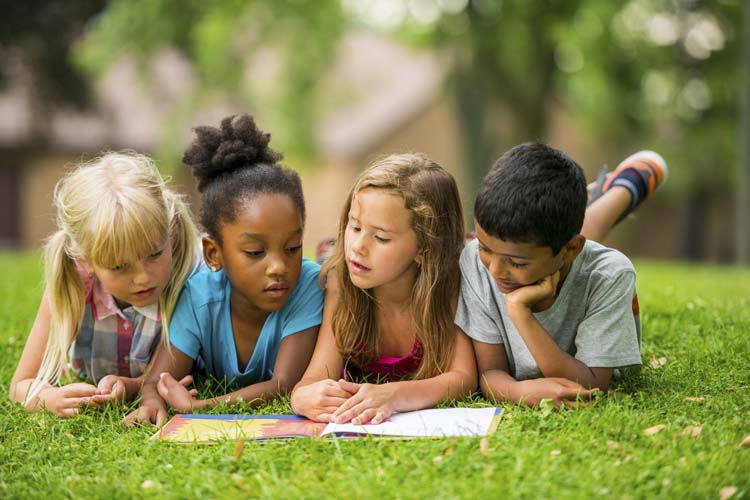 The theme of this year's Summer Reading Program at Greenwich Library is Libraries Rock, and it's all about how music and reading 'rock' our world. The program features events and activities that encourage children to exercise their minds, do something musical, celebrate creativity and try something new.
The goal of Greenwich Library's summer reading program is to keep children reading during summer vacation so that valuable reading skills won't be lost.
Greenwich Library continues to support students at public and private schools through its extensive collection of books that are found on school summer reading lists. While Greenwich Library has always provided print titles, the extensive offerings also include downloadable ebooks and audio books in support of the Greenwich Public Schools digital learning initiatives. Visit greenwich.lib.overdrive.com for the library's digital collection.
All children who are reading independently are welcome to join the Summer Reading Program. Students grades K-6 can register online or in person beginning Monday, June 18 at any Greenwich Library location. Register online at greenwichlibrary.org/children. Select Byram, Cos Cob or the Main Library summer reading program. Track your reading online, find out about special events and the prizes you earn when you reach your reading goals. Preschool children can join in the fun to earn small prizes in the Read-to-Me program at all Library locations. Visit the Library to register.
Summer Reading Kickoff at Byram Shubert Library – Nature Rocks with Animal Embassy
On Monday, June 18 from 3:15 to 4:15 p.m., Animal Embassy will present a live animal show to help kick off Summer Reading. Families will discover some of the musical instruments used by indigenous people such as rainstick, maraca, and drum and learn about the animals that contribute to nature's symphony. Meet and greet incredible live Animal Ambassadors such as South American Chinchillas, North American Spring Peepers, a Cuban Tree Frog and more. Register for the Summer Reading program and receive a reading log and a special prize. No reservations required. For more information call 203-531-0426.
Summer Reading Kickoff at Cos Cob Library – Reading Rocks with Pete the Cat
On Tuesday, June 19 from 3:30 to 4:30 p.m., the staff and Friends of Cos Cob Library will present "Reading Rocks with Pete the Cat" with Al deCant, a highly interactive music program that promotes the joy of reading. Al's performance is packed with toe tapping music, great stories, and audience participation. Al will bring Pete and his adventures to life. Come join the fun and sign up for their Summer Reading Program. Weather permitting, the event will be held on the library lawn at 3:30 p.m. for Summer Reading sign-ups and 3:45 for the show. No reservations required. For more information call 203-622-6883.
Summer Reading Kickoff at the Main Library – Magic by Scott Jameson
On Saturday, June 23 at 11 a.m. bring the whole family to kick off summer reading with Magic by Scott Jameson. A family-oriented performance, Jameson's show is full of magic, music, and juggling that will have you laughing out loud and perched on the very edge of your seat. Door prizes and refreshments follow the performance. All ages are welcome. Doors open at 10:45. No registration required. For more information call 203-622-7940.
For more information about the Summer Reading Program visit greenwichlibrary.org/children