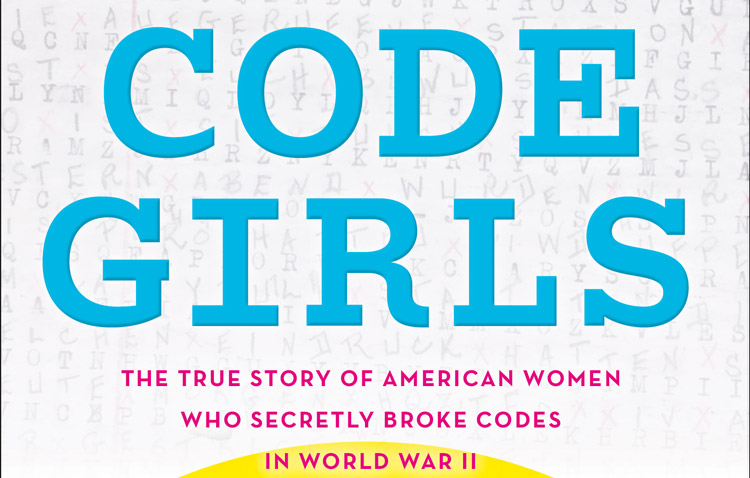 Code Girls by bestselling author Liza Mundy has been selected by the Greenwich community for Greenwich Reads Together 2018. The title was announced today, Wednesday, May 30 at Greenwich Library in a ceremony attended by over 40 community members. The book was chosen through popular vote by nearly 1,000 community members.
The Selection Committee winnowed the field down to four exceptional books, then asked library patrons to make the final decision on what they most wanted to read and discuss for Greenwich Reads Together. Mundy will speak at Greenwich Library and at Greenwich High School on Wednesday, November 7, as the culminating GRT event.
Two thematically related companion books were announced for younger readers: Code Girls, adapted and abridged for middle school readers and Grace Hopper: Queen of Computer Code by Laurie Wallmark for elementary school readers.
Code Girls (2017) tells the story of how more than ten thousand young women were recruited by the U.S. Army and Navy from small towns and elite colleges to serve as codebreakers during World War II.
While their brothers and boyfriends took up arms, these women moved to Washington and learned the meticulous work of codebreaking. Their efforts shortened the war, saved countless lives, and gave them access to careers previously denied to them.
A strict vow of secrecy nearly erased their efforts from history; now, through dazzling research and interviews with surviving code girls, bestselling author Liza Mundy brings to life this riveting and vital story of American courage, service, and scientific accomplishment.
According to the Washingtonian, "Mundy's fascinating book suggests that [the Code Girls'] influence did play a role in defining modern Washington and challenging gender roles–changes that still matter 75 years later."
Liza Mundy is the New York Times bestselling author of The Richer Sex: How the New Majority of Female Breadwinners Is Transforming Sex, Love and Family and Michelle: A Biography. She has worked as a reporter at the Washington Post and contributed to numerous publications including The Atlantic, TIME, The New Republic, Slate, Mother Jones, and The Guardian. She is a frequent commentator on countless prominent national television, radio, and online news outlets and has positioned herself at the prestigious New America Foundation as one of the nation's foremost experts on women and work issues.
Greenwich Reads Together (GRT) is a community-wide reading experience which engages all of Greenwich in exploring a single book, culminating in a month-long series of special events and programs in the fall. This year's programming is generously underwritten by The Friends of Greenwich Library.
Over 100 GRT suggestions were submitted by the community to the selection committee. In order to be selected for the 'final four vote', a book had to be of literary quality, reflective of universal issues and capable of generating thought-provoking discussions. It had to lend itself to engaging public programs and appeal to a diverse population. It had to be currently in print and available in large quantities and in multiple formats, including ebook, audiobook and large print. In addition, the author had to be alive and available to speak in Greenwich.
The 2018 Selection Committee was led by Assistant Manager of Lending Services Joanne Gaither and included Sandra Chan, Health Librarian; Moira Danehy, Manager of Lending Services; Amy Fleishman, Community Volunteer; Jeannie Gillespie, Diane's Books; Gene Hayes, Librarian; Renee Ketcham, Alliance Francaise and the Byram Shubert Library International Book Club; Tom Moroney, Retired Men's Association of Greenwich; Alice Sherwood, former head of Children's Services; Carolyn Surgent, Friends of Greenwich Library; Siobhan Schugmann, Librarian; Adele Teitell, League of Women Voters; and Robin Terzi, Library Technical Assistant.
Previous Greenwich Reads Together selections include The Book Thief (2011), Zeitoun (2012), When the Emperor Was Divine (2013), The Boys in the Boat (2014), Americanah (2015), Station Eleven (2016), News of the World (2017).
"Community support for and participation in Greenwich Reads Together continues to grow," said Barbara Ormerod-Glynn, Greenwich Library Director. "We're proud to facilitate a community conversation inspired by this common reading experience."
Greenwich Reads Together will take place in October and November 2018. Copies in a variety of formats are available to borrow at Greenwich Library and may also be purchased at local bookstores including Diane's Books.
For more information, contact Kate Petrov at Greenwich Library at kpetrov@greenwichlibrary.org