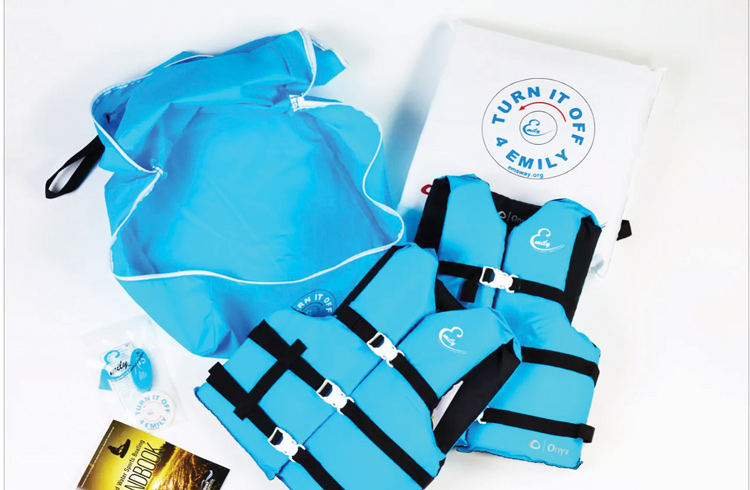 By Paul Silverfarb
Sentinel Editor
It's that time of the year again for countless people living on the coast. Time to get outside and enjoy the fact that the winter weather is officially in the rear-view mirror.
Around Greenwich, many people are getting their boats prepped for entry into Long Island Sound, eager to have some fun in the sun and on the water. For Joseph and Pamela Fedorko, this is the time of year they like to get the word out on the importance of boater safety.
"We want to remind people to take a few minutes before you go out on the water and make sure you have all the necessities," Joseph Fedorko said. "Make sure you have all the safety equipment, life jackets and tell everybody that's on your boat the rules of what the boat are and what to look for."
Back in August of 2014, their daughter Emily was tragically killed in a tubing accident on Long Island Sound.
"We want people to stop and take five minutes before you go out there and go through some of the rules and make sure that your line and some of the things you're using is up to snuff," said Joseph Fedorko. "We never thought we would be doing this. We are trying to let people know that we didn't expect this to happen to us. But it could happen to you; so take that precaution and take that five minutes. It could be huge, and hopefully this won't happen to someone in the near future."
May is Water Safety Month. It's also the month where boat owners make preparations to get their boats open. They are getting ready to hit the water. What a great time for the Fedorkos and the Emily Catherine Fedorko Foundation to debut their boater safety kit.
The boater safety kits include a U.S. Coast Guard approved throwable cushion, two U.S. Coast Guard approved adjustable life vests, a Towed Water Sports handbook and a safety packet that contains a floatable keychain, towing safety card and a "Turn it off 4 Emily" ignition-sticker that are all in a resealable splash proof phone holder.
"We want to have something a little more useful and hands-on that can be provided to people that are buying boats or that already have boats and give those people a little more of a upgrade than the orange life vests that are the standard Coast Guard approved needed vests that the law is asking for," said Joseph Fedorko.
The Emily Catherine Fedorko Foundation is actually not selling the boater safety kits individually, as they are giving them away in bulk to mostly boat manufactures and marinas. Because the cost of sending out an individual kit would be too high, they would rather get them in the boater's hands through a marina or dealer.
"We are welcoming dealerships, as well as any boat marinas that want to have this, to call or email on the website," said both Pamela and Joseph Fedorko.
Anybody interested can visit Emsway.org or email info@emsway.org.
And the response has been excellent, according to the Fedorkos.
"They are all Coast Guard approved and adjustable, so they can fit more than one sized person," Joseph Fedorko said. "They are unisex and can be used in a pinch and they are comfortable. We have been utilizing them towards the boat manufactures that are selling boats. Typically they provide the kits as a gift when someone purchases the boat."
And the kit is something that is certainly needed. It's no surprise that wearing life vests are extremely crucial when it comes to being on the water. The Fedorkos said that unfortunately, and this is especially prevalent with children, they forget or don't have the correct right life vest. Having this kit on board gives boaters the opportunity to know that they can use it and be just as safe as if they were in more of a stylish neoprene vest.
"The toughest thing today is that we are always in a hurry and want to get out and have fun," Joseph Fedorko said. "But we forget some of the small items that are most important. You overlook them. When it comes to safety and doing these types of water sports, it's not necessarily just the people in the boat with you. There are other boats, obstacles, other people in the water, and water temperatures. There are many things to think about."
In addition to the month of May being Water Safety Month, beginning May 19 and running to May 25 is also Boating Safety Week.
"Our waters in Long Island Sound are only 55 degrees," Joseph Fedorko said. "Not too many people are going to be in it, and it won't be until mid-June before anybody pushes a toe in. We want to emphasize that people need to be safe and take the time to prepare a little more."
The Fedorkos, along with State Senator Scott Frantz (R-36), worked nonstop to get Emily's Law passed in September of 2015. The law states that it is illegal for anyone under the age of 16 to operate a boat that is towing someone.
"There are still many parts of our laws that are really confusing," Joseph Fedorko said. "You can drive a car, but before you get behind that wheel you need 10 hours of classroom time and then another 30 hours of experience behind the wheel. No matter where you are in the United States, when you purchase a boat you can buy that boat, get that license and have that ability to get that safe boating certificate and classroom stuff, but you don't have to get behind the wheel of that boat. You can get in it and drive."
While progress on boating safety has been made, the Fedorkos believe that there's still work to be done.
"Connecticut is very proactive, and we are one of the best when it comes to laws and requirements, but there are many states that don't have that many rules or laws in place," they said.
"Being 16-years-old provides the ability where you must have a spotter on board that is at least 12-years-old, you have to be at least 16-years-old and have an additional safety requirement that allows you to tow people behind your boat," Joseph Fedorko said. "That's anything from water skiing and tubing to barefooting and wakeboarding. It's a good rule and something that was put into place soon after the accident, with the help of Senator Scott Frantz and a lot of people that put in tireless time behind it to get it through."
And being proactive is something that both the Fedorkos and all the people involved with the Emily Catherine Fedorko Foundation do all the time.
For the past few years, the Fedorkos put on a walk throughout Greenwich Point in honor of their daughter. While that walk will not take place this year, that doesn't mean the Emily Catherine Fedorko Foundation won't be busy. The Fedorkos plan on helping out with a plethora of other programs and activities throughout the year.
One of those events will be on June 9. The Fedorkos will join up with the State of Connecticut's No Child Left Inside program, a program that benefits all ages. The program is held in many different areas each year, but the Emily Catherine Fedorko Foundation will be there to provide life vests and all sorts of floatation products.
In addition, the Greenwich Marine Police Boats will be given all types of life vests and throw cushions and will periodically hand them out to people throughout the waters of Greenwich. That program, which will run throughout the summer, is free of charge.
"We are going to have a booth at the Greenwich Town Party on Memorial Day weekend, from 10 a.m. to 2 p.m.," said Pamela Fedorko. "We will be there giving out Emily Fedorko bandanas to anybody that stops by and says hello."