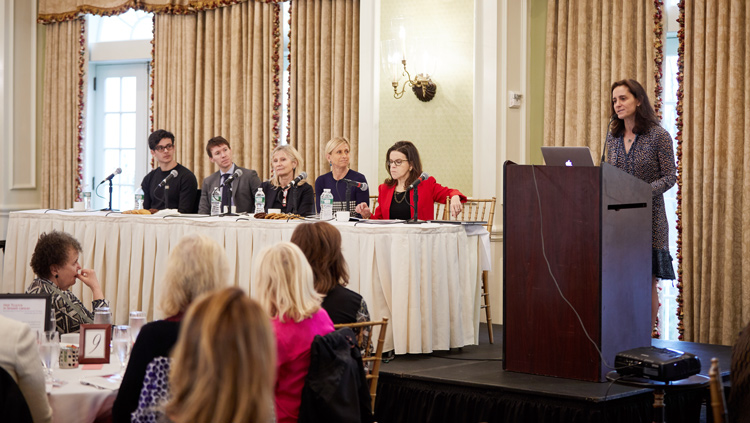 By Michelle Moskowitz
Sentinel Correspondent
The Breast Cancer Alliance (BCA), based in Greenwich, recently held two world class medical symposiums with leading experts, designed to inform women on how they can take action for themselves against the disease that affects one in eight women, as well as to disseminate new breakthroughs and the latest research among the breast cancer medical community.
The first panel, "Take Action Against Breast Cancer," was held in Washington, D.C., on April 19, with local experts, such as Dr. Clifford Hudis, CEO of American Society of Clinical Oncology, Dr. Eleni Tousimis, Director Ourisman Breast Cancer Center MedStar Georgetown University Hospital, and Dr. Rachel Brem, Director Woman's Imagine the George Washington University.
The second conference, "Hot Topics in Breast Cancer, Breakthroughs in Prevention, Screening and Therapies," was held last week, in nearby Purchase, N.Y., in partnership with the UJA*JCC, and featured top leaders, such as Dr. Elisa Port at the Dubin Center at Mt. Sinai, Dr. Lee Jones at Memorial Sloan Kettering, and Adam Yala, PhD candidate at MIT.
Yonni Wattenmaker, Executive Director of the BCA, shared some of the key findings impacting the outcome of the disease with the Greenwich Sentinel.
GS: After attending two symposiums with the country's leading experts in the field, do you feel optimistic about the outlook for women diagnosed with breast cancer, and what are some of the latest breakthroughs in therapy?
YW: Absolutely.  The overall survival rate for breast cancer caught early is @90%.  20 years ago, that was not the case.  There is still more work to be done, and 30% of breast cancer patients are living with metastatic disease, but advancements are surely being made, and there is good reason to be optimistic.
GS: Over the past few years, there has been conflicting reports about what age women should start getting mammograms, the screening that helps detect breast cancer. What is the recommended age women should start, and should all women get ultrasounds as well?
YW: Breast cancer specialists, despite changes in guidelines, still recommend women begin annual screening at the age of 40.  If someone has a family history, they should seek counsel on when to begin.  If someone in your immediate family has had breast cancer, you should begin mammography 10 years before that person's diagnosis.  Women's need for ultrasound vary, so that is a conversation for each woman to have with her breast radiologist.
GS: Is there any evidence that breast cancer can be prevented, and if not, are there certain precautions through diet and exercise, or actions women can take to decrease their odds in developing the disease?
YW: Doctors tell women all the time that they are not responsible for a breast cancer diagnosis.  It helps to exercise and maintain a healthy BMI, but it is really about being active and living life in moderation. There is nothing certain in terms of prevention at this time, and none of those lifestyle behaviors are a promise for preventing disease, but they help.
GS: What were a few of the most surprising take-aways from the conferences, and how much progress has been made in the past five years?
YW: Advances in plastic surgery and reconstruction are remarkable, radiation and immunotherapy are promising, and even machine learning to help predict the development of disease and advise on treatment plans. It is incredible how many novel approaches have arisen over the last five years, far too many to summarize here.
GS: When a woman is diagnosed with breast cancer, what is the best advice you could provide that would ensure the best rate of survival? 
YW: I wish I could affect someone's chances of survival.  My best advice would be to get a second opinion and be sure you feel like you are in the best, most comfortable hands for navigating the path of treatment.
GS: Are we close to curing breast cancer, and what can people do to help eradicate this disease?
YW: Yes, and not yet. Survival rates have certainly risen, but there is so much to be done. There is a myth that breast cancer is one disease, but it is really a category for cancers that develop in the breast.  There are multiple types and stages and everyone's family history and personal pathology effects an outcome.  There are some highly successful treatments for some kinds, and other types are desperately in need of more effective, targeted therapies. The best thing people can do is support organizations like the Breast Cancer Alliance, which can provide funding for critical life-changing research, to train new, top-quality breast surgeons, and support women who need financial assistance with their illness.
Visit breastcanceralliance.org for more information or to get involved with the local organization with national impact.