May 4, 2018
Caroline Jones Enjoying Success, Eager to Play Back Home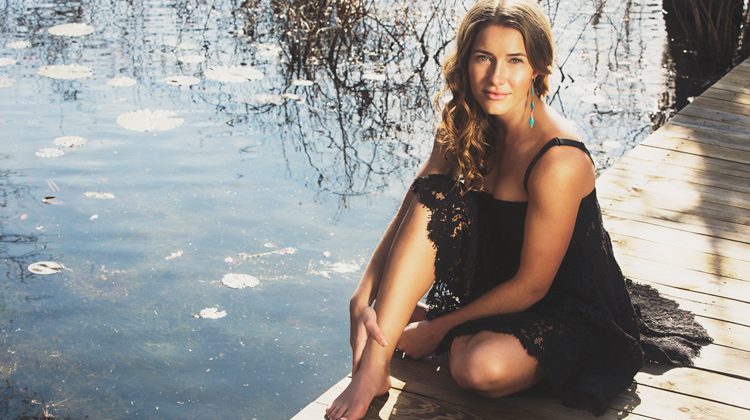 By Paul Silverfarb
Sentinel Editor
It was legendary rocker Bon Jovi who famously asked the question "Who says you can't go home?" Greenwich native and rising country star Caroline Jones is one of those lucky people who gets that opportunity.
While Jones' calendar is jam-packed, touring North America with top talent and promoting her new album, Bare Feet, the country singer and her band will stop at Riverside Yacht Club, on June 22, to headline Greenwich Hospital's Under the Stars event. This year, Under the Stars will benefit women's and children's health at Greenwich Hospital.
"It's a big honor, and we are really excited," said Jones. "The support of the women's and children's health at Greenwich Hospital, and investing in women's and children's health is such a worthwhile cause. The health of women physically, emotionally and spiritually is the foundation of our society and our culture. I am really excited to meet up with them for that cause."
And for Jones, this is a homecoming event that she made sure not to miss. The country artist, recently named by Billboard Magazine as one of the 15 country artists to watch in 2018, said that performing in Greenwich is very important to her.
"To come home is very special to me," Jones said. "Greenwich is one of the most beautiful places that I have ever been to, and I have been to a lot of places while traveling. So I always really enjoy coming home. Also, being in proximity to New York City, where I went to high school and college is great. It will be a really fun event, and also it's a gorgeous time of the year. I love that time of the year in Greenwich, so I am really looking forward to it."
And guests at the Greenwich Hospital's Under the Stars event will be treated to a plethora of songs from her new album, Bare Feet. Jones wrote all the songs and shows her musical range, playing all the instruments on the album, except bass and drums.
Bare Feet was co-produced by producer Ric Wake, who has worked with legendary artists Mariah Carey, Whitney Houston, Trisha Yearwood and Celine Dion.
"This album is my baby," Jones said. "I co-produced it with Ric Wake and we really built it from the ground up. Getting partnered with him was really a dream come true. This album really is a work of my heart and soul. I am so proud of it and so happy that people can finally hear this blend of country and pop and singer-songwriter that we mixed up and put into this album. I am really excited to play this album live."
And Jones, who grew up in Greenwich, attended school in New York City and currently resides in Florida, will be having a summer to remember. The young country singer will open for Jimmy Buffett and the Eagles. She will also be opening once again for the Zac Brown Band and will take the stage during Tim McGraw and Faith Hill's Soul2Soul tour.
In fact, three days prior to the Under the Stars event, Jones will be performing with Hill and McGraw in London, Canada.
"We have a summer that's full of exciting tour dates," Jones said. "We are going to be all over the map, but I really wanted to come home and do this event for the Greenwich Hospital. It's also fun to do a headlining event in my hometown because there are so many people that want to come to some events, and now they have one at home that they can come to and see a full show. It's going to be really fun."
In the past two years, Jones has performed in all sorts of venues. She has played in the Hollywood Bowl, Walt Disney World's Theater, PNC Pavilion, Camping World Stadium and at Florida State University and their annual Friday Night Block Party.
In addition to the Under the Stars event at the Riverside Yacht Club, Jones and her band will perform at places like Citi Field in Queens, N.Y.; Sprint Center in Kansas City, Ms.; Safeco Field in Seattle, Wash. and Target Field in Minneapolis, Minn.
While Jones has played in stadiums that hold over 50,000 people or venues that fit a few thousand, she said that playing for something like Under the Stars is special.
"When you can see people's faces and kind of, metaphorically, feel their hearts beat close to you, there's a certain energy and intimacy that's hard to replicate in an arena or stadium," Jones said. "Those places have their own benefits because there is so much more energy with that many people. But what I am really excited about is that I can stretch out my set and really being able to play our whole show, with a bunch of fun covers and a bunch of songs from my new album 'Bare Feet" and really being able to showcase my band as well. I am also looking forward to seeing some familiar and warm faces. I really appreciate all the people that will be there to support the cause and support me as an artist."
And touring is something Jones says never get old. At only 27 years old, the country artist is doing what she loves, playing her music to fans at stadiums and arenas all over North America.
"It's amazing and so much fun on many levels," Jones said. "To be able to perform at the highest touring level is a huge honor for me at this point in my career. And to be able to have mentors and relationships and friendships with people like Zac Brown and Jimmy Buffett, whom I looked up to for so long, is amazing. It's a beautiful part of the journey of my career that I know, in decades to come, I will look back on and really fully be able to understand how much I learned and became the artist I'll become from these kinds of experiences. They are priceless."
And one of those concerts had some extra meaning for her. Back on Nov. 19, Jones joined Buffett, Kenny Chesney, Toby Keith and Jake Owen at the Donald L. Tucker Civic Center, in Tallahassee, Fla., for the Hurricane Relief Benefit Concert. 
"I was just honored to be on that bill," Jones said. "Being a Florida resident now and having so many hurricanes hit, not only Florida, but Texas and Puerto Rico, it was a no-brainer for me. Whenever I get to play music, I am so happy. But when I get to play music and support a great cause, it's a no-brainer for me. I love doing it. Music inspires and heals people, so it's really an honor and privilege for me to be a part of something like that."
And it was at that concert where Jones met Buffett and sang with him for the first time. At the end of the event and after all the encores, Buffett invited Jones on the stage to sing one of his hits: "Breathe In, Breathe Out, Move On," a song that Buffett wrote after Hurricane Katrina, with him to close out the show.
"It was beautiful the way the stars aligned," Jones said. "It was one of those magical moments that you can't really script. It just kind of happens. It was such a magical ending to that night and you can actually feel how much everybody was feeling those lyrics to the song."
While the memories that Jones has already made during her young career in the music industry are vast, there are a couple that will always stand out. Jones said that singing on stage with Zac Brown Band for the first time and singing "Tomorrow Never Comes" was one of those.
"It was truly a dream-come-true moment for me," Jones said. "I had imagined myself and sang that exact song into my hairbrush while looking in a mirror so many times and visualize myself being with them. I did that every day. It's my favorite song. I was supposed to be on tour with Zac for only three days, so at the end of the weekend he invited me to sing a song on stage with him and asked me what I wanted to sing. I obviously said: "Tomorrow Never Comes," but singing on stage with him for the first time in front of 25,000 people was such a dream come true because he's been such a hero of mine for so long. Now he's a mentor and a friend. It was cool."
And Jones is sure that the June 22 Under the Stars event will be just as memorable.
Tags:
Bare Feet
,
Caroline Jones
,
Country Music
,
ctmusic
,
greenwich
,
Greenwich Hospital
,
music
,
Under the Stars