May 4, 2018
Brunswick Tennis Seeks Perfection, Hungry for Titles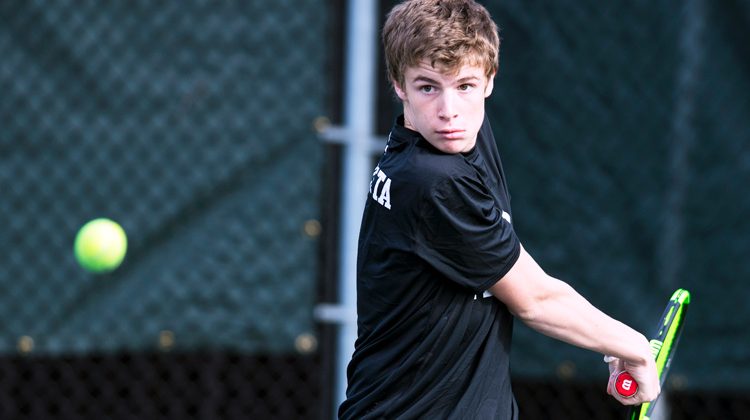 By Paul Silverfarb
Sentinel Editor
This year the Brunswick School tennis team has it all. Amazing singles athletes, talented doubles teams, a plethora of experience and a bunch of young talent. That has equated to quite the memorable season so far.
As of press time, the Bruins are a perfect 8-0 on the season as of press time. And don't think Brunswick School edged out a victory or two. They have been dominating throughout the season, as the opposition has yet to score two or more victories during a match.
"This is certainly one of our stronger teams in regard to youth, depth and overall team dynamic and attitude towards their training and competing," said head coach Ryan Abraham. "We have always had a good team in the past but this year is special. We only lost one senior last year to graduation, so we have a lot of depth."
Captain Hayden Hoover said that this season has been quite the memorable campaign and believes that they are successful due to their chemistry both on and off the court.
"This year has been a great year," said Hoover. "This year we have a lot of young talent like Ryan Glanville, Ben Powis and Aidan Reilly. We are really good emotionally, stay stable throughout matches and play for each other. We started out strong this year and have been dominant in the FAA for the past couple of years now, but we also had some big wins this year that were really important for us."
Fellow captain Willie Turchetta has been a member of the Bruins' varsity squad since eighth-grade and has some lofty goals for this team.
"We have a lot of talent on this team and are super supportive of each other," Turchetta said. "I think we play for the team and it's more important that the team wins than any individual accomplishment. Emotionally when someone is down, every guy on the other courts are cheering the guy on and helping him."
Brunswick School blanked both Hotchkiss School and Kent School this season, as have taken 6-1 victories against Cheshire Academy, King, St. Luke's, Hopkins twice and Trinity.
And it was that match against Trinity that has been the most impressive to date. After several years of cancelled game due to inclement weather, the Bruins finally had the chance to battle perennial powers Trinity this year. And they didn't disappoint.
"That was a huge victory for us because we know how talented they are and we haven't played them the past couple of years due to rainouts," Hoover said. "We knew they were going to be a really tough team and that victory really shows what this team is capable of."
No. 1 singles players Turchetta and No. 2 singles Ben Powis took care of business against their opponent, as Turchetta won 6-2, 6-0 and Powis won 6-1, 6-0. At No. 3 was Ryan Glanville and he came away with the 6-2, 7-5 victory. Keeping the good times rolling and helping Brunswick sweep singles was John DeLucia, as the No. 4 singles player won 6-0, 6-4.
"I knew a couple of guys on the team and know that they are super talented," Turchetta said. "They are a team that we lost to when I was younger and the last couple of years we got rained out against them. But they ae a good team and that victory was a huge confidence-builder for us to beat them off the court like we did."
Not to be outdone were Brunswick's doubles, as they won two-out-of-three matches. Leading the way was the team of Nick Saah and Will McKinnon, as they won at No. 2 doubles 6-3, 6-1. The team of Matt Russell and Pierce Henderson also were solid at No. 3 doubles, coming away with the 6-3, 6-3 victory. The Bruins' only defeat came at No. 1 doubles, as the team of Hoover and Clark Davis fell 3-6, 5-7.
"It was one of those games that were very unpredictable," said Abraham. "For two years in a row we were rained out, so we weren't sure of what their strength was. They are usually pretty strong. Their top guys were pretty good, but we just had much more depth on that day and were the stronger team on the day. They actually turned not to be as strong as a team like Cheshire Academy, but we still took it very seriously."
Back on April 18, Brunswick traveled up to Cheshire Academy and came away with the 6-1 victory, but the score didn't show how difficult it was for the Bruins.
No. 2 singles player Powis won 6-1, 6-3, while teammate Ryan Glanville took care of things at No. 3 singles with a 6-3, 6-4 victory. At No. 4 was Aidan Reilly, who won 6-3, 6-1 and not to be outdone was DeLucia at No. 5 singles, winning 6-2, 6-0. At No. 6 singles, Hoover finished off his opponent 6-1, 6-2. Brunswick's lone defeat was at No. 1 singles, as Turchetta fell in a quite spirited battle, 5-7, 7-6, 8-10.
However, Turchetta got his revenge in doubles, as he teamed up with Powis and came away with the 8-4 victory. Both Reilly and Glanville teamed up for No. 2 doubles and won a hard-fought 8-5 decision.
"When you get wins like those, especially in midseason where you are yet to be beaten, keeps the confidence high and keeps the buzz high and the momentum can carry forward for the following week," Abraham said. "They are all feeling good right now and all think that although they are favored to win the other matches, that they can't take them for granted. They need to come out strong for every game that we play."
And Brunswick still has a plethora of tough matches to play, as teams like Greens Farms Academy, Taft School, Masters School and Rye Country Day School are still on their schedule.
"I think the team is trying to stay focused and trying to work hard in practice," Abraham said. "But they are also not feeling nervous. They are a relaxed team and know what they are capable of. Come game day they will put their best foot forward."
Abraham said that the team has been so successful because of its captains, Hoover and Turchetta.
"They have been doing a great job and have gelled the team well," Abraham said. "Hayden has been a captain for two years in a row and Willie is our top player. They have a great attitude, whether it's with a freshman that's a first-timer or a sophomore who was here last year. They bring the team together so well."
One of the key components for Brunswick tennis this year has been the combination of top-notch experienced players and talented youth on the roster. And losing only one athlete from last year's squad also doesn't hurt.
"For us losing only one athlete was great news because some of our rivals lost a lot to graduation last year," Abraham said. "We basically kept our strength from last year and have them on this year's team. It's nice when it happens that way."
The depth of the team is certainly one of Brunswick's main strengths. While Turchetta is the top singles player, a junior in Powis, sophomore in Glanville and a freshman in Reilly fill out the next three spots. All four of Brunswick's top singles players have been on the varsity squad since eight-grade and bring a lot of experience to the tennis court.And the opposition doesn't get a break when it comes to doubles, as the Bruins are just as strong. Hoover is the team's strength in doubles and Abraham said that he's put in a bunch of work to improve his doubles game. Joining Hoover at No. 1 doubles is DeLucia, who took two years off of tennis to try his hands at wrestling and has come back to tennis this year stronger than ever.
From there, Abraham said that there's a slew of talented doubles players that come in to round out an intimidating roster. Some of those tennis standouts are seniors Davis, Nick Saah and McKinnon. Russell, a freshman, and Henderson, a sophomore, are new to the squad and are both seeing quality time on the starting roster.
"There really is no position at this point because they are all so similar," Abraham said. "Based on how they are performing or what team we are playing, we will put players in certain spots."
And both Hoover and Turchetta think the sky's the limit for the Bruins this season.
"I definitely think that if we keep it up and play to our potential that we can be New England champs," Hoover said. "We just need to live up to our expectations."
"I have been on the team for five years and have only won the New England championship once, and it was when my older brother was a senior," Turchetta said. "We have been close a few times and if I was able to help the team have an undefeated season or win New Englands, that would be something really special to end my Brunswick career."
Tags:
Brunswick
,
Brunswick School
,
Brunswick Tennis
,
cttennis
,
FAA
,
greenwich
,
NEPSAC