April 29, 2018
BCA Fashion Show Exudes Style, Stellar Advocacy Among Teens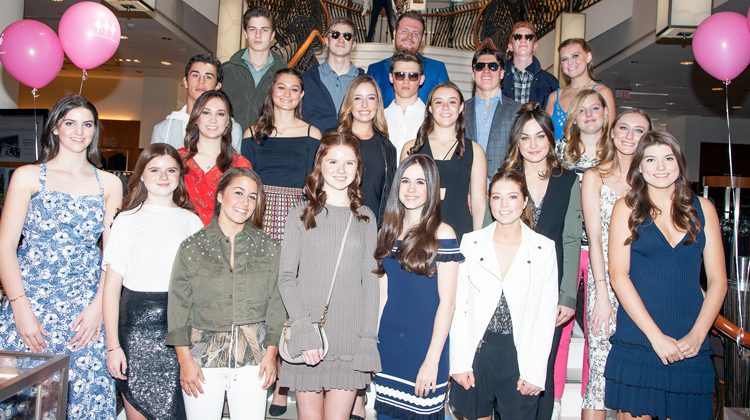 Michelle Moskowitz
Sentinel Correspondent
Today, one in eight women will be diagnosed with breast cancer over the course of her lifetime.
In 2018, an estimated 266,120 new cases of invasive breast cancer are expected to be diagnosed in women, along with 63,960 non-invasive cases, and an estimated 2,550 cases of invasive breast cancer are expected to be diagnosed in men.
And for women in the U.S., death rates are higher from breast cancer than any other type of cancer, aside from lung cancer, according to breastcancer.org.
But this past Sunday, when the brightness and warmth of the sun signified that it was in fact, finally springtime, twenty-two local youths took action against the pervasive disease at the 2018 Breast Cancer Alliance (BCA) Junior Fashion Show and Luncheon. 
Since its inception in 1996, the BCA, based in Greenwich, has worked tirelessly, garnering tremendous community involvement, in order to improve the survival rates and quality of life for those affected by breast cancer, through prevention, early detection, treatment and, ultimately, a cure. 
To date, the local organization, with national impact, has raised over $25 million, supporting its mission by investing those funds in innovative research, breast surgery fellowships, regional outreach programs, and support services for the underserved.
In 2007, the Junior BCA Committee was developed in order to foster philanthropy and mentorship among local youth. The organization has set the building blocks for future generations to learn how they can make a difference in the lives of others and how peer-to-peer education can rally community support around such an important cause.
Hosted and curated by RICHARDS, a committed and long-time supporter of the BCA, the annual event garnered a stellar turn-out of family, friends, and staunch supporters, dressed up for the fashion event, almost all sporting a splash of pink.
Members of the Junior BCA Committee are comprised of students from a broad span of high schools from Fairfield and Westchester counties, including Greenwich Country Day, Greenwich High School, Sacred Heart Greenwich, Rye Country Day School, Stanwich School, Fox Lane High School, Greens Farms Academy, Bronxville High School and Brunswick School. 
"My goal for today is to build awareness that teenagers can really make an impact on the world, and to hopefully inspire younger kids and siblings to become activists and philanthropists," said Yonni Wattenamaker, executive director the BCA, whose son Max has served on the committee and been a teen model for the past four years.
Before the fashion show got underway, guests and committee members mingled amidst bright pink balloons and noshed on mini-sandwiches, colorful-fruit spears, and crudité platters – as they were invited to bid on auction items provided by local retailers such as a cashmere wrap from J. McLaughlin, a gift basket from Dream Day Spa, and a handbag from Dooney & Burke.
Wattenmaker, who thanked the enthusiastic crowd for showing their support, introduced the teen models one-by-one before coming out on to the ready-made runway. Wattenmaker noted where each student attended school, offered a tidbit about passions, likes, and interests and detailed each student's voguish fashionwear.
A true gender mix, the teens were transformed into glamourized runway models, coiffed by Greenwich's Maison D'Alexandre.  The models showcased an array of RICHARDS's contemporary brands such as Elizabeth & James, Citizens of Humanity vintage and 04561, as proud onlookers took delight in the stars of the show.
But what audience members seemed to focus on most were the radiant smiles worn by each and every one of the twenty-two breast cancer advocates. 
"I always appreciate the opportunity to engage families in charitable work, and there is something special about watching parents enjoy, and take pride in their children setting that example," said Wattenmaker.
BCA Committee co-chairs Xandy Duffy and Elisa Wilson were thrilled to share their joy and admiration for the teens who worked so hard throughout the year, including their own children who served as committee members.
"It's amazing to see how passionate the kids have become in their efforts, including the boys, stepping out of their comfort zones, and getting excited to raise money and awareness for breast cancer," said Duffy.
"Every one of the kids on the committee has been touched by someone with breast cancer," added Wilson.
Junior members worked all year long in planning the big event, in addition to devising various fundraisers and activities at their respective schools, such as orchestrating pizza parties, bake sales, and building partnerships with local vendors that would attract a young audience.
Creativity played an important part when planning such events, such as "Dress Down Day" at some of the private schools, and a November GHS football game where attending fans all donned pink in the stands.
Funds raised by the junior committee support breast health services for underserved women throughout Connecticut and Westchester, NY, including educational outreach and critical screenings that save lives.
Duffy's daughter Hayley, a junior at GHS and her son Sean, a freshman at GHS, both served on the committee.
"I truly love being on the Junior BCA Committee, now serving for my third year, because I get to take something I care about outside of school and bring it into my school," said Hayley.
"My grandmother died from the disease when I was little, so it's nice for my mom and I to work together on this important issue, educating the community about the great strides the BCA is making, such as with their medical grants."
"It's amazing and very special being a part of this committee, especially getting others involved in our cause and raising awareness that will make a difference," said Elexa Wilson, a sophomore at Sacred Heart Greenwich, whose grandmother is a breast cancer survivor.
Toward the end of the event, guests and committee members took a moment to sing "Happy Birthday" over a chocolate cake bursting with layered pink florals for Crystal Stoute, the BCA's executive assistant.
Wattenmaker thanked her for all her hard work, considering all that the BCA accomplishes every year, with a full-time staff of just the two of them.
After speaking with several of the junior committee members, bearing witness to their staunch commitment, diligence, and most importantly, heart, the future looks bright.
Visit breastcanceralliance.org for more information and contact info@breastcanceralliance.org to learn how to get your child or high school involved in the fight against breast cancer.
Tags:
BCA
,
BCA fashion show
,
Breast Cancer
,
breast cancer alliance
,
fashion
,
greenwich
,
richard's