April 16, 2018
High Hopes for Sacred Heart Tennis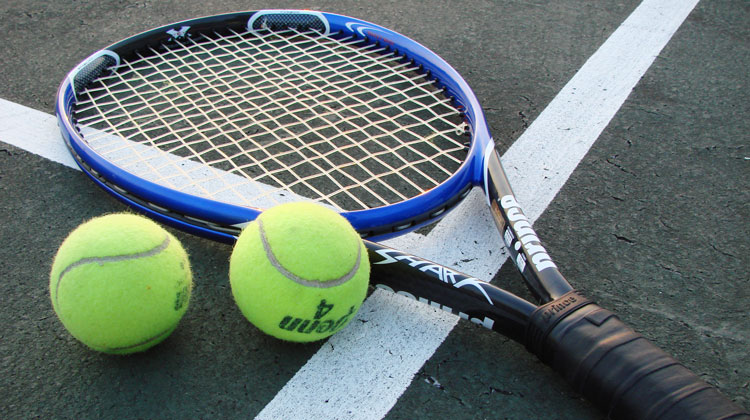 By Richard Kaufman
After going 11-5 last season, the Sacred Heart Greenwich varsity tennis team is hoping hard work and depth can help carry it to new heights this spring.
Head coach, Anne Fraser, believes that everyone on this year's squad is evenly matched, which makes for solid and competitive practices and hopefully translates onto the court.
"You can switch [players] around, whereas in years past, there might be a big gap between numbers one, two and three and the rest of the team," Fraser said. "This year it's very solid, it's very deep. All of them are pretty strong players."
Senior Nathalie Perreault is captain, and although the season is still very young, Fraser has seen positive leadership from her No. 2 singles player.
"She's done a great job in bringing the team together already and helping in the whole bonding process," Fraser said, noting that the team consists of three freshman, two sophomores, three juniors, and three seniors. "She's been good at trying to energize the team and to keep them in good, positive spirits and to keep everyone together to gel."
The Tigers have lost a few key singles players, either to graduation or other schools, and so Fraser is hoping everyone can step up a level and contribute.
Freshman, Grace Coale, who made the team last year as an eighth grader, will slot into the No. 1 singles position this season. Fraser cited her maturity, court-smarts and ability to adapt during matches and fix flaws as reasons why she's perhaps the best player on the team. Coale is still transitioning to playing tennis, though, as she's a nationally ranked paddle tennis player.
Perreault, who excelled in past years at the No. 4 position, moves up to No. 2. "She's done a great job for us all four years," Fraser said.
Following Perreault, are juniors, Stephanie Beschoory and Molly Cadman, who has more experience playing doubles than singles.
The top doubles team will consist of sophomore Megan Farrell and junior Nia Foster. "They're really seasoned, they played together last year and did really well. They've both improved a lot," Fraser said.
Underneath them will be seniors Lily Lemkau and Kathryn Goodfriend, followed by freshman Ursula Vollmer and junior Olivia Teklits. Sophomore Valentina Grether and freshman Morgan Wilkens will be moved around as well.
Fraser believes that doubles are extremely important, and she wants that to be an area of concentration this season.
"We always feel like if we can get good doubles teams, and get those points under our belt, then it takes a lot of pressure off of the singles," she said. "I feel like most schools have a really fantastic No. 1, so you can't necessarily count on the singles. It's such tough competition."
In their second contest of the season, a 9-0 loss to Hotchkiss, Fraser said there were a lot of points given away on serves, which is something she wants to improve upon as the season progresses.
"We really want to make sure that everybody works on their serve and is very consistent with deep serves," Fraser added. "We're always working on volleys and trying to get the girls into the net, too."
Mentally, Fraser wants to stress the importance of having a positive mindset.
"I want them to keep working no matter what happens," she said. "Just keep working and see what happens. Keep trying to put what we do in practice into the matches."
The Tigers are currently 3-2 on the season.
Tags:
greenwich
,
Sacred Heart Greenwich
,
Sacred Heart Greenwich Tennis