April 2, 2018
Ted Gilman Receives COA Award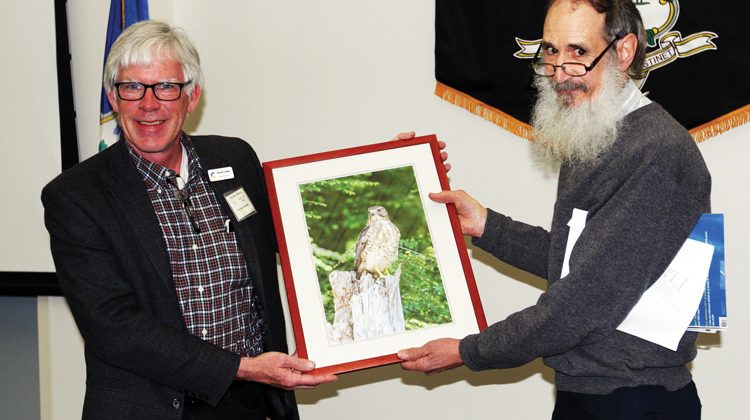 By Anne W. Semmes
The year 2018 is proving to be a banner year for Ted Gilman, the long-serving Environmental Education Specialist and Naturalist at the Audubon Center.
On April 26, Gilman is to receive the Katie O'Brien Lifetime Achievement Award at Audubon Connecticut's Environmental Leadership Award dinner.
But, last Saturday, Gilman found himself being honored anew at the annual meeting of the Connecticut Ornithological Association (COA) in Middleton, CT.
Gilman received the prestigious Mabel Osgood Wright Award "for having made a significant contribution to the knowledge, study, and conservation of birds."
Presenting the award was Patrick Comins, Director of Connecticut Audubon Society. 
Comins addressed Gilman's many decades of introducing both children and adults to the natural world. "This year's award recipient is a mentor to so many!  You may have noticed that the Greenwich area has had more than its fair share of great birders that have come into the birding community," Comins said.
"In the course of my work," he continued, "I meet a lot of naturalists and earth scientists from all over the country. When they learn I'm from Connecticut, a common question to me is: 'Do you know Ted Gilman?'"
"I went to a [Audubon] nature camp in Greenwich and was so inspired by him I decided to go into ornithology as a vocation."
Comins named previous awardees, including Tom Baptist, who had headed Audubon Greenwich, Joe Zeranski, who, along with Baptist, co-authored, Connecticut Birds, David Allen Sibley, Noble Proctor, and Roger Tory Peterson.
Mabel Osgood Wright, an early 20th century Audubon supporter and writer, pioneered bird protection by establishing a Birdcraft Sanctuary near her Fairfield home, the oldest private songbird sanctuary in the United States.
"I am deeply honored to receive this award," said Gilman, "and also humbled to think of others who have received it before me." He spoke of his luck of having "been guided by many mentors and teachers" in his early years and with every day that he teaches, "I am passing along their gifts to me."
Addressing the room full of bird enthusiasts, including noted author Scott Wiedensaul, Gilman encouraged them all to "continue to reach out to someone new to birding this spring and help them to have some of those special moments of discovery and excitement which have given each of us joy and have brought all of us to an event like this today."
In conclusion, Gilman shared a quote of Mabel Osgood Wright's, from her book Birdcraft: "No matter how well one imagines he/she knows the birds of the neighborhood, the day will surely come when a new note will fall upon the ear, or an unfamiliar shape be outlined against the horizon.  It may be a broken scrap of song or merely a call, but from that moment until the bird is identified the listener knows no peace."
Tags:
audubon greenwich
,
Environmental Leadership
,
greenwich
,
Ted Gilman