April 2, 2018
Column: Notes on the North Fork and The 1976 Paris Tasting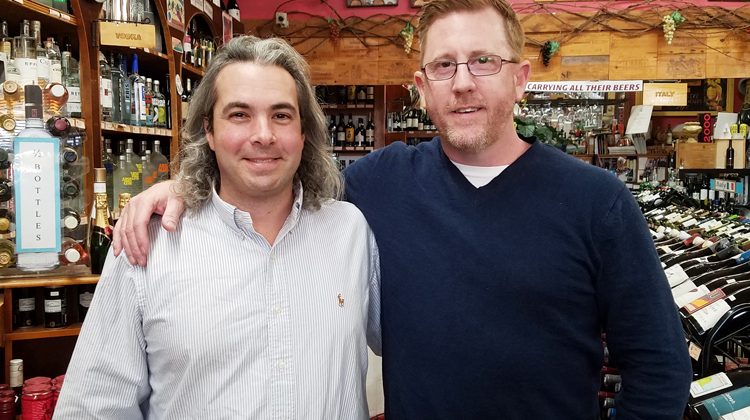 By John Noakes
As you read on, you will no doubt ask yourself, what in the world does the 1976 Paris Tasting have to do with Long Island wines? Have I been imbibing too much in what I write about? Perhaps, but, if you continue, I will explain how the triumph of Long Island wines over the past several decades was nurtured by a culture of drinking great wine that emerged from the 1976 Paris Tasting. Now, let's see if I can pull this off.
American wine making is a triumphant story. From mass-produced jug wines in the 1960's and 1970's to earning the respect from France and the wine drinking world after winning the famous 1976 Paris tasting, during which Chateau Montelena, Napa, 1973, won the blind tasting for white over the most notable French white Burgundy's (Chardonnay). Then, to add insult to injury, America won the blind tasting for red with Stags Leap Wine Cellars, Napa, 1973, over the likes of first-growth Bordeaux like Haut-Brion 1970, and Mouton Rothschild 1970. This was unthinkable to the French who, at the time, rightly felt that they made the best wine in the world.
I still get a chill and feel so proud of the United States when I think about what was accomplished at that tasting. The win showcased American pride, hard work, and strengthened the belief that anything is possible. Think about it: France had been making wine since Roman times, and through trial and error had figured out that Cabernet Sauvignon grows best on the right bank of the Gironde River in the Bordeaux, and that Merlot thrives more completely on the left bank of the same river. They also knew that Pinot Noir is best when grown in Burgundy. This is where the French word terroir comes into play. This is a word not readily definable in a dictionary, as it is more of an idea that encompasses soil, hill slope, sun, and the micro-climate that exists just on the vineyard property.  Terroir defines a grape will thrive in any given area.
I'm getting off track…ok, so American wine makers like Robert Mondavi and Mike Grgich had the crazy idea that America, and in particular northern California, could create world-class wines. Now, it is true they were working off a great wine-making model of excellence that France had already blazed for us, saving us a bit of time in the trial and error stage of wine making. When wine pioneers like Mondavi and Grgich set their minds to make world-class wines that's exactly what they did, and in just a matter of decades, not centuries, American wine making had caught up with France, in a lot of respects. The Paris tasting culminated with American wines and wine makers winning the direct respect of the French wine world. I see the tasting as less of a competition and more of a celebration—a coming-out party, if you will, that was hosted by the French. It really cleared the way and made possible the Super-Vineyard partnerships of American and French wine-producing giants like Opus 1 and Dominus that still exist and create masterful wines.
That same fervor and risk taking is firmly planted in the North Fork wine country of Long Island. Wine lessons learned from France and California have taken root in Long Island and are the reason Long Island wines are so popular. Terroir plays a major role in determining the best areas to grow certain varietals and that knowledge has helped Long Island vineyards get the most out of their grapes.
The first vines, Cabernet Sauvignon, Pinot Noir and Sauvignon Blanc, were planted on the North Fork, in 1973, by Hargrave Vineyards. Thirty-five years later, there are 60 vineyards and more than 3,000 acres under grape vines. Of course, there has been a great deal of growing pains in the form of which grapes grow best in which areas. I feel that the terroir of Long Island is quite challenging with unpredictable weather patterns on the East End due to the Long Island sound and the Atlantic Ocean. Now I'm no weather man, but, having lived on the East End for a considerable part of my life, I can tell you that there is an abundance of salt air, wind and more wind. My Irish skin had been wind-burned more than once while touring the vineyards…good times.
What amazes me about Long Island wines is how much they have improved over the past decade. Many grapes that grow well in the Long Island terroir, such as Riesling, Chardonnay, Merlot, Gewurtraminer, Sauvignon Blanc and my personal favorite Cabernet Franc. Of course I would be remiss if I didn't mention Long Island winemakers' ability to make superb Rosé, popular in the summer. Weather conditions seem to really favor the aforementioned grapes, and Cabernet Franc, usually a blending but superb on its own, is a grape that captures the essence of Long Island reds. With a nose of ripe raspberry, earth, and tobacco and sometimes mint, it's really an elegant wine to drink and seems to have a finish that goes on forever. Admittedly, though, one of the great things about wine is that it's appeal is totally subjective, and you could disagree with me, and think I'm nuts, and that would be just fine!
Go tour the Long Island vineyards and discover your favorite varietals and vineyards. However, if you don't want to get caught up in the quasi-like Napa Valley vineyard traffic of limos and self-anointed important people, you might want to wait until after the summer season. In fact, my wife and I often go in November or February. It's may be too cold and windy (remember it's eastern Long Island) for most, which sets up for a nice leisurely tour through wine country without the hordes of drunk bachelor and bachelorette parties, not that there's anything wrong with that, I'm just not sure half glasses of wine should be chugged like cheap beer out of a funnel. When the tasting rooms are less busy, sometimes you can be invited to taste barrel samples of recent vintages down in the cellar. Very cool.
When you go to Long Island wine country, don't forget to stop at a few of my favorite vineyards. Stop by and see my good friend John at Pellegrini and indulge in their unfiltered Cabernet Franc and reserve Chardonnay! Shinn Estates should also be one of your stops. Their notable wines, if there are any left, are the Estate Merlot and barrel-fermented Chardonnay. Another vineyard to visit, off the beaten path, is Sherwood House Vineyards where you can sit around a fire place and sample vintage Estate Merlot and unbelievable Blanc de Blanc Sparkling, all while listening to great live music.
Those are just some of my favorite vineyards, and I recommend you explore and find your own. Take advantage of this beautiful wine country, right in our back yard.
Also, stop in to see a childhood friend of mine, George Eldi, who just happens to own the best boutique wine and spirits shop in wine country, Wines By Nature in Wading River Long Island. George will bring you up to date on the best vineyards and restaurants to visit, as well as let you in on all of the juicy wine gossip. Pick up some bottles while you are there.
Drop by the Glenville store to let me know what your favorite vineyards and wines are from Long Island. Or I can help you plan your trip. Also, don't forget to sign up at either of our two locations in Greenwich for Val's new Wine of the Month Club. It's a great way to taste expensive wines at a fraction of the cost.
CORN AND CLAM CHOWDER
10 lbs cherry stones scrubbed
3 cups water
1 cup white wine
1 lb peeled Idaho potatoes ½ inch dice
¼ cup flour
6 oz smoked bacon diced
1 large onion diced
3 stalks celery diced
1 tsp fresh thyme chopped
1 bay leaf
2 ears of local corn
4 tbsp unsalted butter
½ cup heavy cream
salt
pepper
METHOD:
1) Shuck the corn and remove any hair by wiping the corn with a dish towel
2) Stand the corn on the butt end and shave off the kernels and reserve
3) Cut the shaved husks in half and reserve
4) Bring water and wine to a boil and steam the cherrystones about five minutes or until opened
5) Remove clams and let cool.  Strain the broth through a fine mesh strainer or cheese cloth
6) Remove the clams from the shell, rough chop and reserve
7) In another pan, slowly render the bacon until crispy and add the celery and onion and saute until translucent, then add wine
8) Add the butter to the bacon and stir in the flour
9) Reheat the clam broth and slowly whisk into the flour mixture and bring to quick boil. Add the corn husks, bay leaf, potatoes, corn  kernels and thyme, simmer for 10 minutes or until potatoes are cooked, then add the chopped clams and cream, and remove the husks
10) Season with salt and pepper
Chowder tips
Little necks, cherry stones and top necks are all in the quahog family and will all work for chowder.
Use the bacon fat and the butter to form a roux.
The corn husks, when simmered in the chowder, release the natural sugar and starch into the soup
Using fresh clams and preparing homemade stock make all the difference from good chowder to great chowder.
Don't forget to let me know what your favorite wineries and wines are. I love finding new wines.
Tags:
American wine
,
greenwich
,
wine