March 7, 2018
Greenwich's RAMP Kids Raises Funds for Food Relief Program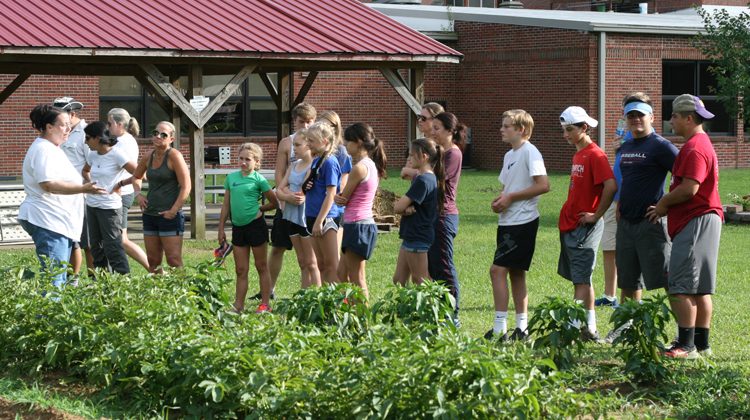 A group of Greenwich students that make up RAMP Kids are currently tackling the issue of hunger in the United States by raising funds for a crucial food relief program for vulnerable children in Martin County, Ky. This effort is an offshoot of RAMP, a.k.a. the Rockin' Appalachian Mom Project, a Greenwich-based non-profit organization dedicated to hunger relief for children in the United States. Martin County has been RAMP's main focus since it was founded in 2009 as it is one of the poorest counties in the country.
This small but mighty group of Greenwich supporters has worked hard for the past few years, raising more than $20,000 since 2013. On the one hand, in a resource-filled town like ours, that amount might not seem like a lot. On the other hand, it's quite impressive, considering that the fund-raisers are between the ages of eight and 18.
RAMP Founder, Greenwich mom and small business owner Amy Guerrieri explained, "Our children have been exposed to RAMP's work in Kentucky for several years now and they wanted to get involved and help. It's incredibly inspiring to have your children get motivated by good deeds and want to pay it forward to help others."
Bonnie Bancroft who leads RAMP Kids' efforts stated, "RAMP Kids started very small with several families going to Kentucky to help the neediest families there. It wasn't long before the word spread and more kids volunteered their time to help. The group grew to about 13 kids who planned bake sales and other local fundraisers, and called themselves 'K4K,' for Kids Helping Kids. With unwavering commitment, this group has since grown to some 30 Greenwich students strong, has developed community service project parameters and is now hosting formal planning meetings. The group decided to use the new name RAMP Kids, reinforcing its non-profit RAMP affiliation and commitment to supporting RAMP hunger relief programs in Martin County."
RAMP and RAMP Kids holds bake sales and other fundraisers with schools and throughout town during the school year to raise funds to purchase food on a weekly basis for a "Backpack Snack Program" in Martin County, that feeds 350 hungry children on a regular basis.
"What many don't realize is that there is extreme poverty here in America," noted Guerrieri. "While there are other needy communities closer to home, Martin County, Kentucky, has unique issues — it does not have the social services available to help families that we have here; it does not have local transportation like bus routes to take families to purchase food; it doesn't even have garbage pick-up. The issues facing the community are very different than here in Connecticut, where we have infrastructure to help those that need it most. We researched the most poverty-stricken counties in the nation and Martin County is a 1-day drive (ten hours) from Connecticut, so it is reachable and doable for us to go there and help as much as we can."
Because of its mountainous topography and lack of infrastructure, Martin County suffers when there are winter storms, floods and other natural weather occurrences that causes schools to close frequently in the area. When schools are closed, many of the area's children do not get enough food to eat, as school is where they are fed two meals a day. The RAMP Backpack Snack Program helps fill in those gaps by sending food home with children in need several times a month. If school is closed due to bad weather, or like recently, due to an extreme water shortage (where schools are closed for the majority of the month of January and water is severely restricted or shut off entirely, RAMP will work with the school Family Resource staff to provide access to bottled water and food for students.
"A lot of people in town see RAMP Kids' bake sales and other fundraisers going on around town, but they may not realize that the funds raised goes directly to feed children that need it most," noted Bonnie Bancorft. "The kids that are doing this fundraising also go personally to Kentucky each spring or summer and work in RAMP's Community Food Pantry, packing food for the Backpack Program we help support, visiting the schools, and more."
GHS Freshman, Auggie Bancroft said, "I didn't know what to expect, what poverty really looks like – until we went to Martin County." Logan Guerrieri, a sophomore, also at Greenwich High, adds, "A lot of the kids in Appalachia look just like us. It's hard to imagine that when they go home after school, there's no food in their houses."
RAMP Kids also join local volunteers to deliver food to families in need who cannot physically get to the food pantry. "We've been to houses that don't have electricity or running water. It's bad enough that they don't have food," said Gruenstrass. "It's pretty unbelievable that kids have to live like that here in our own country," Bancroft said.
For the 2017-18 school year, RAMP Kids have set a fundraising goal of $7,500. To date, they're about a third of the way. The group has plans underway for a second-annual dodgeball tournament, a babysitting night, a spikeball event and more.
Families interested in RAMP Kids and/or supporting RAMP's hunger relief efforts can visit: rampamerica.org
Tags:
food relief
,
greenwich
,
hunger
,
RAMP Kids