March 6, 2018
Greenwich Board of Selectmen Enact Snow Emergency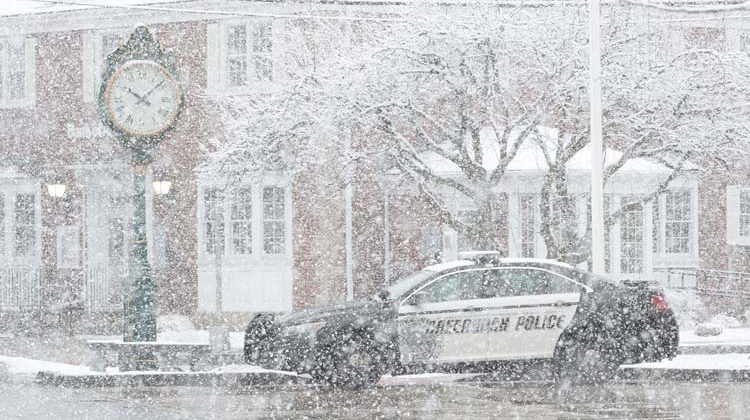 In anticipation of a heavy snowstorm expected to begin overnight Tuesday, March 6 through Thursday, March 8, Greenwich Town Hall will be closed for business on Wednesday, March 7. In conjunction with that decision announced today, Tuesday by First Selectman Peter J. Tesei, a snow emergency has been declared by the Greenwich Board of Selectmen.
There also will be partial activation of the Emergency Operations Center at the Greenwich Public Safety Complex beginning at 9 a.m. Wednesday, March 7.
Acting as the Town's Traffic Authority, the Selectmen has enacted the snow emergency that will prohibit on-street parking on designated snow emergency routes beginning at 12:01 a.m. Wednesday, March 7. The parking ban will enable Department of Public Works crews and its contractors to effectively clear Town roadways.
Residents are advised to park their vehicles in their driveways or in their yards. And residents also may use municipal parking lots to park their vehicles, according to the Department of Public Works. (The full list of snow emergency streets is below.)
The snow emergency will remain in effect until the Board of Selectmen removes the snow emergency.
The National Weather Service has issued a Winter Storm Warning with snow expected to begin falling overnight Tuesday and continuing throughout the day Wednesday, ending Thursday morning.
As of Tuesday afternoon, the National Weather Service said that if the storm system tracks farther away from the Connecticut coast, snowfall totals could be 6 to 12 inches, with 14 to 16 inches further inland. If the storm tracks closer to shore, the snow could be mixed with rain along the coastline with heavy wet snow expected inland. Gusty winds are forecast and could reach 45 mph during the storm, according to the National Weather Service.
According to the National Weather Service "travel will be very difficult to impossible, including during the evening commute on Wednesday."
"With many of our Town employees traveling from out of town, it is with an abundance of care that we have made the decision to close Town Hall on Wednesday," Tesei said.
There also is concern with travel along Greenwich roads where there is residual cleanup needed from last weekend's Nor'easter that prompted the closure of 180 roads because of downed trees, utility poles, utility wires and tree limbs.
Surviving the storm
The Greenwich Department of Health advises residents to make an Emergency Supply Kit and to keep emergency contact phone numbers listed below handy. Also residents are encouraged to visit websites including the Town's website (greenwichct.org), The American Red Cross (redcross.org), and the federal government (ready.gov) for pointers on personal readiness.
During an emergency the Town may opt to use the emergency notification system to send a recorded message to each resident that has a published number. All residents are encouraged to register a contact number (non-published number, cell phone, etc.) by logging on to the Town's website located under the First Selectman's Emergency Preparedness page.
Watch for signs of Frostbite: loss of feeling and abnormal coloring in extremities (fingers, toes, ear lobes or the tip of the nose). If symptoms are detected, call 911 immediately
Watch for signs of Hypothermia: bluishness or puffiness of the skin, dilated pupils, decreased respiratory rate, irregular pulse, uncontrollable shivering, memory loss, disorientation, incoherence, slurred speech, drowsiness and apparent exhaustion. If symptoms occur, get the person to a warm location, remove any wet clothing and give warm, non-alcoholic beverages if the person is conscious. Call 911 for medical help immediately.
When using portable generators, never use indoors (even if garage doors are open) or in enclosed spaces. Exhausts from these units contain carbon monoxide (CO). Also, do not supply generator power to your home's main line.
Do not use gas stoves or charcoal grills for heat. They can lead to carbon monoxide poisoning.
When any tree falls on a power line and causes it to come down or block a Town road or right-of way, the situation should be reported immediately. All downed wires should be considered live and avoided.
TO REPORT ONLY EMERGENCIES – For all Police, Fire and EMS emergencies, dial 911.
Emergency Helplines – Utilities:
Aquarion Water Company: 800-732-9678
Eversource: 800-286-2000
CT Natural Gas Company: (203) 869-6900 
Snow removal
By Town ordinance, Greenwich property owners are required to be responsible for keeping all sidewalks along their property clear of snow and ice.
The Town of Greenwich prohibits plow contractors from pushing snow from driveways or parking lots onto Town streets. This practice is dangerous and impedes the Town's snow removal efforts. If there is no other alternative to pushing snow into the street, the private plow driver must plow off the windrow left across the street by re-plowing until the road is safe.
A complete list of snow emergency routes where the parking ban will be enforced can be found below.
Snow Emergency Streets
CENTRAL GREENWICH
Amogerone Crossway                             
Arch Street
Benedict Place
Bolling Place
Brookside Drive
Bruce Park Avenue
Bruce Place
Church Street
Connecticut Avenue
Davis Avenue
East Elm Street
East Putnam Avenue (Maple Ave. to Library)
Fawcett Place
Field Point Road
Greenwich Avenue
Grigg Street
Havemeyer Place
Hillside Road
Horseneck Lane
Hunter Place
Lafayette Place
Lake Avenue
Lawrence Street
LeGrande Avenue
Lenox Drive
Lewis Street
Lexington Avenue
Locust Street
Maher Avenue
Maple Avenue
Mason Street
Milbank Avenue
Perryridge Road
Railroad Avenue
Ridge Street
Sherwood Place
Shore Road
Sound View Drive
Steamboat Road
West Elm Street
West Putnam Avenue
William Street
BYRAM
Beech Street
Byram road
Cedar Street
Chestnut Street
Church Street West
Delavan Avenue
Division Street West
Hervey Street
Kirby Street
Mead Street
Mill Street
North Water Street
Oak Street
Pine Street
Richland Road
South Water Street
Spruce Street
Western Junior Highway
William Street West
CHICKAHOMINY
Hamilton Avenue, Old Field Point Road, Saint Roch's Avenue
PEMBERWICK
Comly Avenue
Pemberwick Road
Moshier Street
GLENVILLE
Glenville Road/Street from Glenridge Road to Pemberwick Road
Riversville Road from Glenville Road, north to entrance to Glenville School
COS COB
Bible Street
East Putnam Avenue (Field Rd. to Diamond Hill)
Loughlin Avenue
Orchard Street
Relay Place
River Road
River Road Extension
Sinawoy Road
Strickland Road
Suburban Avenue
Valley Road
RIVERSIDE AND MIANUS
Hendrie Avenue
North Sound Beach Avenue
Valley Road
OLD GREENWICH
Arcadia Road
Lockwood Avenue
Sound Beach Avenue
West End Avenue
OTHER AREAS
As otherwise identified by the Board of Selectmen of the Town of Greenwich as the Town Traffic Authority.
Tags:
greenwich
,
Snow Emergency