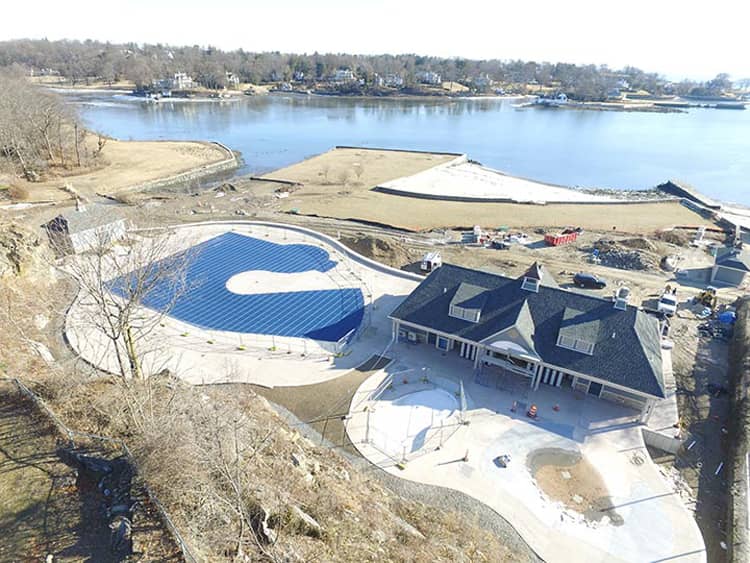 By Anne W. Semmes
Splash news! The Greenwich Pool, the town's 21st-century redo of an outdoor recreational pool, will soon be glittering in the summer sunshine, in Byram Park, in its spectacular setting overlooking Long Island Sound.
With a June 1 expected opening date, the Greenwich Pool is destined to be a favorite summer gathering place for residents looking for that outdoor pool life, where they can swim, for health or pure pleasure, and where they can see their kids learn to swim, then swim with them.
"You'll be able to look out over the Sound while swimming in the pool; it's a spectacular view," says Joe Siciliano, Director of the Department of Parks and Recreation.
Siciliano describes the pool as state of the art, with its zero depth, walk-in access and six 25-meter lap lanes. The pool comes with a kiddie pool and magical splash pad set dramatically alongside a granite rise, where blocks of Byram Blue Point Granite were once quarried for the Statue of Liberty and Brooklyn Bridge.
The pool replaces a small but much loved residential pool acquired by the town, in 1975, from the estate of William Rosenwald of the Sears & Roebuck founder family. "We've gone from a pool with a capacity of 40 to 300," says Siciliano, and, he notes, it's not heated. "We'll rely on Mother Nature."
Siciliano credits the public-private partnership between the town and the Junior League of Greenwich for the Greenwich Pool, with its Pool Pavilion housing changing rooms, lifeguard station, café, and terrace overlooking the adjoining beach and Long Island Sound. "The League has pledged $2.5 million for the pool, and they have been really active fundraising, and are well on their way," he says.
First Selectman Peter Tesei cites such a private-public partnership as a "hallmark" of his administration. "These projects allow both large-scale and smaller scale projects to become reality," he says. "They benefit the entire town and its residents, without the financial burden associated with the town paying for entire projects." With the town having appropriated $9.5 million for the rejuvenation of Byram Park including the Greenwich Pool complex, Tesei believes, "This pool facility can only make the town, especially the Byram neighborhood, more attractive to people and families looking to move to Greenwich."
For years, the 30-acre Byram Park, the town's second oldest park after Bruce Park, established in 1919, has been one of Greenwich's best kept secrets. But not to those generations of family picnickers enjoying the best sunsets in town, the town's only night-lit baseball field, and the expansive new Anne Kristoff Memorial Playground. Then there's that fishing life that takes place out of the boat-studded marina, with Byram Shore Boat Club members eyeing the fishermen's catch from the deck of their clubhouse.
The opportunity to build on that community life attracted the Junior League of Greenwich, says Debra McLaughlin, League president. She identifies the Greenwich Pool project as one of the League's "largest capital improvement projects proudly undertaken." She says, "We believe in the importance of a true community pool and in the value of collaboration." But that collaboration took a while to build.
"What people don't appreciate or understand is how long projects of this nature require to come to fruition," says Sue Bodson, who chaired the League's 2011-2012 Pool Committee. "It requires a solid dedicated group of advocates – Greenwich residents – to shepherd the project through," she adds. One such advocate is former Selectman Lin Lavery, who first campaigned for the idea of the Greenwich Pool the year she was elected in 2007.
Lavery would invite René Jameson, a young swimmer, then age 10, to share her passion for swimming and desire for a bigger pool at a public hearing before the town's Capital Improvement Projects Committee in 2010. Jameson had seen that first Conte & Conte Master Plan drawn up pro bono in 2013 and figured she'd not likely swim in it until she was in college. Now she's excited to see what will soon be on offer. "You can hang out with friends or learn to swim," she says.
"This Greenwich Pool is a game changer for the western end of Greenwich," says Lavery. "It's for everyone. It's about young people having healthy places to gather. It's about developing community. It's a safety issue. We should have an outdoor community pool where kids learn to swim. It's a responsibility as a government  – as first is the safety of our citizens."
"This project would not have been possible without the assurance of community support," says Carisa Sykes, co-chair with Debby Lash of the Junior League's Greenwich Pool in Byram Park Capital Campaign. They report having received early on "hundreds of letters of support for the new pool and park revitalization."
"The Junior League provided assurance with its commitment to raise $2.5 million through a capital campaign and a lead gift of $250,000," says Sykes. "If you love Greenwich, we hope you'll join us by supporting the Capital Campaign. When you give to the Greenwich Pool in our Byram Park Capital Campaign you are making an investment in our town that will have a lasting legacy, enjoyed by residents each summer for many years to come."
To make a gift to the Greenwich Pool go to www.jlgreenwich.org/greenwich-pool-and-byram-park/. "Donor recognition opportunities range from personalized bricks to naming the entire facility," says Lash. A Crowdfunding Campaign, kicked off on February 22, is now raising $100,000 for the Splash Pad, with six local business sponsors: Conte & Conte Landscape Architects, McArdle's Florists, Miller Motorcars, Moffly Media, Splash Car Wash, and Wernert Construction.