February 21, 2018
Brunswick Needs Overtime to Win FAA Quarterfinal at King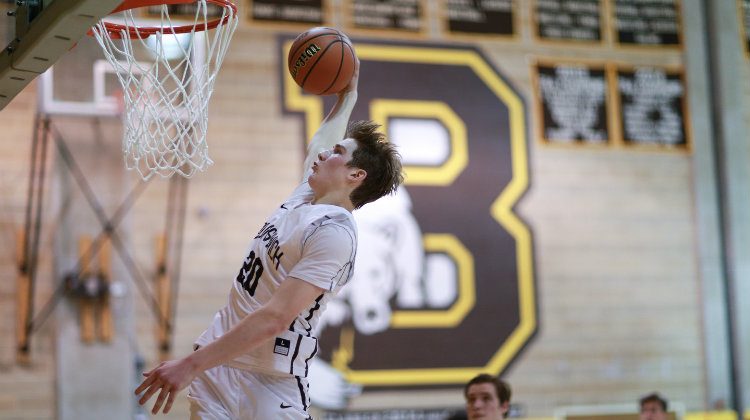 By Rob Adams
The 14-point lead was gone and the Brunswick Bruins now trailed King by three in their FAA quarterfinal game in Stamford.
No big deal. Ryan Mulshine would take care of it.
Mulshine – a junior – drained a high-arcing three-pointer to send the game into overtime where the Bruins picked up a 66-63 win on Tuesday. The victory sends the fifth-seeded Bruins (6-16) to the semifinal round to face top-seeded Hamden Hall (17-4) on Thursday.
"I didn't envision it going exactly like that," Brunswick head coach Steve Juricek said. "I had more of a cupcake sort of picture laid out, but we found a way to get it done."
Juricek said the Brunswick defense was the key to the game, anchored by senior Harrison Caponiti, who added a double-double with 10 points and 13 rebounds.
"We were switching up our defenses and trying to keep them guessing," Juricek said. "Our number one thing in the game plan was to try to limit LeVaughn Lewis. He's a tremendous player. We knew if we could stop him of contain him, we'd have a chance."
The Bruins had more than a chance, opening up a double-digit lead late in the first half, led by sophomore Khari Wilson, who had 11 points.
As for Lewis, he finished the game with 15 points. Junior Alex Canevari led the Vikings with 22 points.
The Bruins opened up a 44-30 lead in the second half before King began to chip away at the deficit. A 19-6 run put the momentum in the hands of the Vikings, whose home crowd extolled them. A Capoiniti layup and ensuing free throw put the Brunswick lead back at four.
The Vikings answered to take the lead, capped by a three-pointer from senior Evan Townsend-Henry.
"I'm very proud of them," Juricek said, talking about his team. "It was the leadership from our seniors that trickled down. They let everyone know to stay composed."
Soon the King lead was 58-55 with just under 30 seconds to go.
Enter Ryan Mulshine, who took a kick-out pass from Jack Molloy and drilled the shot from some 25 feet out.
"Ryan shoots it from half-court in our practices," Juricek said. "We call him 'Parking Lot.'"
After King missed a baseline layup at the buzzer, the teams moved into the extra session. Molloy scored six of his game-high 25 points, including a three-pointer of his own to open overtime.
Molloy also pulled 10 rebounds down for a double-double of his own.
The Vikings wouldn't go away. Lewis converted a put-back and was fouled by Caponiti to reduce the lead to two. The ensuing free throw left the lead precariously at 64-63.
Following a time-out with 22.8 seconds left, Muna Nwana penetrated the lane and finished with a lefty scoop-shot giving the Bruins a 66-63 lead with 10.5 seconds left to play.
A final three-point attempt by the Vikings clanked off the side of the backboard before falling out of bounds with 0.9 to play. The inbound pass was caught in the front court by Nwana to seal the victory.
The win came with a cost, as co-captain Graham Pierce left with an injury after a collision with Lewis near midcourt.
For Juricek, it is his first playoff victory as a head coach.
"It feels great," he said. "It was a lot fun. When this game went into overtime, the coaches said, 'We're having fun.'"
But Hamden Hall awaits in the semifinal.
"The next one is tough," Juricek said. "They're tough, they're big, they're long, they're athletic, they hustle, the rebound. They do everything.
"But you know what? We're pumped that we get to play them again, we're looking forward to it, and we've got nothing to lose.
Listen to Rob Adams call the play-by-play of Brunswick and King.
Tags:
basketball
,
Brunswick
,
Connecticut
,
ctbb
,
FAA
,
greenwich
,
Hamden Hall
,
King
,
playoffs
,
quarterfinal
,
semifinal
,
Sports
,
Stamford