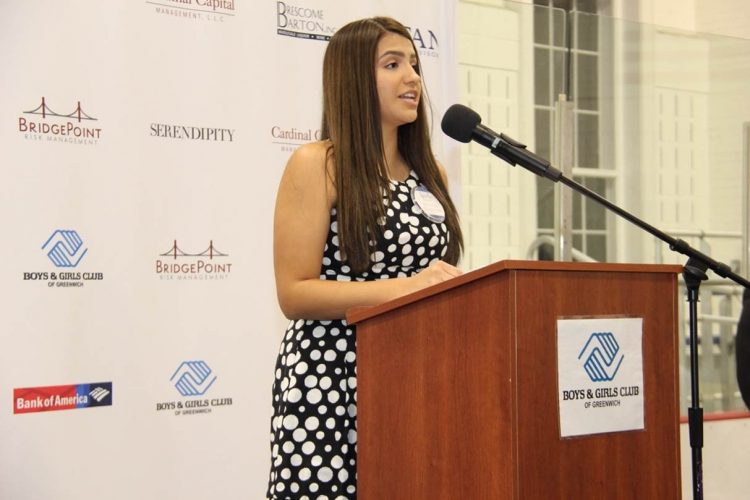 By Richard Kaufman
Sentinel Reporter
If home truly is where the heart is, then the Boys & Girls Club of Greenwich was overflowing last Thursday night, as the 50th annual Youth of the Year Award was given to Domenica Echeverria, a junior at Trinity Catholic High School.
The other finalists were: Dolores Johnson, a junior from Greenwich High School; Vanessa Maldonado, a junior from Westhill High School; Justin Nadeau, a senior from GHS; Michael Rincon, a junior from GHS; Kevin Wing, a senior from GHS; and Jean Zamora, a senior from GHS.
The Youth of the Year program recognizes and celebrates Club teenagers for their dedicated community service, academic excellence, good character and leadership qualities.
"This event is something we couldn't be more excited about, because it shows the public sort of what happens when a child goes through here," said BGCG President, Bobby Walker Jr. "You look at who these kids are, and you have these thoughts of what they're going to become. We love the fact that we know the Club played a significant role in that."
The selection process began back in October, when applicants submitted 500-word essays about their experience at the Club and how it helped shape their lives.
A selection committee was assembled, and the field narrowed after interviews and discussions. Echeverria was the seventh and final candidate to be interviewed.
"Some of the words I would use to describe Domenica are friendly, hardworking, caring, driven, outgoing, dependable, a good listener, family-oriented, and a great role model for the younger members at the Club today," said Director of Programs, Don Palmer, to the more than 250 attendees. "Her presence, smile and the way she spoke about what the BGCG means to her came through loud and proud."
Echeverria and her family came to the United States in 2003 from Ecuador when she was two-years-old. With nothing more than a single suitcase, Echeverria admitted that being a first-generation American came with many hardships that her family had to overcome.
Although she was able to attend private school beginning at the age of six with the help of a scholarship, she said something was still missing in her life; her school didn't provide many affordable after-school activities.
"Fortunately, the Boys & Girls Club was able to provide that enrichment," said Echeverria, who joined the Club in first grade.
Echeverria noted that the Club provided her with her first job as a lifeguard, and that she gained a passion for volunteering through the Keystone Club.
"The Club has completely transformed my life," she added. "The Club gave me the opportunity to grow immensely as a person. I became outgoing, passionate, and most importantly, a leader. The skills I obtained here from my experiences, as well as my peers, are things I will carry with me for the rest of my life, and for that I am forever thankful. I cannot even imagine where I would be without the Club."
Jean Witmer, who joined the BGCG Board of Directors in 1992 and became the first female Board Chair in 1999, was honored as the Champion of Youth Award recipient.
"Jean is a no-nonsense doer. She rolls up her sleeves, turns on that positive energy, and gets to work," said Board Vice Chair, Lisa Stuart. "No one said it better than Albert Einstein: 'Only a life lived for others is a life worthwhile.' That's Jean Witmer."
Witmer said the Club is all about nurturing and encouraging potential, and that the essence of the Club can be found in every staff member.
"The Boys & Girls Club is a remarkable place. Opportunity is created here. New skills, new friendships, and new responsibilities," she said.
The idea of feeling home was evident throughout the night, as various members and past Youth of the Year Award winners talked about how much the Club has shaped their lives.
"Welcome to our home. We drive by this building and people say, 'what is that place?' And I say, 'that's where I grew up.' I mean that," said former Youth of the Year Award winner and current event co-chair, Dean Bell. "Many of us, we sometimes have two parents, sometimes one, sometimes none. But we found a family here in this club."