February 9, 2018
Column: Have the Perfect Hearty Winter Dinner Party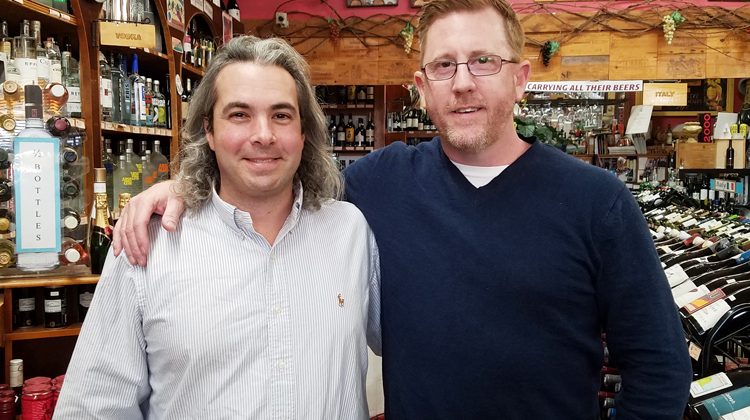 By John Noakes & Chef David Repp
Welcome to the winter of our discontent. Surely, our destiny isn't to be falling asleep on the couch to the endless political drone of cable news channels while waiting for spring to arrive. There must be something we can do to break up the banal mediocrity that winter nights can devolve into. During these long cold nights, our grills are encased in snow and ice, and our decks, now bereft of laughter and margaritas, fill the temporary role as the world's largest walk-out refrigerator. At least we don't have to worry about icing our white wine and craft beer.
Let's turn the perceived negativity of winter into a positive opportunity for a hearty winter dinner party. Replete with decadent cheese, food and, of course, wine. If you don't have any friends, then just set up your children's stuffed animals around the dining room table (kind of creepy). On the bright side, you'll have plenty of leftovers and wine.
Let's discuss the menu so we understand which wine and port we are going to pair. Bolognese over pappardelle will do nicely as an entrée, as it screams winter and warmth. For our cheese course let's hit up some raw milk Stilton blue cheese from England and a block of well-aged cheddar from Vermont.
We'll start in the Tuscan hill town of Montalcino where Brunello reigns supreme. However, that expensive bottle is for another conversation; we're looking for a medium/full bodied red with grippy tannins and an earthy-mushroomy flavor profile that highlights plum, mocha and peppery spice. Cordella 2014 Rosso Di Montalcino or the Colle Del Prete Rosso Di Montalcino 2014 (Baby Brunello) 100% Sangiovese grape will pair perfectly with the main entrée and not break the bank. Basically, what distinguishes Rosso from Brunello is longer barrel ageing and slightly better vineyard locations. Regardless, it's always a great choice when Brunello is out of the budget.
Like swine in search of truffles, we shall forage ahead to the cheese course that will follow the main course. First, however, we shall indulge in a digestif, called Amaro, that on the palate will be herbal, sweet, and bitter all at once and all in perfect harmony, and will, in turn, aid with the digestive process and that feeling of being full will soon dissipate. Often overlooked, but not tonight: Caffo Vechio Amaro Del Capo is a small family run Italian liqueur company located in Calabria, Italy. Serve chilled in a small cordial glass. Sip, smile, and let's move on to the cheese.
So, with the cheese board, feel free to add some dried fruits and nuts around the cheese; also, I have found that drizzling a bit of honey on the Stilton really elevates the taste experience as you have salty and sweet playing on your palate. Speaking of taste elevation, we will pair our cheese with port, Graham's Port Six Grapes Special Old Vines Edition, which is produced in the Douro Valley in Portugal and will fit the bill nicely. Port is vinified like wine with the exception that it is then fortified, which, in a boiled down version, means that brandy is added to increase alcohol levels and balance out the natural sweetness. The beautiful concoction that is port will be a bit more viscous on the tongue, which is to say it will have a soft silky nature that will settle the salty sharp flavor profile of the cheese. I know I may have over-simplified port wines but only for a lack of writing space, so feel free to seek me out at the Val's, in Glenville, with any questions.
Now I know you're thinking: Are my friends even worthy of the quality libations I've set forth? Will they just chug and gleefully refill? Perhaps, however, to combat this, I like to employ a couple of diversionary bottles that are just a bit less expensive in order to steer my guests who have a known history of over-consumption This way, everyone is happy, including your wallet. Try Coste Di Brenta Montepulciano D'Abruzzo for the implementation of my diversionary tactic; this is a wonderful Italian everyday drinker that has been a house-pour at a famous New York City restaurant owned by a certain gregarious red-headed chef for quite some time.
As we move forward to executing the entrée for this glorious winter dinner party, we can feel confident in our wine selections and guest list. While we didn't include a salad recipe, the chef and I just wanted to remind you to make one. As much as many of us would like to eat a meal solely consisting of meat sauce and pasta, by adding a simple salad to accompany the entrée, your digestive system will be thankful.
As always, your Winter Dinner Party Connection for wine this winter is Val's Fine Wines with two convenient Greenwich locations. Val's has been serving the community for nearly 60 years as well as working with many local charities and organizations.
Visit owner Jeb Fiorita (pictured above left) at the main store at 125 West Putnam Ave., or stop by and see me (above right) at 21 Glenville St. (next to Stop n Shop).
Make sure to ask Jeb about his "Top Secret" Wine Stash. Truly amazing, highly sought after fine wines from around the globe. Seriously one of the best selections in Connecticut!
Bolognese
Serves About 8
• 3 TBL unsalted butter
• 3 TBL extra virgin olive oil
• 2 TBL bacon fat
• 1 tsp chili flakes
• 2 carrots diced
• 3 medium onions diced
• 3 ribs celery, diced
• 4 pressed garlic cloves
• 2 lbs ground pork
• 2 lbs ground chuck
• 2 6oz cans tomato paste
• 1 can of beef consume
• 1 c. light cream or half and half
• 1 c. dry red wine (don't use anything you wouldn't drink!)
• kosher salt and freshly ground black pepper
• 1/3 c. grated Parmesan
• ricotta (to be scooped on to each finished bowl)
Directions
Grab a 6 to 8-quart heavy-bottomed saucepan; heat the olive oil, butter, bacon fat and chili flakes over medium-low heat.
Add the celery, onion, carrot and garlic and sweat until the onions are clear and soft but not browned, about 15 minutes (be patient!).
Over medium heat, add the pork, beef, salt and pepper and stir in the vegetables and cook until browned, about 15 minutes.
Stir in the tomato paste and cook for ten minutes, then add the ground pork and beef, and let brown.
Add wine, and cook into meat for 15 minutes until reduced.
Add the Parmesan cheese, cream and beef consume and simmer over low heat for at least two hours.
Season with salt and pepper to taste.
If you're not eating for a couple of hours, just keep it on low with the lid on to prevent it from drying out, periodically checking and stirring.
Add pasta and Bolognese to individual bowls with a scoop of ricotta on top and a bit of Parmesan.
John Noakes can be found at Val's at 21 Glenville St. (next to the Stop n Shop). Chef David Repp is Chef/Owner, Cass Cay Restaurant, Punta Gorda Florida
Tags:
greenwich