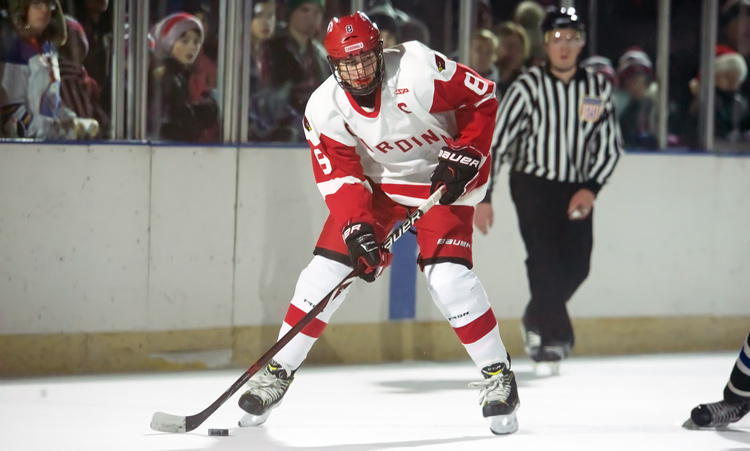 By Paul Silverfarb
Sentinel Editor
It has been quite a season for the Greenwich High School boys' ice hockey team, and it looks like the fun has just started.
Although GHS head coach Chris Rurak said that he is using the regular season to prepare the Cardinals for both the Fairfield County Interscholastic Athletic Conference and Connecticut Interscholastic Athletic Conference Division I tournaments, he can't be too upset on where Big Red is. As of press time, they are 10-2 overall and are looking strong.
"We have had some success against some top opponents in the state," Rurak said. "We are mixing and matching lines and trying to stay healthy and trying to find chemistry amongst players. We are also trying to sustain a starting goalie and build him up with confidence. With the start that we have, all that is starting to happen. We are tinkering a little bit and are still continuing to play with the lines a little bit. But for the most part, I can't complain about the start."
And to say that Big Red hasn't come up big is a huge understatement. They upended Darien in the much-hyped Winter Classic game, stunned Hamden High School at their barn 7-0, blitzed St. Joseph 10-2, out-gunned New Canaan 8-5 and surged past West Haven at the Bennett Rink 5-2.
And several players have stepped up their game in a big way. No better example of that is senior Alex Mozian, who is one of the players with a legitimate shot at being named player of the year. And Mozian's success puts a smile on the face of most anyone who hears his story.
His junior year was something to forget. He had a tendon cut in a game against St. Joseph that sidelined him only three games into the season. He returned and immediately injured himself again with a knee-on-knee hit, sidelining the GHS standout yet again. He battled tough and returned, only to be, once again, sidelined with a broken wrist.
"This is his redemption year," Rurak said. "He took the negative and totally turned it into a positive. He's bigger, stronger and faster now. He's more determined, and he's out for redemption. He dealt with adversity by staring it in the face and came out better because of it."
In his first 10 games, Mozian's redemption tour has wreaked havoc on his opponents. He posted 15 goals and 17 assists.
"Those are amazing numbers," Rurak said. "He's so tenacious."
After a slow start to the season, sophomore Nikita Kovalev has really taken off recently and is a force when he's closing in on an opposing team's goalie. While the scoring is coming along fast and furious, his crisp passing has been on point all season.
"I think he was younger and new to the league," Rurak said. "He eased into the league not knowing what to expect. As a smart player does, he observed what was going on. He probably wasn't as effective as he would have liked to be, but that's the way he did it. He settled into the league, got more and more comfortable and his confidence was rising. He's really starting to hit his stride right now. He's putting up points left, right and center and he's controlling the ice better. I think for the second half of the season, we are really going to see something come out of that kid."
And when both Mozian and Kovalev are on the ice at the same time, it's very dangerous for the opposing teams.
"They are so into it and so smart," Rurak said. "I put them together on a penalty kill because most other teams go on a power play, they are offensive-minded. Before the Hamden game, I was talking to them about putting them together on the penalty kill. They agreed and were thinking they were there to kill penalties. I wanted them to score. If those guys get the puck and you have a forward being forced to play defense, those two will most likely score."
In addition to the dynamic duo, Rurak said that seniors John Lawrence, William Baugher and Oliver Fulton; juniors Sean Pratley, Matt Davey and Charles Graves; and freshman Thatcher Danielson have also been solid on the ice offensively for the Cardinals.
"We have a lot of depth with those guys," Rurak said. "We are lucky because we have thee lines that are top lines on a lot of other teams in the state. As long as we stay healthy, we have the depth. And when we go into the third period of games, we have the legs and we have worn them down."
Although the team sorely misses senior Connor Santry, who went down to injury, on defense, several other athletes, like junior Nicolas Pelletier-Martinelli and sophomore Ryan Columbo, have stepped up and filled the void. In addition, juniors Issac Cadigan and Dylan Madden have played some very key minutes on the defensive side of the puck.
"Without Santry, we have had to split up our defense and play some people that aren't as experienced," Rurak said. "They might be inexperienced, but they are learning every day and every game. Come tournament time, they will be well-experienced and well-adjusted and ready to go. We should see those goals against go down."
On Saturday, Greenwich traveled up to Wesleyan University and battled a tough Xavier High School squad. And things just didn't go Big Red's way, as they were defeated by Xavier 6-3.
"It's kind of good because it's humbling, Rurak said. "I say that a loss at the right time is actually a win because it humbles your kids. As they go and get more success, the further they would get away from our system, even though they know that it's how they got this success. You start playing as a team. It's not as flashy and flamboyant, as the kids would like to do their highlight moves, but the more success you have the more they gravitate towards that. It's good to get knocked down a little bit and brought back down to reality. It hopefully will remind the team what it took to get to this point before the Xavier loss and what we need to do to get back to that."
But that loss certainly wasn't because of the team's lack of effort. After an early success this season where everything seemed to go Greenwich's way, it was the opposite against Xavier.
Xavier dumped the puck in from the blue line with a flip pass, hit one of the Greenwich player's and fluttered over the GHS goalie. Another goal was scored when the puck was deflected off a player's stick and went in.
Another tally for Xavier happened deep in the Greenwich zone off a faceoff, when the Cards just mentally blanked and the puck found the back of the net.
"That Xavier game might have been the best game that we've played all year," Rurak said. "Unfortunately luck sometimes doesn't go your way. We gave up three goals that would normally not go in. Outside of the mistakes and unlucky bounces that happened, we were sound. Xavier is a good team that we played against and their goalie stood on his head. He played the game of his career. He stopped Mozier at point-blank range like five different times, Kovelev twice and Davies three times. If their goalie wasn't playing lights out, we could have easily scored eight goals."
And despite the loss, Rurak couldn't be more thrilled with the way his players cut down on penalties, and he believes they did so by managing the game better.
"We only had one penalty in that Xavier game," Rurak said. "The refs let them play. Part of managing the game is stopping the jawing back and forth. The refs hear that and see that and, when they feel like the game is getting out of control, then they bring the whistle. In the previous three games before the Xavier game, we picked up nine penalties in each game."
Going into the second half of the season, Greenwich really gets into the FCIAC portion of its schedule. Big Red played Iona Prep and Rye Country Day School in back-to-back non-conference games. Against Rye, the Cardinals took care of business 7-3. Against Iona Prep, GHS was also victorious.
From there, other than a huge contest against Northwest Catholic, on Feb. 12, it's all FCIAC matchups the rest of the way. And that also includes a big game against rivals Ridgefield High School, on Feb. 19, at home and a contest against Staples High School on Valentine's Day.
During the second half of the season, Rurak would like to alleviate some of the pressure on the team's defense.
"We haven't been really getting a good jump on teams, and I harp on the kids about getting the puck deep on the opposing team and putting them on the defense instead of the offense," Rurak said. "When I say to get it deep, it doesn't just mean to shoot it into their zone. There are multiple ways to get it deep. You can shoot it, pass it, skate it, bank it off the glass. I don't care how you do it, you just have to get it deep. We really haven't done a good job with that. We have a lot of pressure on our defense because we would lose the puck on the opposing team's blue line. But we are working on that."
A spot on the defense that has been a strong suit is at the goalie position. Leading the way is sophomore Ben Nash.
"You look at him and wonder why he's so good because of how small he is, but he plays his angles really well. He comes out and challenges the shooter and cuts down on the angles. The fact that he comes out a little further makes himself a little bigger than he is. He's always squared to the shooter, and he controls his rebounds well. He's a fundamentally sound goalie. You don't really see a lot of flashy saves, and that is because he's in position all the time."
Backing up Nash is junior Dylan Dreher.
"I am really confident between those two," Rurak said. "It's hard to split them. But we started Ben Nash and he kept on winning; it's kind of hard to yank him out and give someone else a shot. Ben earned a spot there and the times where we needed Dylan, he came in and was solid. Dylan was great against West Haven and got some time in the Xavier game and was great there, too."
Backing up the two Greenwich High goalies is senior Robert Bray and junior Connor Brust.
While he doesn't want to see this season wind down and come to an end, Rurak is eager to see what the remainder of the season brings.
"I'm excited for the postseason and, to be honest, I've been working on this for a long time," Rurak said. "The only person that put the expectations on this team was me. I went out and formed a booster club, and they have done a really good job. Advertising has been big for us. People have come to really support the team. We have newspapers covering us, we have livestream coverage on the Internet, and we have a great announcer.
"This is all the stuff that I wanted, because I wanted to make our high school program the best it can be for our kids," added Rurak. "Where we are, there's no reason why we can't have that college Division I experience at the high school level. That's what we are out to do. I want all that pressure, and the kids enjoy all that pressure. They take it very seriously and treat this like a professional team. I am excited for all this because this is exactly what I was asking for and what I wanted. You can fail and be upset, but if you don't try, you'll never know. We're throwing it all out there, and I truly feel we have a shot at doing something very special.