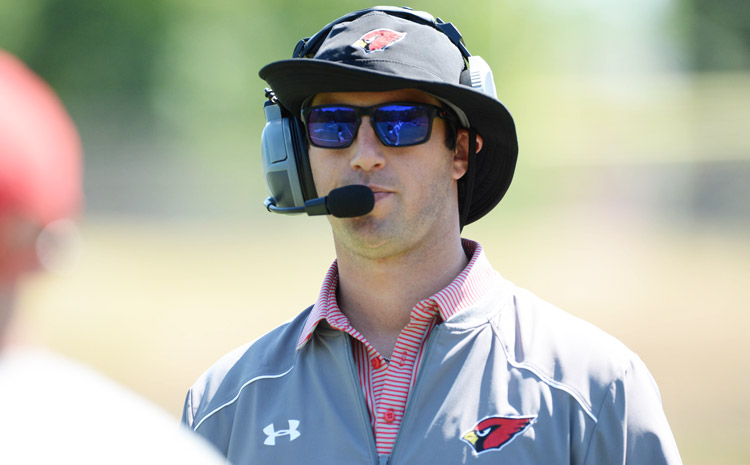 By Rob Adams
Greenwich High School football head coach John Marinelli was honored by the New York Jets in December for being named one of their coaches of the week, presented by Gatorade.
Coach Marinelli got to attend the Jets' game against the Los Angeles Chargers on Dec. 24.
"It was fun," Marinelli said. "I went with my girlfriend. We went on a tour of the stadium and sat in a suite with other coaches."
In its 22nd year, the Coach of the Week award is given to a coach in the Tri-State area who serves the best interests of the game through the teaching of sound football fundamentals, the motivation of young players to achieve, and the promotion of youth football by way of dedication to their community, their school and their student-athletes.
Through Gatorade's partnership, the monetary award to benefit the school's football program has doubled to $2,000. Coach Marinelli will receive a Gatorade kit containing a cooler, fuel bars, Gatorade powder mix, squeeze bottles and much more. Along with this award, Greenwich High School receives an automatic bid to compete in the 2018 New York Jets 7-on-7 Tournament.
Before arriving at Greenwich High School in 2015, Marinelli assisted his father, Lou, as offensive coordinator at New Canaan High School. A 2004 graduate of New Canaan, where he earned all-state quarterback and safety honors and led his team to two state titles. Marinelli attended Canterbury School in New Milford, CT, as a post-graduate, before enrolling at Fordham University. After his first year, Marinelli transferred to Trinity College where he played safety and earned All-NESCAC honors twice. In addition to his coaching duties, Marinelli works as a commercial real estate salesperson.
While Marinelli enjoyed the experience of attending his first Jets game, he admitted the credit belongs to his assistant coaches.
"I'm the head of my staff," he said. "It's a staff award. All the other guys do so much."
The Greenwich football staff includes defensive coordinator Bryan Hocter, offensive coordinator Dac Newton, special teams coordinator John Woodring, running game coordinator Anthony Morello, and position coaches James Briggs, Kevin Avery, Jordan Capitano, Wayne Gioffre, Rodney Joyner, and Pat Mediate.
Still it goes far beyond those on the varsity squad. Marinelli looks at Greenwich football as a family. He said what the public doesn't always see is that the varsity works with the junior varsity and freshman teams as well.
"I let them know how appreciative I am of their time," he said of all of the coaches.
Fellow FCIAC coach Marce Petroccio of Staples won the coach of the week earlier in the 2017 season, while Joe Della Vecchia of St. Joseph won a coach of the week award from the New York Giants.
That's where full disclosure comes in. John Marinelli grew up a Giants fan.
"It was different to see the stadium green," he said, in reference to Met Life Stadium, which can convert itself from Giants colors of red, white, and blue, to the green and white of the Jets, also known as "Gang Green."
"It's a totally different stadium and a totally different feel," he said. "They both have their own cultures."
Yes, there really are differences between Jets and Giants fans. Yankees and Mets fans in baseball can understand that.
But a conversation with Marinelli will inevitably lead back to Dec. 9, when Big Red lost the Class LL state championship game to Darien.
"I still haven't been able to watch the game," he said, referring to the 31-22 loss to the Blue Wave.
The Cardinals played that game in a snowstorm at Boyle Stadium.
"I hate snow now," he said, laughing.
Turning pragmatic, Marinelli spoke of the pride he felt for the 2017 team.
"There's nothing you can do," he said. "It was a great game and a great experience. They (Darien) made one more play than we did."
He also said he really wouldn't change anything about how the Cardinals handled that game, except that he has a full pregame routine that he didn't get to do. Sports is often all about those very habits, but there are few regrets, and Marinelli is already looking forward to the summer.
The Cardinals have started hitting the weight room, with an eye on a big 2018 season, which will open at Cardinal Stadium against the Trumbull Eagles.
As for coaching, John Marinelli – New York Jets Gatorade coach of the week – says it all boils down to one thing.
"We try to set an example for the players," he said.
He's certainly done that.