January 10, 2018
Greenwich Boys Basketball Topples Ludlowe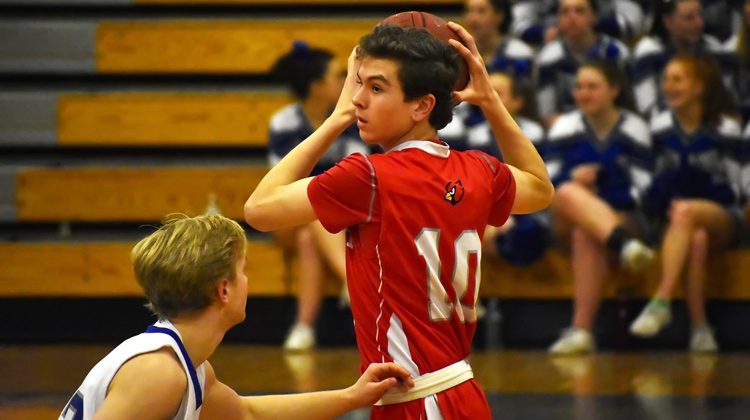 By Rob Adams
Greenwich High School boys basketball coach Phil D'Amato and his counterpart at Fairfield Ludlowe, John Dailey, have known each other since their days at Endicott College.
On Tuesday night, they put their friendship aside, as they met on the court for the first time. D'Amato's Cardinals got a road win over Dailey's Falcons, 39-27.
The Cardinals (3-4, 3-1 FCIAC) charged out of the gate on this light-shooting night, grabbing a 7-0 lead that stood until late in the first quarter. The Falcons finally got on the board at 7-2, but the Cardinals added to it to open up an eight-point lead after one.
"We're starting to find pieces," D'Amato said. "Guys are stepping up."
Both teams went silent in the second frame, with eight points evenly split between the two. The Cardinals trotted to the locker room with an eight-point advantage.
"Coach Dailey does a great job," D'Amato said of his friend. "He controls the tempo. It's very methodical. We handled their pressure, and we moved the ball well."
Prior to the game, the two coaches shared a laugh about their connection.
"John was the intramural director when I was at Endicott College in the phys ed classes," D'Amato said. "We called him 'The Commish.'"
"I have a lot of respect for him," Dailey said of D'Amato. "Greenwich is very physical. They have tremendous size. They play really hard. He's had great bench contributions the past couple of games."
Dailey was prophetic in his thought on the Cardinals' bench play. With co-captain Elia Gianopolous and senior guard Jackson Trimmer both in foul trouble, Greenwich leaned on the efforts of junior forward Billy Nail, senior guard Charlie Zeeve, and sophomore guard Chris Genaro.
Of the three, Genaro made the strongest impact in terms of points, finishing the night with six, including a pair of free throws.
"The bench stepped up great," D'Amato said.
The Falcons clawed back into the contest, using a 13-9 third quarter to trail by four entering the final frame. Ludlowe cut the deficit to two on a Cooper Nielsen layup that rode the cylinder before dropping through the net.
On the ensuing possession, Gianopolous fed the ball inside to junior forward Oliver Milledge, who used his 6-6 frame to push the lead back to four with 5:48 to play.
The game would never get closer than that, as the Cardinals would close out on 12-4 run.
Sophomore guard James Borque led the Falcons (0-7, 0-3 FCIAC) with 10 points. Junior guard Jadyn Tabois chipped in with eight. Greenwich was led by senior co-captain Matt Robins, who finished with nine points. Milledge also finished with nine.
Trimmer contributed six points on two buckets from downtown.
"Jackson Trimmer stepped up great," D'Amato said. "He hit two big three, which was a huge help for us. We were hoping he would get going, and tonight was the night."
Greenwich was able to survive the Falcons' press, especially late in the game.
"We needed to be composed," D'Amato said. "We know we can handle the pressure, but when they throw it at us, sometimes we get flustered. I called a time out and we composed ourselves and we were ready to rock."
The Cardinals face St. Joseph on Friday night at Greenwich High School, while a Tuesday date awaits with Ridgefield at home.
"We have a battle on our hands on Friday night with St. Joe's," D'Amato said. "We have to maintain the intensity that we've had the last two nights. We had a wakeup call against McMahon."
The Cardinals lost the Senators 78-54 on Saturday before falling to Bassick on Monday.
"We came out with better intensity last night and tonight."
Listen to Rob Adams, Sentinel Editor Paul Silverfarb, and Shawn Sailer call the action between Greenwich and Fairfield Ludlowe.
Tags:
#cthsbb
,
basketball
,
Cardinals
,
CIAC
,
Connecticut
,
Fairfield Ludlowe
,
Falcons
,
FCIAC
,
greenwich
,
Sports