January 2, 2018
Greenwich Uses Strong Third Period to Top Stamford-Staples-Westhill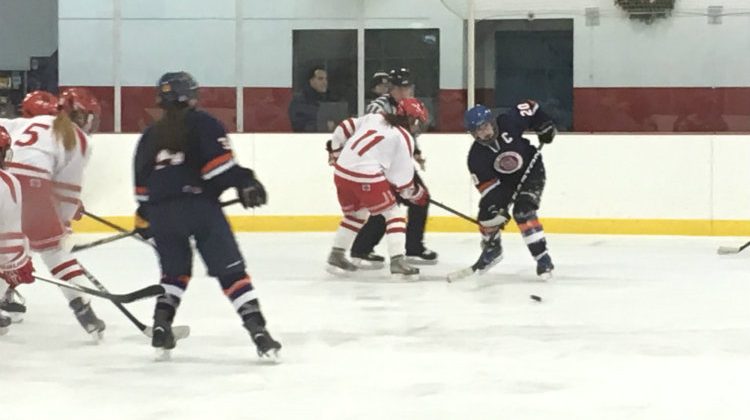 By Rob Adams
Coming off a resounding victory against the Amity/North Haven/Cheshire co-op on Saturday, the Greenwich Cardinals girls ice hockey team had visions of keeping their perfect record alive.
Their game on Tuesday at the Dorothy Hamill Rink must have felt nice and cozy. Saturday's game – outdoors at the Greenwich Skating Club – was played in bitter cold conditions.
No matter, the Cardinals caught fire in the third period to beat Stamford-Westhill-Staples 4-1 to improve to 6-0.
The Cardinals dominated play throughout, including several strong rushes in the SWS zone, before sophomore forward Emma Wingrove scored the first of her two goals with 5:48 to play in the opening period. Jennie Piotrzkowski assisted on the goal, as both players created havoc in front of SWS netminder Mary Leydon.
The score would stay that way through the second period as well, with Leydon facing 42 shots for the game. On the other side, GHS freshman goaltender Hannah Goldenberg made 10 saves for the win.
The second period remained slanted towards Leydon, with Greenwich missing on several opportunities, including a 2-on-1 in the slot with 9:00 remaining in the frame.
"We just didn't seem mentally prepared to play," GHS coach Alex Lerchen said. "You could just see it with the decisions we were making. We were holding onto the puck too long and not doing the things that we've been trying to preach."
That changed in the third period, and it began thanks to a SWS penalty. With 33 seconds remaining on the power play, Wingrove slid the puck past Leydon to open a 2-0 lead.
The Cardinals were now up by a pair with 9:25 to go, and answered again at the 5:03 mark as Sydney Orszulak got on the scoresheet. Piotrzkowski picked her second assist, while junior Paige Finneran collected her first.
"When we finally kept bringing it back together in the third period, we started playing like the team we know so well," Piotrzkowski said. "When you connect the passes, you break it out, you start working with your teammates more and we finally come together.
"Overall, the results show on the scoreboard."
The Cardinals weren't done yet. Sophomore forward Jessica Marzullo scored as she skated in from the left circle with just over three minutes to play. Junior Jennifer Kelly was credited with the assist.
SWS finally solved the strong Greenwich defense when Caroline Mezias scored with 2:12 to go.
Stamford-Westhill-Staples dropped to 0-5.
While the Cardinals knocked off the Amity/North Haven/Cheshire co-op 6-1 on Saturday in the outdoor game, Piotrzkowski didn't sense any impact from that.
"That experience was so unbelievable," she said. "It just helped us recognize that we can adapt to situations very easily. In that game, we had two inches of snow at certain points on the ice so we have to do harder passes or pick our heads up."
"The outdoor game wasn't a typical game for us," Lerchen added. "Who knows? We could have had a little carryover from that game.
"We have a good game in Hall/Conard on Saturday. It's a quality program from up north. We should be seeing their best."
"Greenwich is something on our calendar every year," SWS coach Andrew Stallings said. "They're deep, with a lot of players on their roster that bring a lot of talent. They're very similar to Darien.
"Once they knew how to open up the ice, they found the opportunities to get the win."
Tags:
byram
,
dorothy hamill rink
,
FCIAC
,
girls ice hockey
,
greenwich
,
hockey
,
ice hockey
,
Rob Adams
,
Sports
,
Stamford
,
Staples
,
Westhill