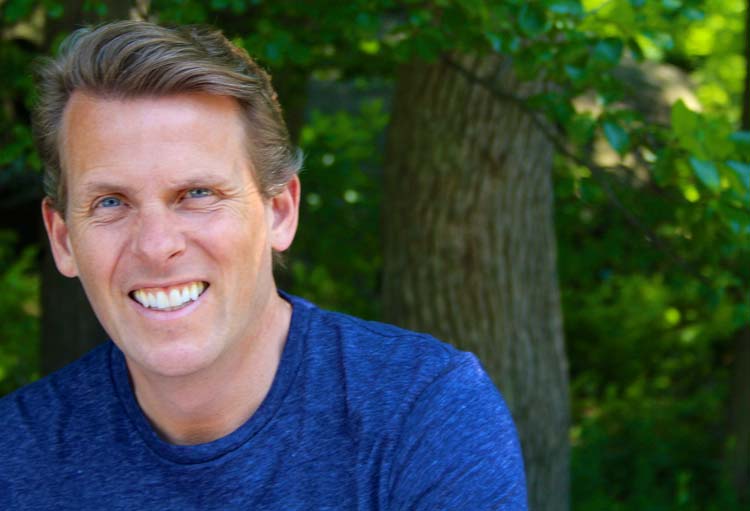 By Drew Williams
Each Christmas season, we are exhorted to be happy ("jolly it up!"). And for many of us, it is a time of joy, generosity and love. Christmas, however, can also be a painful reminder that things are not right with our world. For those who have lost a loved one in the past year, there is a painful gap at the table. But if you've ever been let down by life, then, in truth, you are in exactly the right place to understand what Christmas is truly all about. Christmas doesn't make sense in a world where everything is perfect. Christmas is about God stepping into the chaos, the challenge and the heartache, and doing something about it.
Let's take Joseph, by way of example. When we meet him in the first chapter of the Gospel of Matthew, he is a man deeply wounded and in great pain. In one brief sentence, Joseph's entire world has been thrown into chaos: "When his [Jesus'] mother Mary had been betrothed to Joseph, before they came together she was found to be with child…" (Matthew 1:18). Right there, in a mere 20 words there is betrayal of the heart, broken hopes, the pain of a lost future and the most excruciating public humiliation for Joseph, Mary and both their families.
To understand the emotional and social devastation that Mary's news has now brought to Joseph's life, we need to look more closely at the ancient Jewish tradition of betrothal. It was not a simple engagement, as we understand it today, not something that can be passed over. When this news came to Joseph's attention, he and Mary were in the midst of a very elaborate, legally-binding and public process that had already brought them both into a covenantal relationship. Before the heartbreak of this news, Mary and Joseph's parents would have met to consider and agree to the terms of the match. Clearly, all had been successfully agreed upon and Joseph had already formally approached Mary's father for her hand in marriage. In that moment, the covenant was sealed by the drinking of a cup of red wine, and with this act, Mary was legally pledged to be married to Joseph.
Mary and Joseph neither would have lived together during the betrothal period nor would they have been permitted to see one another. Mary would have remained living at her parents' home and Joseph at his parents' home. Despite the physical separation, Mary and Joseph would have referred to one another as husband and wife. If either should die ahead of the wedding, the survivor would take on the title of widow or widower.
During the betrothal period, Joseph would have had an important assignment. As was the tradition, Mary and Joseph's first home would be built by Joseph as an extension of his existing family home. This extension, known as a "Chuppa," would take Joseph a year to complete. And, as the Chuppa went up, piece-by-piece, it was a very tangible symbol in this small rural community that Joseph's and Mary's wedding date was getting closer.
It was also the tradition that the groom's father would inspect the son's building skills and, only when he was satisfied with the standard of the work, would he declare the building complete. We know that Joseph was in the building trade, so he had some expertise, but as house building was also the family business, you might also imagine the exacting standards that his father would have demanded. When Joseph's father deemed the new extension worthy, he would give his son his blessing, and give him permission to go and fetch Mary. Joseph would then send his best man ahead, who would blow the ram's horn to signal to Mary that Joseph was coming for her. It was the bridesmaids' task to alert Mary and all would return in a bridal procession of joy, singing the Song of Songs, to the couple's new home. There then followed seven days and nights for the couple to consummate their marriage.
All of this would have been the full expectation of Mary and Joseph, their families and the community in which they lived. In every sense, this was the expectation of their entire world. Into this familiar ritual came the devastating news: "When his mother Mary had been betrothed to Jesus (i.e., parents all in agreement, the covenant made in wine, the construction project underway) she was found to be with child…"
Mary and Joseph's betrothal was a binding agreement, and it gave Joseph legal remedies. It was Joseph's prerogative to become Mary's widower — to publically divorce Mary on the grounds of adultery, claim the dowry and have her stoned to death. So, at this moment, Mary's life (and Jesus within her) lay in Joseph's hands. And yet, in the heartbreak and devastation, Joseph's heart took another turn. We read, "And her husband Joseph, being a just man and unwilling to put her to shame, resolved to divorce her quietly."  (Matthew 1:19)
That is an extraordinarily gracious and merciful response. How did Joseph get there? As a man in David's line, throughout that unfaithful history of God's people, Joseph would have been taught of God's unrelenting resolve to show mercy. What can Joseph be sure of, what remains unchanged by this catastrophic news? Joseph knows that God is good and God is merciful. Amidst utter chaos, Joseph leaned into what he knew about God. He could have said, "This is terrible! God has abandoned me. I choose to turn my back on God. I will never pray again…" But he didn't. He took God at His word. He came to a fork in the road, leaned into what he knew to be the character of God, and he chose mercy.
When disaster strikes, God may not offer us a quick fix, but He will immediately seek to remind us of what we do know about Him and that we can take Him at His Word. This will always bring us back to the truth of who He is and not what our circumstances make Him out to be. He is your faithful Shepherd. "The Lord is my shepherd; I shall not want." (Psalm 23:1) He is your faithful Father. "If you then, who are evil, know how to give good gifts to your children, how much more will your Father who is in heaven give good things to those who ask him!" (Matthew 7:11) He is your Savior. "He who did not spare His own Son but gave Him up for us all, how will He not also with Him graciously give us all things?" (Romans 8:32) He never has been, and He never will be, an abandoning God. In overwhelming mystery and pain, we can trust in who God is, and we can trust His enduring mercy and goodness in our lives.
In addition to this, Joseph was also invited to trust the direction and power of God's Spirit. We read, "But as he [Joseph] considered these things, behold, an angel of the Lord appeared to him in a dream." (Matthew 1:20) The angel's words were an extraordinary weave of prophetic promises that Joseph would have recognized from the Scriptures. The angel began by calling Joseph by name and thereby placed him personally in the center of God's plan. The angel said, "Joseph, son of David, do not fear to take Mary as your wife, for that which is conceived in her is from the Holy Spirit." (Matthew 1:20b)
The angel told Joseph that the life growing inside of Mary had not come from any human father but from the heavenly Father. So in the same moment that Mary's honor is restored in the eyes of her husband, Joseph also learned that God is the real Father.
Here is a new vista in Joseph's story.  Where will Joseph find the courage to be stepfather to the Son of God, the legal guardian to the light of the world? Does Joseph have it in him to go through with what God is asking of him?  The answer is absolutely not! But God was faithful to supply the power, trust, courage and faith to fulfill what God was asking of him.
In Joseph we witness a very ordinary man leaning into the power and leading of the Holy Spirit within him. And we should expect no less in our own lives. God knows you by name. In His love, He will supply you with the power, the trust, the courage and the faith that you need. God has promised you, "And I will give you a new heart, and a new spirit I will put within you." (Ezekiel 36:26)
It is interesting that we don't know much about Jesus' growing up. I think the lack of information does tell us something though. It tells us that Joseph, through the equipping of the Holy Spirit, surrendered fully to his call to love, nurture and protect this child. There are some almost hidden glimpses of Joseph's lived out faithfulness as stepfather. In Jesus' very early years, there would have been two important ceremonies. One was the ritual of circumcision (the Bris ceremony) and the second was the purification rights in which the infant Jesus was presented in the Temple. In both ceremonies, Joseph would have been asked, "Who is the father?" and for the ceremony to continue (which we know both did) Joseph would have to have said, "I am his father." And when Jesus began his ministry as a young man, we get this one glimpse of all the sacrifices that Joseph made, raising Jesus as his own. Of Jesus, we are told, "All spoke well of him and were amazed at the gracious words that came from his lips. 'Isn't this Joseph's son?' they asked." (Luke 4:22)
We don't know very much about Joseph. Not one word that he ever said is recorded in the Bible. Yet his actions speak louder than any words. If we could ask him if it had been worth it, I believe his actions assure us of his answer. I imagine that he would pause, and smile, and look us straight in the eye and say, "You know it cost me everything — my reputation, my name, my heart, everything I had. But I would not change a thing. I count every sacrifice as gain, every loss as pure joy. My calling was my greatest privilege. For I held the light of the world in my arms. I played my part in bearing the Son of God to a hurting world."
Joseph's calling was to safely deliver the Son of God to a world waiting and longing for a Savior. We are the recipients of that good news and we share the same calling. In a broken and hurting world, God is both inviting us to take Him at His word and, through His Spirit, know the fullness of His love and mercy. God is also calling us to bear His Son — to bear the gospel of grace, hope, love and mercy to a spiritually-starving and hurting world.
Learn more about Drew Williams at trinitychurch.life/staff/drew-williams