December 12, 2017
Tufts Honored at CT Women's Hall of Fame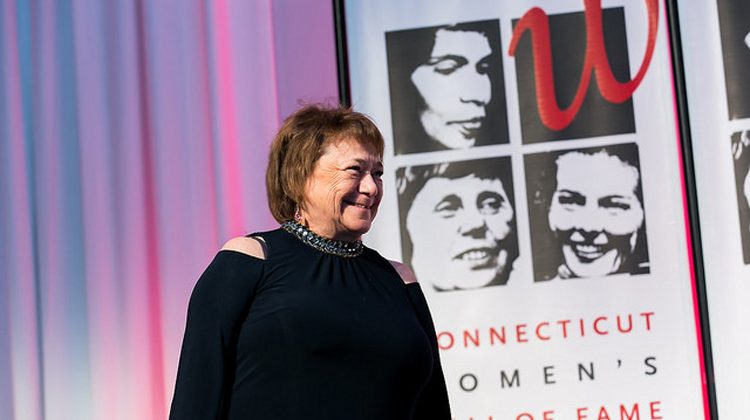 Charlee Tufts, the founding Executive Director of Greenwich EMS (GEMS), was honored by the 2017 Connecticut Women's Hall of Fame as one of ten Connecticut Women Heroes.
The Connecticut Women's Hall of Fame publicly recognizes the significant achievements of women who have contributed to the betterment of their communities, preserves their stories and educates the public in an effort to inspire the continued successes of women and girls.
Jennifer Baldock, Chairman of the GEMS Board of Directors commented: "This very special award recognizes the vision and tireless work of Charlee, our founding Executive Director who, over her 30 years at the helm, led our organization to become the top Ambulance service in the state."
Under Tufts' leadership, GEMS received numerous awards, including the Governor's Excellence in Service Award, and the William H. Spurgeon III Award for its Explorer Program. Tufts individually received the A.E. Hertzler Knox Award for Excellence and Lifetime EMS Service, as well as a Greenwich YWCA "Brava" Award.
In addition, Tufts has been honored with numerous leadership and supporting roles on important State committees and Associations formed to enhance EMS services. At Tufts' initiative, Greenwich became the first "HEARTSafe" community in Connecticut, a designation based upon the quality of a community's "Chain of Survival." In part because of her work to bring Greenwich's EMS services up to the standard required to be designated "HEARTSafe," during her tenure and now, Greenwich EMS has retained a "save rate" that ranks among the best in the nation.
On receiving the award, Tufts commented: "I am honored to receive this award because of the very important contributions women make on a daily basis in their communities. Women see opportunity in everything and everyone. Women are creative visionaries, not only utilizing their IQ but their EQ (emotional quotient) to cultivate innovation and initiative for both themselves and others to make a difference. Women are also wired to think strategically to survive and protect in fast changing environments, such as a 911 medical emergency when patients and their co-workers may be most vulnerable."
In support of being honored by the Connecticut Women's Hall of Fame, Peter Tesei and the Board of Selectmen issued a proclamation, declaring Thursday, November 9, 2017 as Charlee Tufts Day.
Baldock added: "Our entire community is proud of her effort and these significant recognitions she is receiving. Charlee Tufts spent her career changing lives by literally saving lives. We can think of no one more deserving to be called a hero."
GEMS was established in 1986 by citizens of Greenwich as an independent 501(c)(3) nonprofit. 30 years later, GEMS delivers award-winning EMS capability with a significantly higher than national average save rate. Today they respond to more than 6,500 calls annually and transport more than 4,300 patients, 58% of whom require Advance Life Support services. For more information, please visit greenwichems.org
Tags:
Charlee Tufts
,
Connecticut Women's Hall of Fame
,
CT Women Heroes
,
GEMS
,
greenwich
,
greenwich ems