November 20, 2017
GYFL's BANC Raiders Are Winners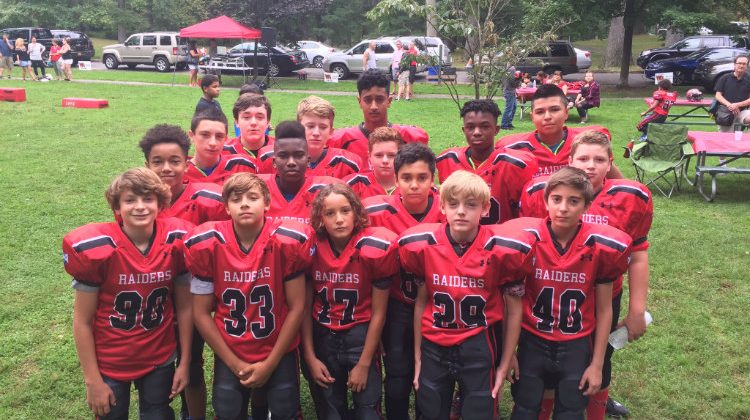 By Rob Adams
It's generally accepted that, in sports, there are no moral victories. It's primarily true at the professional level, where players earn millions of dollars to perform and win.
But this isn't about pro sports. The BANC Raiders of the Greenwich Youth Football League were, in fact, thrilled to have a sub-.500 record.
Consider where they came from.
"I was asked to help with the team three years ago when they had full vacancy at their coaching level," said head coach Rick Muskus. "I came in very late – late spring, early summer. I recruited two people help me, including my nephew, Jeff Wilson, as well as an All-American from Marist, Adam Ercoli."
Muskus said that team was 0-8 in that first year. It should be noted that each coach does not have a child in the league. They do it as volunteers and because they love it.
"I tried to install some philosophies that they could use at that time," he added. "Some discipline, some enjoyment of the game. They really took to it."
Despite the record, Muskus said the team had a lot of fun. The following year, the Raiders went 2-6, missing postseason play.
This year, with that 3-5 record, everything changed. They made the playoffs, and though the lost in the playoffs to the number one seeded Cos Cob Crushers, the victory was seen as moving the program forward – regardless of what happened in the playoff game.
"This is a group of kids, for their entire existence at the BANC program, that had never made the playoffs," Muskus said.
The storybook ended with a 21-7 loss to the Crushers.
"It was very monumental for this group because it's very diverse," Muskus said. "It's all backgrounds. For the most part, it's brought together a group of kids that wouldn't normally know each other. They've become the best of friends."
He added that some really good athletes will eventually leave the team and can help at Greenwich High School, where head coach John Marinelli currently has the Cardinals on a collision course for a state playoff run.
But the future also has to be kept in mind.
Muskus specifically cited the play of Jason Agudelo.
"He's a superior player, and a very smart kid on top of it," he said.
Greenwich is certainly blessed to have the GYFL, as it is one of the few towns that can run its own youth football program without having to play other locales.
"Very few towns can do this," Muskus said, turning his thoughts to the high school program. "Marinelli is in a situation today much like I was a few years ago. You can nurture the system and gain the trust and confidence."
As for those kids, Muskus expects each Raiders player to pursue football at the next level – whether at Greenwich High School, Brunswick, or somewhere else.
"Every single one of these kids that are moving up are going to pursue football," he said.
Muskus exudes a passion for BANC – which gets its name from the Byram Archibald Neighborhood Center – and recognizes that the program was seen as an easy win for other teams.
"No one had any respect for their team along the way," he said. "This year – for the first year in a long time – that these kids felt like they gained some respect as a program."
The GYFL operates at three levels – bantam, junior, and seniors – and while this senior group of middle schoolers will be watching the championship game, the juniors will be playing the Glenville Mavericks for the championship this Sunday at Cardinal Stadium.
"That hasn't happened in a long time," Muskus said. "It adds to the fact that BANC has the right formula now and there's a lot of pride behind a group of kids that struggled to get there."
Despite losing to the Crushers, whom Muskus describes as being a "great team, and well-coached," the team is proud of what happened this year.
"The undercurrent is that these kids couldn't be happier with what transpired for them," he added. "We put a lot of time into it."
The kids weren't the only ones proud of the effort. Muskus said the coaches were proud of the effort. He wanted them, more than anything, to have fun and be prepared for the game.
"They were sad because the season was over, but they weren't sad because they lost," he said. "There were a lot of smiles."
While athletes are taught to win, sometimes, it's really how you play the game.
Tags:
BANC
,
Connecticut
,
Football
,
greenwich
,
GYFL
,
Raiders
,
Rick Muskus
,
Rob Adams
,
Sports