November 17, 2017
BoE Holds Special Meeting on GHS Field Lighting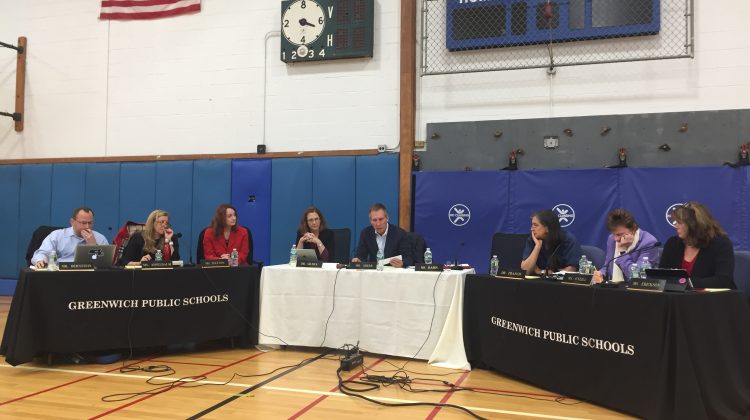 By Richard Kaufman
Sentinel Reporter
For years, the topic of lighting at Greenwich High School fields has been a hot button issue for the town, especially for the Board of Education.
With the change in start times this fall and dismissal pushed back an hour later, debate has come to the forefront even more, as scores of student athletes and teams have been forced to find solutions for completing practices in waning daylight.
On Tuesday night, the Board of Education took the first step on what figures to be a long road ahead in addressing the problem during a special meeting at Central Middle School that featured public comment.
After hearing the public speak on the issue for nearly an hour, the board held a discussion and voted in favor, 6-2-0, to authorize the initiation of litigation against neighbors of the high school, to modify an existing judgment which was put in place in 2003 regarding the usage of lights at the property.
No litigation can be initiated in this matter unless and until the Board of Selectmen authorizes the same on behalf of the town. The Board of Estimate and Taxation will also be involved in the process, as the board will ask for additional appropriations. The BET will not act until they have a clear signal from BOE and BOS what they intend to do.
Currently, GHS can only use lights at Cardinal Stadium for 10 athletic games and six practices per year, which includes state playoffs. The ruling was set in place back in 2002 by the Planning & Zoning Commission, and upheld by the court in '03.
The decision did not come without passionate pleas from the community asking for litigation. In total, 16 spoke in favor, while two opposed.
Rick Kral spoke in opposition of litigation. He said the neighbors of Greenwich High have not had the proper forum to present their concerns, and that the community needs to come together to fix the issue.
Kral also suggested the board submit two Municipal Improvement requests to the town. One would lay out what the board wants as far as requirements for using the lights. The other MI would address lighting for field No. 7, which Kral said could help alleviate some problems.
"Your decision to try to vote tonight to go strictly out to the legal road is premature. We don't know what you're going to do, the neighbors don't know, we as the athletic community don't know. We'd like to know what that is and for that plan to be put in place so we can move," he said.
Mike Kaye also spoke in opposition, and said there needs to be more time for studies and conversations on the matter.
"I think we should not proceed with litigation but proceed with an open forum in which everyone can speak so we can go forward with the right decision for our town," he said.
Peter Carino, a lifetime resident of Greenwich whose kids went through the school system, said he's concerned about safety of the children if the lights remain unused. He noted that a student athlete, whether it be from Greenwich or elsewhere, could get hurt playing on a dimly lit field during a practice or game which would open up a set of new problems.
"Why we let people [play] in the dark, after sunset; it's a dangerous situation. It has to end immediately. Something has to be done just for self-preservation. That horrifies me as a Greenwich resident," he said.
Carino said the sports facilities and programs need to be up to par, since Greenwich competes with other towns when people look to move to Fairfield County.
"We lessen the sports programs, the less kids are involved. The last thing we need is more kids who are sitting around on their phone instead of running around outside," he said.
Emily Philippides, a student and captain of the indoor track team at GHS, spoke about her team's concern for safety. She said the team is usually outside every day from December until February since there are no indoor track facilities.
"Now with this school start time change, we can't go on the roads anymore because it's unsafe running in the dark when there's cars next to us," she said.
Philippides said the team is then forced to run on the track, but the problem isn't solved and it's still dark.
"I don't understand how we could be running outside when we can literally see nothing in front of us," she added. "We don't want our program to deteriorate just because of this single issue that could be resolved if we simply turn the lights on for an hour or two after it gets dark outside."
Marianne Iuteri, whose oldest son plays on the football team, voiced displeasure that the team had to sit on a bus and go up to New Canaan to practice recently.
"This will make the time that they can start their homework and eat dinner delayed even later," she said. "We are not nurturing our children as we should be, but we are fracturing them. As parents we demand that something should be done."
Robert Sisca, a Greenwich real estate attorney who practices mostly throughout Westchester and Fairfield Counties, said he's heard from prospective purchasers or sellers that they're avoiding Greenwich "because of the poor state of sports facilities in this town."
"I would suggest, if you want to know what's wrong with Greenwich sports facilities, get in the car, drive to New Canaan, drive to Darien, drive to Ridgefield," Sisca said.
Toni Natale, who helped start the crusade in getting the lights at Cardinal Stadium, said she compromised in order to get them up, which set boundaries on height and usage as laid out in the '03 ruling. She offered words of advice to the board.
"Don't compromise," she said. "That's all I can say to you. Get these lights done for these kids. Let it be safe, and do it in a very speedy and proper way but don't compromise like we did then. We're sorry for it now."
State Rep. Mike Bocchino spoke as well, and said that it's prudent to look at what has changed since the ruling was handed down and how the start times have affected athletics. He mentioned field No. 7 as a possible option, and Western Middle School as a site for high school games since it would offer the adequate parking and potential lighting.
"Remember, a lot of these student athletes utilize sports as their opportunity to further their educational experiences. If we don't give them and afford them that opportunity, we're really doing a grave injustice," he said.
The board then held a discussion for the matter for 45 minutes. Board members Laura Erickson and Barbara O'Neill opposed initiating litigation right now, citing that they believe a lot more legwork needs to be done with the neighbors.
Both mentioned the meeting on Monday which featured lighting experts and the neighbors. Erickson said that by the end of that meeting, there seemed to be a better understanding on the neighbors' part about how, with new lighting technology, a solution could be reached without infringement.
"I think we need to respect our neighbors. In turn I think they will be more respectful of us and our needs as a community, as a school, as a town," Erickson said. "I'm not against this at all, but in order to strategically get to where you need to go, you can't use a sledgehammer. You have to use respect."
Debbie Applebaum expressed concern over approaching the situation the right way with the neighbors.
The other board members agreed, saying that positive communication with the neighbors is necessary moving forward and that more meetings with them are currently being scheduled. But litigation, even though it could be lengthy, starts the process of hopefully finding a solution down the road.
"I want to make sure everybody understands that this is a process, a legal process. As with all litigation, this might take a while, possibly a year or more and ultimately the outcome is uncertain," said board member, Peter Bernstein.
Dr. Gaetane Francis said she's looking ahead.
"I'm thinking about next fall. I think it's really important for us to move this forward," she said.
Jennifer Dayton said the only way to sift through what can and can't be done is to go to court. "I want to take care of the neighbors, but the only way we can even have a conversation and discussion about the underlying facts are to go to the court," she said.
Board chair, Peter Sherr, said this issue has illuminated a big problem for the board and the time to act is now. He said there have been several accounts from the neighbors about different agreements in place regarding lighting, even though the town has mentioned just that one '03 court ruling.
"Eventually we have to resolve all of those claims and we need to get to the bottom of what we can and can't do at the GHS property," Sherr said.
Sherr said that lighting at GHS is just one potential solution in supporting student athletes, and mentioned others.
"Creating world class training facilities at middle schools, bubbling at GHS. Supporting the building of new facilities at the Eastern Civic Center and Havemeyer Field or another Parks and Rec location that is not under control of the BOE."
Sherr went on to say that he has confidence that through a dialogue with neighbors, the issue can be solved. He said that he prefers the term "negotiation" rather than "litigation", and that initiating litigation doesn't mean "hauling off and suing everyone" right now.
"I'm confident, maybe foolishly so, that we can solve the needs of the non-student athletes. We can solve the needs of the student athletes, and we can be good neighbors to the people who are in the neighborhood of which we are also a neighbor," he said. "We need to get at this, we need to stop talking about it, it's time to take some action."
Superintendent, Dr. Jill Gildea, called the lighting and fields issue a town wide problem, not just a school problem.
"I think we have to stop tripping all of this up and get ourselves together collaboratively to solve these issues as a town," she said.
The board voted, with Sherr, Dayton, Applebaum, Bernstein, and Lauren Rabin in favor of initiating litigation. Erickson and O'Neill opposed. The crowd erupted with applause as Sherr adjourned the meeting.
The Board of Selectmen's next meeting will be held on Thursday, Nov. 30, at which time they may or may not take up the issue.
Tags:
Board of Education
,
GHS
,
greenwich
,
Greenwich High School
,
Town of Greenwich