November 14, 2017
Greenwich Swim/Dive Team Dominates LL's En Route to Title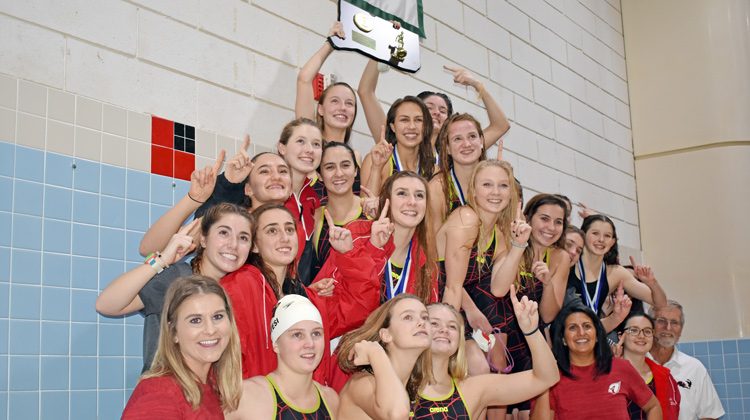 By Paul Silverfarb
Sentinel Editor
In a dominating performance, the Greenwich High School girls' swimming and diving team capped off the Connecticut Interscholastic Athletic Conference class LL championship with another trophy to bring home to Hillside Ave.
"It's a lot of hard that goes into these championship meets and the kids certainly put in the hard work this year," said GHS head coach Lorrie Hokayem. "They were fantastic. They were at practices working hard early mornings and late nights. This is something they've been working towards and I am so happy to see so many of them go best times. From top to bottom it was just a great meet for us."
Big Red finished the class LL finals tops with 828 points. The next closest team was Ridgefield High School with 535 points.
"It feels great to watch all the team's hard work pay off," senior Kelly Montesi said. "We worked so hard this season and to watch it all come together is really a special thing. This team was definitely ready to go. We had our win from FCIACs to push us through and had the motivation tonight of qualifying for Saturday. We gave it all we had and it showed."
Fellow FCIAC foe Staples High School took home the bronze with 475 points, while Brien McMahon-Norwalk was fourth with 397 points. Trumbull High School rounded out the all-FCIAC top five with 369.5 points.
"This was really exciting," senior Lillian Clisham said. "I couldn't be happier and be prouder of this team."
In the opening event of the night for the swimmers, the 100-yard medley relay, the GHS foursome of freshman Samantha Ennis, freshman Meghan Lynch, Montesi and senior Louisa Bjerke took home the gold in dramatic fashion, upending the group from Staples High School and netting a top time of 1:45.56. The Wreckers were mere inches away, as they grabbed the silver with a time of 1:45.74.
From there, it only got better for Big Red. Consistent performances and solid times reigned supreme for Greenwich up and down the class LL meet.
Actually, the Lady Cardinals got the ball rolling even before the swimming finals took place. During the CIAC class LL diving finals, held Nov. 8 at Middletown High School, Big Red took home the top three finishes and four of the top five results.
Leading the way was Greenwich's Katherine Russak, who cruised to the top spot with 486.10 points. Not to be outdone was Big Red's Annabelle Pollack, who was second on the night with 469.25 points. Taking home the bronze was Maddie Muldoon, as she netted 452.75 points.
Westhill-Stamford's Abigail Desyr placed fourth on the night, posting 438.70 points. But grabbing a top five spot was the Lady Cardinal's Kathryn Kirsch, who finished fifth with 422.70 points.
"The divers do a great job," Hoyakem said. "They were fantastic yet again. It certainly helps ease our minds when the divers pull off a performance like they did. The swimmers had
Back to the class LL swimming finals, blowing away the competition in the 200-yard individual medley was freshman standout Lynch. Her time of 2:01.34 was nine seconds quicker than her next opponent, Staples' Willow Woods (2:10.35). In addition to her breakout swim, her time smashed both the class LL and state records. The previous record of 2:03.26 was done last year by Greenwich's Montesi. Lynch also broke the state record of 2:01.60 that was set back in 2008.
"It was really nice doing so well tonight," Lynch said. "I felt really good tonight. We all worked really hard and having it all come together is great. Everybody had great times and to top it off with a win tonight feels really good."
In addition to Lynch's performance, Ennis took home third place overall, posting a time of 2:11.35. Big Red also netted key points in the B final, as both Kate Ennis (2:12.43) and Alexandra de la Sierra (2:13.51) took the top two spots.
Lynch struck gold again in the 100-yard breaststroke. Her time of 1:03.14 not only was three seconds better than Jenna Leonard of Ridgefield, but it was also a class LL record. She beat Emily Weir's 2009 time of 1:03.67.
"It feels really great to help the team," Lynch said. "This team is so supportive and helping them out feels great. As a newcomer here and to give the team some points is nice."
Also competing in the event was sophomore June Akpata, as she ended the night 10th overall with a time of 1:09.47. Not to be outdone was teammate Allison Brea, as the junior finished 12th overall with a time of 1:10.30.
Big Red kept the good times rolling in the 100-yard butterfly event, as Montesi blitzed the competition and came away with the top time of 54.03 seconds. She was nearly three seconds better than Marissa Healy of Staples High. Junior Emily Warner also had a standout swim. Her time of 59.45 was good enough for 10th overall and was second in the B final.
"I felt great tonight," Montesi said. "We worked so hard all season. Personally, I worked hard the past three months and having it all pay off is one of the best feelings in the world.
Montesi was tops for the second time on the evening in the 100-yard backstroke. Her time of 55.07 was over two seconds quicker than Staples' Esme Hunter. Joining Montesi on the podium was Samantha Ennis, as the freshman was fifth overall with a time of 58.18. Big Red had two top finishers in the B final, as senior Taylor Schinto was ninth overall and the quickest in her final, netting a time of 59.03. Two spots away was senior Ainsleigh Winget, as she was 11th on the evening with a time of 59.81.
"Kelly and Meghan were absolutely unbelievable," Hoyakem said. "They both had some great swims and they worked hard in practices. They are both great racers and all that hard work really paid off for both of them. They were focused and were able to swim fast against some top competition. They are phenomenal swimmers and scored us some big points tonight."
In the 200-yard freestyle event, it was Clisham that took the silver overall, posting a time of 1:51.41, over three seconds quicker than her preliminary time. Also competing in the event was Warner, who finished sixth overall and netted a time of 1:56.78. Cracking the top 10 was fellow junior Kortney Knudsen, who grabbed ninth on the night with a time of 1:56.42 and was the fastest swimmer out of the B finals.
"I felt amazing out there tonight," Clisham said. "This is the best I have felt all season. I didn't really know what to expect and this exceeded all my expectations. Going into tonight, I always expect this meet to be exciting and it felt awesome to do well and for the team to do well.
In her second event on the night, the 500-yard freestyle, Clisham posted the same finish as her performance in the 200-yard freestyle. Her time of 4:59.55 was good enough for second place. And Clisham had some company in the event, as once again it was Knudsen who competed alongside Clisham. Knudsen grabbed fifth place overall in the 500-yard freestyle, taking a time of 5:11.28.
"They were her best times, by far, in both of her swims," Hoyakem said. "She does everything you want her to do in practice and put together two beautiful swims in those distance races."
Junior Allison Brea and senior Kellen Carlson also squared off in the longest event of the night. Brea touched the wall eighth overall, posting a time of 5:15.84. Carlson wasn't far behind, as her time of 5:19.91 gave her 10th on the night.
Senior Julia Merrill was lights out in the 100-yard freestyle. Her time of 52.93 placed her fourth overall and was neck-in-neck with Newtown's Mary Hufziger, who finished third overall with a time of 52.37. Also faring well for Big Red in the 100-yard free was Bjerke, who netted 12th place overall and a time of 53.95.
Merrill and Bjerke also competed in the 50-yard freestyle earlier in the championships. Merrill ended the night 10th overall, posting a time of 24.50, while teammate Bjerke was 18th overall with a time of 24.87. In addition, seniors Winget and Schinto also battled in the 50-yard freestyle. In fact, the duo tied for 12th overall, grabbing a time of 24.92.
Just like Greenwich started the meet in grand fashion, the group of Cards in the 400-yard freestyle ended the night with a statement. Montesi, Clisham, Merrill and Lynch were the only team to finish below 3:30.00, posting a top time of 3:27.16. In addition, that time was good enough to break the class LL and state records.
In the 200-yard freestyle relay, the team of Merrill, Bjerke, Knudsen and Warner took to the pool and ended the night fourth overall, touching the wall with a time of 1:38.72. They just missed out on third, as Ridgefield grabbed a time of 1:38.26.
Greenwich will be back in the water Thursday night, when the divers take to the pool at Middletown at 5:30 p.m. and compete in the state open finals. On Saturday, it will be the swimmer's turn at Opens, as Big Red will travel to Yale University for competition that gets underway at 5 p.m.
"We are very excited about tonight's performances and hopefully that sets us up really well for Opens," Hoyakem said. "Hopefully we are able to carry tonight's momentum over to Saturday. We are very excited because Yale is one of our favorite places to race.
Tags:
CIAC
,
class LL
,
FCIAC
,
GHS
,
greenwich
,
Greenwich Dive Team
,
Greenwich High Swimming and Diving Team
,
Greenwich Swim Team
,
Kelly Montesi
,
Lorrie Hoyakem
,
Meghan Lynch