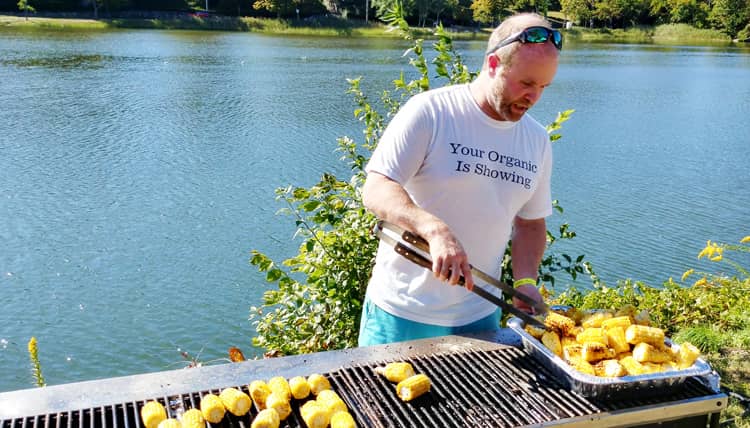 By Michelle Moskowitz
Sentinel Correspondent
Long gone are the days when the milkman would deliver perfectly perched glass bottles of cold, fresh milk in front of one's door.
But then the days of Fresh Direct and now, Amazon Fresh arrived offering food delivery service in the blink of an eye.
Convenient, yes.
But what about the quality of the food? Where is the food actually coming from?
Lifelong Greenwich native Mike Geller, proprietor of Mike's Organic Delivery, cares deeply about these questions and is committed to bringing the very best in farm fresh, local organic foods to all of Fairfield and Westchester counties.
"We are a direct connection to the farmers, and the most convenient way for people to get the highest quality produce, meat, dairy, fish, pantry staples and more into your life," said Geller.
While Greenwich residents frequent the Whole Foods market in droves, traipsing the isles for healthy choices for themselves and their families – it can be daunting when choosing among the various food distributors, as well as deciphering the myriad labels that exist: local, conventional, organic, non-GMO, etc.
How is one to tell which foods will be as tasty as they will be nutritious? And be worth the price?
Essentially, Geller made it his mission to weed out the ubiquitous food providers for us – curating the very best picks of produce, meat and dairy by carefully vetting the most trusted farmers and vendors – whose mission is to deliver the healthiest, most ethically sourced foods available.
A significant portion of Geller's time is spent with the local farmers in order to witness firsthand their farming techniques and protocols, as well as be able to track the timeliness of when the foods are to be delivered and available for consumption.
"I think it is most important to be able to ask the farmer what their practices are," says Geller.
"There is so much information out there, but I only believe what I see. Transparency and connection are key."
Last week, Geller gave an informational talk at Equinox's, "Lunch and Learn" series presented by brand strategist, Toni DeMauro — an admitted health and wellness enthusiast in body, mind and spirit.
Over 40 engaged attendees had the opportunity to learn about how the food industry has changed in the United States — and about the importance of a food's origin (that it's not just about how the food looks or how long it lasts in the refrigerator) — especially today with higher incidences of cancer, disease and food allergies.
Over a light lunch sampler of chicken sausage with smoked maple whiskey with apple sauce, a shot of winter squash soup with ginger and turmeric, and a creamy almond butter lightly spread on honey crisp apples with a splash of maple fig granola —  Geller provided useful tips on how to sift through the 'health food clutter' and yet more definitively help the audience understand how our food choices pertain to our overall well-being and general wellness.
He adds, "Dairy and meat are also something I try to avoid eating unless they are pasture raised," said Geller.
"The industrialization of food in our country has changed," said Geller who was donning a T-shirt that read, Your Organic Is Showing.
He referenced how today, convenience trumps quality when it comes to food.
That people want year-round availability of their favorite foods, durability (meaning it can withstand being transported from far-flung distances) and better price points — as Geller pointed out that Americans spend about 7% of their income on food versus 24% from many years ago.
"Eating seasonally is what we have done as a species forever," says Geller. "We should incorporate more, local organically grown foods in our diets again."
Geller told the crowd, "You have more power in your food choices."
Growing up in Greenwich, Geller, who attended the Greenwich Country Day School and Brunswick, where he was captain of the football team — has always had a love for the outdoors and a connection to the environment.
"I love the way I grew up, bow-hunting, chasing bullfrogs, watching bobcats, fishing, being one in nature," said Geller.
"Plus, there is a real feeling of community here in Greenwich."
After graduating from Skidmore College, Geller worked in a string of illustrious jobs which he deemed both 'fun and valuable' — such as running a hip-hop studio in Atlanta, planning show-stopping corporate events, and working as a media-buyer and copyrighter.
"Those experiences were all great, but I never felt like I was making a positive contribution," said Geller. 
It was after a three-month harrowing trip to Botswana that would not only change Geller's outlook on life — but also change the role he wanted to play in it — one that had a meaningful impact on the environment and would serve others well in the process.
During that trip to Africa, Geller was nearly bitten by a cobra, was charged at and chased by a leopard, and was flying on a plane that lost an engine — all of which he survived unscathed.
But even after enduring those near-death experiences, his epiphany occurred when he stumbled upon a local bodega in Botswana — where the food was so vibrant, so fresh and yet, so very affordable.
That's when he realized that there was something missing in his own hometown markets and his inner calling became quite evident.
"The eggs were so fresh and were not even refrigerated and the tomatoes, wow, they were almost the size of a baseball, and yet so juicy," stated Geller.
So, at age 29, Geller moved back home to Greenwich to be with his family (his father continues to join him on his regular Monday visits to the local farms), and pursue his new path where he could "find the best way to work with his hands."
That vision culminated in a volunteer-ship at Stone Barns Center for Food & Agriculture in Tarrytown, N.Y.
It was at Stone Barns that he fully immersed himself in sustainable farming and began to fully understand and appreciate the magnitude of ethical, clean farming and its impact on society overall.
Geller works very closely with approximately 30 farms — mostly located in New York and in the Nutmeg State, and some in Oregon and Colorado and has developed close friendships with many of them.
"I had 25 farmers in tuxedos at my wedding," chuckled Geller. 
Some of the local farms they work with a great deal include Hepworth Farm in Milton, N.Y.; Greiner Farm in Middle Hope, N.Y.; and Sepe Farm in Sandy Hook.
Mikesorganicdelivery.com serves as a visually attractive online platform with an easy-to-use display where one can seamlessly order a weekly seasonal package or any item a la carte.
Customers can select from a carefully audited selection of high-quality organic produce, pasture raised eggs, grass fed butters and ghee, and an assortment of cheeses such as the Vermont sage and herbs cheddar provided by The Plymouth Cheese factory — who has produced distinctive artisan cheeses for over 124 years.
Meat selections include grass fed ground bison and venison, grass-fed rib and T-bone steak and a happy valley filet mignon.
Seafood items include Alaskan sockeye salmon burgers, peeled wild Florida shrimp and even a 'wild for salmon canned sockeye,' which Geller says is really terrific.
They also offer some prepared foods such as flat-bread pizzas and gluten-free kids chicken tenders from Mill Street Bar & Table and Piggery pasture raised beef chili and cottage pie– perfect for fall and ready to heat-up and serve in a flash.
Pantry staples include organic condiments, salsas, nut butters, crackers, snack bars, pastas and RISE cold brew coffee — and is comprised mostly of brands that are not readily available at other markets. 
"You can order exactly what you want," says Geller.
"If you just feel like getting apples, broccoli, spinach, wild salmon, chicken cutlets, grass fed milk, cold brew coffee? No problem," said Geller with a quick roll of the tongue, insinuating that the express lines at MOD.com are also a customary way to shop on the site. 
When asked what misconceptions exist about his business?
Geller said that people often think his foods will be more expensive than Whole Foods, which he says, "our pricing is comparable, for infinitely fresher, more delicious foods."
Geller also said that some people are under the assumption that they only offer seasonal baskets, which is how the business first started off back in 2009.
But today the service has since become a one-stop shop for all one's local, fresh, organic needs when it comes to stocking the frig as well as the pantry.
Currently, the MOD handles almost 500 deliveries per week and says the average order price is about $80 to $100.
"Organic food can be more expensive than conventional food because it typically takes longer to grow and small farms are not subsidized by the government, whereas large industrial farms are," says Geller.
"We are conditioned to walk into the store and see ground beef for $1.99 per lb. and say, 'that's a good deal," but if you walked into the Mercedes dealer and saw a car for $1,000 your first question would be, "What's wrong with the car?" said Geller. 
"We don't do that with food, we don't prioritize it financially and you are putting it in your body and your kid's bodies," said Geller.
To date, they also service a plethora of corporate accounts whereas one's groceries can be delivered to the office — saving employees a rushed trip to the market on the way home from a long day at work.
Corporations such as General Electric and Nine West are clients.
In addition to MOD home and corporate delivery service, they also host a market every Friday from 9 a.m. to 1 p.m. at their Stamford warehouse, located at 375 Fairfield Avenue, building 1 called 'MRKT.'
"We welcome everyone but ask you to email mike@mikesorganicdelivery.com so we can help you find the place," said Geller, indicative of the personalized service he gives to each one of his clients.
People can shop whatever foods they have available fresh that day in addition to their stocked pantry items.
They also partner and support other local purveyors to provide specially baked fresh breads and other delicacies to his customers.
Currently MOD is preparing for what Geller refers to as "The best Thanksgiving turkey ever" featuring fresh pastured turkeys with organic side dishes and pies delivered to your door with easy to bake instructions.
Turkeys are available in different sizes, starting with the smaller birds at 12-15 lbs. which can feed 6-8 people and the largest bird which is 21-24 lbs. and can feed up to 14 people. 
Available side dishes include Yukon gold mashed potatoes, sweet potatoes, stuffing and cranberry sauce and a choice of apple or pumpkin pie for dessert.
What's on the horizon for the in-demand health brand?
Actually, big plans.
Geller has plans to unveil his own mega-marketplace which, likened to a Stew Leonard's (yet fully stocked with his vetted farmers and vendors).
In addition to his healthy foods, the superstore, slated for 2020, will feature a taproom with craft beers, a café for dine-in, an extensive butcher shop and a kid's cooking demo section.
Perhaps one of the most exciting parts of the grand plan, (which, as no surprise, Geller got very animated when speaking about it) is the farm that he will create so people of all ages can learn about the process of quality farming – and its impact on our health and the environment.
Geller's focused energy coupled with his staunch commitment to farm fresh, local food is the perfect recipe for school lectures – for which he has already visited almost every school in town.
He also serves as an active participant in local events, such as the Food & Wine Festival.
Currently, weekly orders should be placed by 10 p.m. Sunday nights (scheduled to arrive on Tues. or Wed.), although they are starting to do more on-demand deliveries in Greenwich, Old Greenwich and Riverside.
The deadline for a Thanksgiving Day order to be placed is Fri., Nov. 17 by midnight.
Also, in time for holiday gift giving — MOD provides 'local, organic goodness' with their gift certificates and customized gift baskets — with a $10 delivery fee.
  When questioned how some people might be reluctant to food-shop online, Geller said he is more than happy to walk anyone through the ordering process either on the website or by phone and would even come to one's home to demonstrate how to prepare a simple, fresh healthy meal.
With Geller's easy-going and affable nature, Geller might even stay through dinner, although with a one-year old at home and another baby on the way — he might just leave after confirmation that his customer is healthy and happy.
Geller is a modern-day renaissance man with a mission to foster clean eating and help local farmers do what they do best.
Visit Mikesorganicdelivery.com or call (203) 832-3000.
(Mike's Organic Delivery is offering Greenwich Sentinel readers a 10% discount)