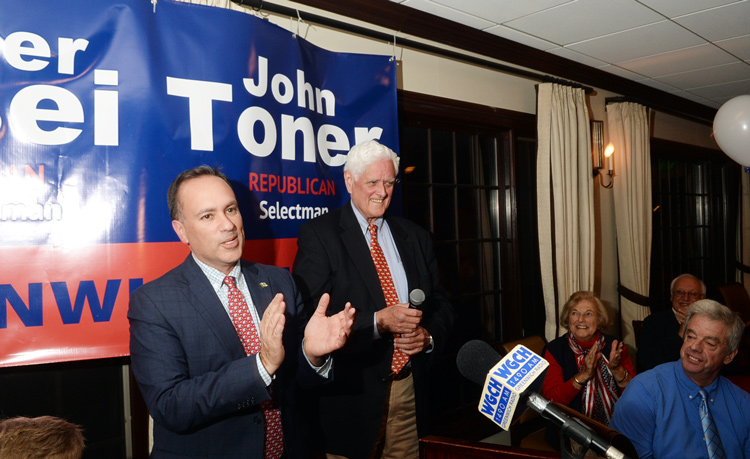 By Paul Silverfarb
Sentinel Editor
Greenwich has spoken. It was a wild election day throughout the town in several races, but in the end Peter Tesei left Republican Headquarters at the Millbrook Club Tuesday evening knowing that he will have a sixth term as the town's First Selectman.
Although it was closer than some thought, Greenwich First Selectman Peter Tesei won reelection and will be returning to lead the town. With the victory Tuesday night, Tesei was nominated for his sixth term, a first in the Town of Greenwich.
"To earn a sixth term, I'm very humbled by it," said Tesei. "This is the first time in modern times to have someone elected to it. It's something I'm humbled by and I'm going to work hard to not let the voters down."
Tesei picked up 7,110 votes, while Litvack finished the night with 6,040 votes.
John Toner, Greenwich's republican Selectman, easily won reelection with 7,167 votes. On the other side, democratic Selectman Drew Marzullo was defeated, as he grabbed 4,439. The top three vote-getters in the Selectmen race are nominated for seats on the board.
"I have enjoyed a tremendous, not only political relationship but personal relationship with Drew," Tesei said. "I'm sorry the circumstances have lead to his non-reelection. I think the board is not going to enjoy the same level of collaboration we've had in the past. We'll see. I've worked with a lot of people in my 30 years of service to the town, and I have no doubt I can work with Sandy [Litvack]."
In one of the closest contests of the evening, Tax Collector was up for grabs between Democrat Howard Richman and Republican Tod Laudonia. In the end, it was Richman that won, finishing with 6,204 votes. Laudonia ended the night with 6,163 votes.
The Board of Education saw a three-person race for two spots on the Republican side. Republican Peter Bernstein was the leading vote-grabber, picking up 8,520 votes. Peter Sherr also gained a plethora of votes and was elected to the BOE with 6,622 votes. Jason Auerbach garnered just 4,711 votes and didn't secure a seat on the board. Democrats Meghan Olsson and Kathleen Stowe were guaranteed spots, and will sit alongside Bernstein and Sherr.
All 12 candidates for the Board of Estimate and Taxation, six Democrats and six Republicans, were guaranteed spots for a new term. However, the party that collects the most votes takes control of the chairmanship. The Democrats narrowly came away with the chair-position, 37,733 votes to 37,241 on the Republican side.
For the Board of Assessment Appeals, republicans Mark Pruner (6,487 votes) and Jeff Reardon (6,344) won seats, while democrat Mary McNamee won the third and final seat with 6,296 votes.
In addition, republican Town Clerk Carmella Budkins won reelection, as she ran unopposed and grabbed 8,402 votes.
To read much more on the election, and to read about the Representative Town Meeting results, check out Friday's Greenwich Sentinel.