November 3, 2017
Greenwich Veterans Receive Wartime Service Medals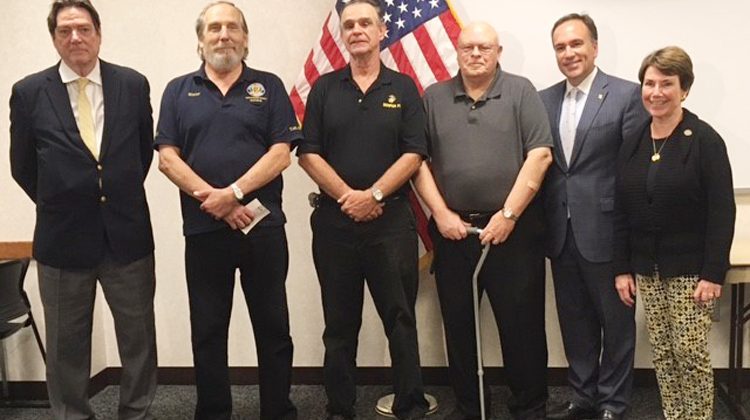 Three Greenwich veterans received the Connecticut Veterans Wartime Service Medals in a Town Hall ceremony.
First Selectman Peter J. Tesei, along with state Rep. Livvy Floren (R-149), presented the medals to the veterans who served during the Vietnam War on Oct. 24. Tesei enlisted the assistance of Greenwich Veterans Council member Daniel Griffin to facilitate obtaining the medals for the veterans.
Three of the five medal recipients were able to attend the ceremony. All five – Blaise Bruno, Craig Connolly, Earle Cullen, Peter Le Beau and Vincent Masi, are members of the American Legion Post 29. The medals were formally presented to Messrs. Bruno, Connolly and Cullen.
According to Griffin, any Connecticut veteran who served at least 90 days of wartime service is eligible to receive the medal. Tesei thanked Griffin for his work with veterans in Connecticut and Westchester County as well as with the Greenwich Veterans Council. Tesei also said that the "ceremony acknowledges the extraordinary service during wartime and helps the younger generation to understand the importance of the sacrifice of your service and what it means."
Floren said, "Thank you for your service. And we will be celebrating you again on Veterans Day with the Community Patriotic Walk and Ceremony. This year's theme is 'Because you were there, we are here.'"
The Greenwich Veterans Council is organizing a Veterans Day Community Patriotic Walk and Ceremony that begins at 10:15 a.m. on Nov. 11 at Amogerone Crossway and Greenwich Avenue and will proceed to the War Memorial in front of 290 Greenwich Ave. for the ceremony at 11 a.m. This year there is a focus on veterans who served during the Korean War and they are invited to attend. The Redmen's Home Association will host a luncheon for Greenwich veterans at its hall, 17 E. Elm St., immediately following the ceremony.
The Byram Veterans Association will host its annual Veterans Parade at 7 p.m. on Nov. 11 with the kickoff at the Association headquarters, 300 Delavan Ave. An open house will follow.
The Cos Cob VFW Post 10112 will host its annual ceremony – at 10:30 a.m. Saturday, Nov. 4 – at the monument on Strickland Road, across from the Bush-Holley House. Parking is available in the marina lot adjacent to the monument.
For more information about obtaining a Connecticut Veteran Wartime Service Medal, call the Office of the First Selectman at 203-622-7710.
Tags:
Connecticut Veterans Wartime Service Medals
,
greenwich
,
veterans