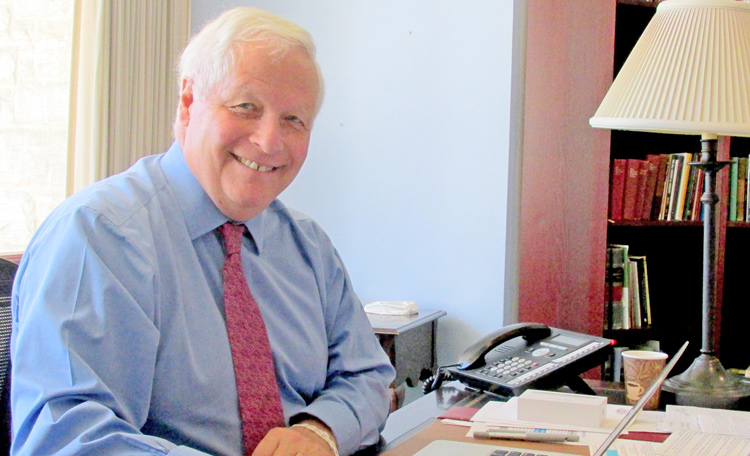 By Anne W. Semmes
Sentinel Correspondent
The Rev'd John Branson, two months now serving as interim rector of one of New England's oldest and largest Episcopal churches, Christ Church Greenwich, appears to easily engage with his congregation, with an ability to communicate openly with his parishioners.
"We are in this together," said Branson. "Their story as members of this parish is my story. I grew up in similar circumstances to the lifestyle here in Greenwich."
Branson indeed is a New Englander, unlike his revered predecessor, Jim Lemler, now retired and returned to his midwestern roots.
But Branson comes with a double vision that seems ever present. "I know full well that there's more than meets the eye," he says of his new flock of sheep. "Our fears and apprehensions are the same. As hard as so many of us are working and striving, there's a foundation underneath all of us, and yet we become so absorbed in the doing that we don't often see or understand that foundation."
Whether or not that foundation comes with faith, Branson's hope is "to communicate the good news."
Branson comes by that double vision in various formative ways. He feels he embodies his late father, a "country doctor" in New Hampshire. "He loved the interaction with his patients," he says, but his father was "not an expert on the emotions." Branson would instead be led by his mother and his faith to "the care of the soul." "And then I married exceedingly well," he says, "I married a psychotherapist. Judyth has showed me how to really truly listen and how important communication is."
The trigger towards his choosing to become a parish priest came in his second year at Yale Divinity School, working in a blue collar Episcopal parish in Waterbury.
"I realized the breadth and depth of parish ministry of being exposed to not only the experience of life and death, baptism and the funeral, but everything in between," he said. 
Instead of being in pursuit of the Golden Fleece – his motif as a high schooler studying the classics at St. Paul's School, he found himself being called by God he says to be a parish priest. "It's just an absolutely fascinating place to explore all the dimensions of faith and the secular world, and the hurts that come from living in families, living in this world, our professional lives."
He'd also been sensitized during his high school summers by working alongside day laborers in New Hampshire, "laborers who dig ditches, pick the apples, plow and maintain the roads."
So, his eyes were primed to that double vision that came to him in his 20-plus years serving the congregation of Christ & Holy Trinity in Westport.
"There were men and women who were in fact the children of Westport," he tells, "but who for various reasons because of their upbringing were raised in families of dysfunction, where there was significant disruption, with medical problems, psychological problems. Having been raised in Westport they still called Westport home."
Branson became a part of an effort by his church and the local synagogue to create an Interfaith Housing Association, a shelter and food bank with social resources. "In those days," he says, "it was one of only four suburban communities in the whole country to have a homeless shelter. "
Branson quickly segues to what his double vision has observed now in Greenwich.
"There is in fact a whole sub-current of folks also in Greenwich who are oftentimes invisible to us who nevertheless call Greenwich their home. Some of these folks serve us – they weed our gardens, mow our lawns, they clean our homes, all that layer of services. They are very much a part of our lives even though we may not at first see them or choose not to see them. Without them our lives would be significantly diminished. We couldn't indeed work the hours that men and women work here in Greenwich without these persons."
Though he finds no equivalent in Greenwich to Westport's Interfaith Housing Association, he praised the Neighbor to Neighbor program that Christ Church developed to respond to the needs of that "subcurrent of folks." "Neighbor to Neighbor feeds 800 people a month, and it works glove in hand with the Department of Social Services here in Greenwich."
Branson and his wife actually retired to North Carolina in 2012 but he can't seem to retire that calling, having since served as interim rector in Lake Forest, Illinois, then Alexandria, Virginia, and lastly at his now home base in North Carolina. He describes North Carolina as "a much more churched state than Connecticut."  "Their relationship to the earth was not that long ago, whether they were growing tobacco or whether they were growing cotton, the agricultural products that sustain their lives. Here, land represents recreation, as opposed to production." Folks in Fairfield County he sees as oriented to New York City. "It's the urban pull."
Branson's present assignment at Christ Church is an open-ended one, he says, "a year or a year-and-a-half or 13 months or something like that. When Christ Church calls their next rector will be the time my wife and I will slip out the back door." But hopefully, not before spring as that's when their Westport-based daughter is getting married. And who knows if this will be Branson's last calling, at age 69. "I love parish ministry," he says. "It's such a privilege to walk the walk of faith in people's lives, when we're joyous and happy, and especially when we're less so, when we're confronted by illness, and crisis of various types, and of course of death itself.  It's a great privilege to offer the good news in those times and occasions."
Postscript: On Saturday, Nov.4, Rev'd John Branson will lead a half-day retreat of "quiet and reflection in preparation for Advent and Christmas" featuring poet W. H. Auden's prose poem, "For the Time Being; A Christmas Oratorio," a retelling of the story of the Nativity with "fascinating insights." From 9 a.m. to 1 p.m. at the Tomes-Higgins House. For more information, call Christ Church at 203-869-6600.