October 20, 2017
Column: How's Your Neighborhood Doing?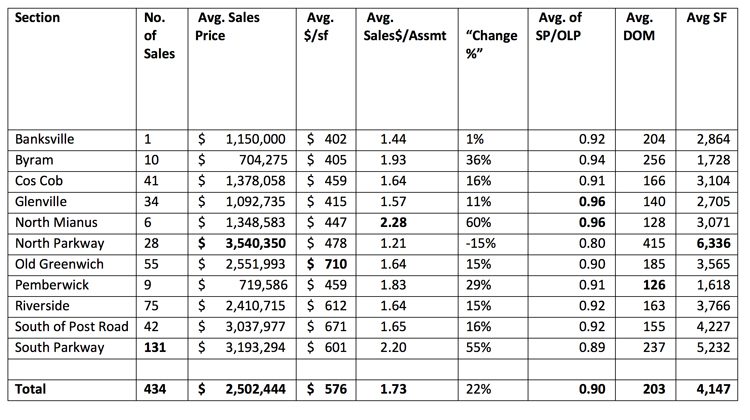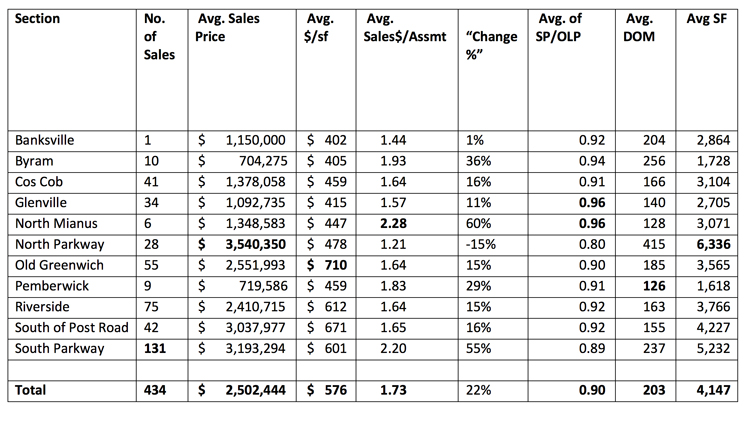 By Mark Pruner
If you look at the sales year to date some interesting numbers emerge. As of the end of September we had 434 sales down slightly from last year. The most sales were in the South of the Parkway area that runs from the Parkway all the way down to the Post Road so you would expect that area to have the most sales. The second and third most were in Riverside and Old Greenwich which are seeing a disproportionate number of sales given the number of listings.
North of the Parkway still retains the highest average sales price at $3.54M, but it also has the lowest appreciation (actually a depreciation of 15%). The way the appreciation is calculated here is to take the sales price and divide it by the assessment and then divide that by 0.7 (the town's assessment ratio).
The assessment is supposed to be 70% of the fair market value of the property as of October 1, 2015. So, what we are looking at is two years of price changes in the "Appreciation" column. Whether you have a low appreciation or a high appreciation you need to take these numbers with a large grain of salt. According to this calculation houses that sold in North Mianus have appreciated 60% since 10/1/15 and they have not. First off there are only 6 houses that have sold in North Mianus this year and second and most importantly, these figures also include new construction and major renovations which throws these numbers out of whack. A better way to look at this "Appreciation" is to use it as an indicator of where the most activity is.
One way to see if this appreciation/activity number is in the ball park is to look at the sales price to the original list price. So far this year, Glenville and North Mianus are seeing houses go for 96% of the original list price. At the other end, North and South of the Parkway are both under 90% of the original list price.
Pemberwick has the fewest days on market and also the next to lowest average price, which you would expect to go together. Pemberwick also has the smallest average house size at 1,618 s.f. Backcountry, as you might expect is at the other end of square footage with the average house there being 6,336 sf.
Mark Pruner is a Realtor with Berkshire Hathaway and one of the five members of the "New Team" at BHHSNE. He can be reached at 203-969-7900 or mark@bhhsne.com
Tags:
greenwich
,
Real Estate