October 16, 2017
Already Thinking Hockey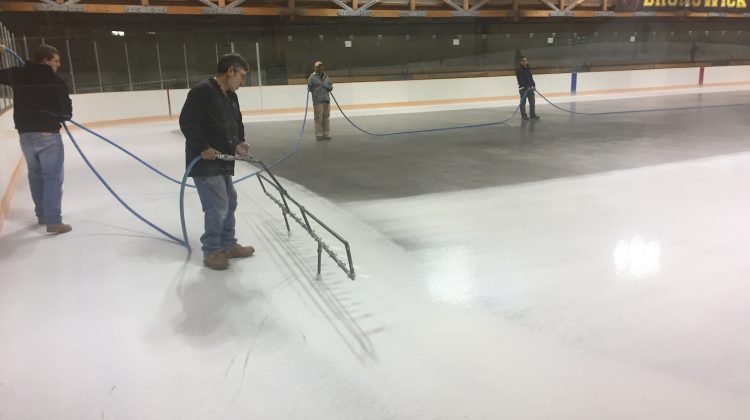 By Richard Kaufman
Sentinel Reporter
Oscar Miranda sees the irony of it.
As a native of Colombia who came to the United States when he was 16-years-old in Dec. of 2000, he often tells friends the only ice he had ever known was the kind he got in his beverages.
Now, Miranda is heading into his seventh season as the ice-maker for Brunswick School's Hartong Rink. He went through three courses and became a certified ice-maker around 2009.
"I have met a lot of people from the industry, and I think I can probably say that I'm one of the few Colombians that take care of an ice rink which is kind of interesting," he said.
Overall, Miranda has spent 14 years working in the maintenance department for the school.
Every year around this time, Miranda gets that familiar itch. Preparing the rink for skating and hockey season has turned into a labor of love for the maintenance team. Two weeks and nearly 100 hours of work go into creating the ice, which combines equal parts of math, science and art.
"We try to follow what the school motto is, which is doing everything with courage, honor and truth," Miranda said.
The whole process of preparing the rink begins with the removal of the turf from the floor. Underneath the concrete floor are 15 miles of tubes going back and forth. The tubes are connected to heater pipes which are filled with brine water that serves as an anti-freeze.
Compressors are turned on, and the floor is set to 14 degrees, although it's usually left at 16 degrees for practices. Miranda said he has to keep in mind the outdoor temperatures in order to adjust the temperature of the ice. He said the whole setup is similar to an old refrigerator.
Miranda and the maintenance team spend two days spraying the surface with cold water to get about a quarter of an inch of ice down. They then take 200 pounds of white powder paint mix and combine it with water which is then sprayed on the surface twice. More water is put down to seal the white surface in place.
Miranda then uses stencils to measure where the face-off dots, blue lines, red lines and goal creases go. He brings out a big stencil for the center-ice logo. A latex paint called Jet Ice is used for these markings, which are then sprayed down with water to seal them.
Water is sprayed to build more ice, and then Miranda brings out the Zamboni to build even more. The whole process of applying the white paint and painting all the markings takes about six hours.
After Miranda is done building the ice, he uses hot water to maintain it, which sounds like it would be counterproductive. But there's actually a science behind it.
"Water more than 160 degrees has less air on it," Miranda said. "It gives you a better ice, clearer ice, harder ice. Through the season, it's all hot water." The water melts the layer of ice below it, which in turn forms a stronger bond when it's frozen. The water drives off dissolved gasses and limits chipping and cracking.
Miranda makes sure he has at least half an inch of ice above the paint, otherwise the hot water would make the paint bleed.
Building ice is a slow process, and one that Miranda said needs to be executed carefully otherwise the whole surface can be ruined.
"You have to go slow. You don't want to pour water on top of water because you can build air bubbles on it. You want to go slow, let the water freeze down," he said.
Miranda said the hardest part is maintaining the ice throughout the season. He uses the Zamboni, which dispenses about 150 gallons of hot water, to treat the ice, and said he still gets nervous whenever he has to drive during games in front of a big crowd.
"I still get the chills when we have a full house and the kids are chanting. You know it's the time everyone's staring at you. You don't want to make mistakes, you don't want to mess anything up," he said. "It's something I still get nervous about. I want to get in and out and get the game going, which is the most important thing."
Measurements are also taken throughout the season at several spots on the ice to see if there are any uneven spots. If there are, the area gets sprayed with water.
Miranda said that other schools, coaches and players who have played in the rink have commented to him about how good the playing surface is, which is rewarding for him.
"It gives you that satisfaction that we're doing the right thing," he said.
Miranda stressed that ice building isn't a one-man job, but a team effort that brings the maintenance department together.
"We take pride with everything we do around here," he said. "It shows."
Tags:
Brunswick
,
Brunswick Bruins
,
Brunswick Hockey
,
Brunswick School
,
Hartong
,
Hartong Rink