October 7, 2017
Henkel Throws Four TDs as Brunswick Roars Past Kent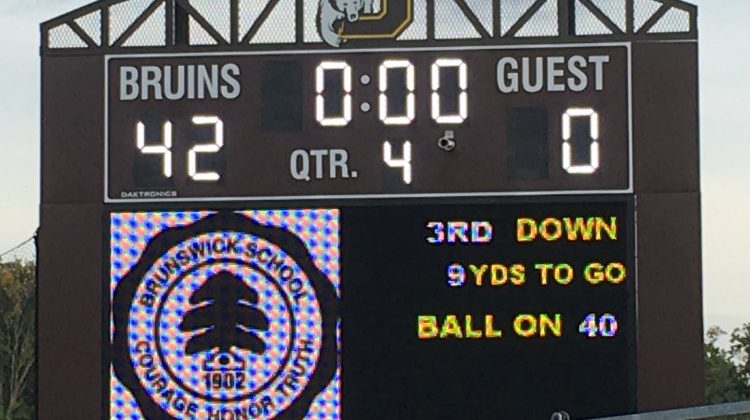 By Rob Adams
After a 35-14 loss to Cheshire Academy eight days ago, the Brunswick Bruins football team needed to rediscover their mojo.
Quarterback Nicky Henkel threw four touchdown passes as the Bruins routed the Kent School Lions 42-0 on Saturday at Robert L. Cosby Field.
As a team, Brunswick remembered how the Lions gave the Bruins all they could handle a year ago. It took a defensive stand and a late touchdown for the Bruins to win, 27-26.
"The kids played hard and bounced back after a tough loss last week," Brunswick head coach Jarrett Shine said. "The played very physical and they played fast – which we talked about all week long."
Things were much different this time, and it began with balance. Henkel, a senior captain, directed a nine-play, 82 yard scoring drive that began with the running back combo of senior Jack Ocken and junior Michael Gottlieb. The duo pushed into Lions territory before Henkel made his first throwing attempt of the day.
"We definitely wanted to come in here and find a balance," Henkel said. "I know last week we got down early so we had to kind of throw a little more that we usually would want to. So this week, being able to start with the run, it was a great mix."
"It was very important," Shine added. "It was very important for us to score on that first drive."
Henkel (10 of 16, 140 yards) tried to hit junior Cornelius Johnson on first down at the Lions 28, but the ball was knocked away by defensive back Alex von Jenna. On second down, Henkel sprinted to his left, stopped, and let fire to find Jack Montinaro in the end zone, who grabbed the high pass. Sophomore Chris Chavez kicked his first of six extra points to give Wick a 7-0 lead.
"We've been itching for a couple of days to have a bounce back game after last week," Henkel said. "We moved the ball well, our O-line did a great job, our running backs did a great job, and we felt like we could move the ball on them."
The Bruins added more of the same on their subsequent three possessions. Gottlieb opened the second Brunswick (2-1, 2-0 Erickson League) drive with a 40-yard burst to the Kent 17. Four plays later, Henkel used a convincing play action fake to roll right and find Johnson for a seven-yard score.
Up 14-0 after one quarter, the Briuns weren't ready to let up. With 2:36 remaining in the half, Henkel threw to Montinaro (four catches, 75 yards), who tumbled over a defender for a 12-yard score. Right before the end of the half, Brunswick struck again, as Henkel ran in from four yards out to push the advantage to 28-0.
Nothing changed in the second half, as Brunswick needed just one play for Ocken (eight carries, 91 yards) to explode for a 55-yard run. Johnson's second touchdown catch of the day – from five yards out – capped the scoring with seven minutes remaining in the third.
Montinaro finished with four carries for 67 yards as the Bruins amassed 182 yards on the ground.
The defense pitched its first shutout since 2015, when they blanked Hotchkiss. Senior Chris Burdick led the way with five tackles and five assists.
"I thought it was a great game by everyone; anytime you hold a team to zero points" Burdick said. "Everyone is tackling well and everyone is playing well and I thought we did a really good job in pass defense.
"We were out there flying."
"Physical, down hill, linebackers played well," Shine added about the defense that allowed just 115 total yards. He specified that a new defense was put in place for senior linebacker Lachlan Rosato.
"It was great for him to roam around the field and make some plays on the outside and up the middle," Shine said.
The Bruins next face Taft, who defeated Brunswick 29-26 in 2016.
"Good team," he said. "We have to be really prepared for them."
Kent School dropped to 0-4, and 0-3 in Erickson League play.
Tags:
Brunswick
,
cthsfb
,
Erickson League
,
Football
,
greenwich
,
Kent School
,
Rob Adams
,
Sports