October 5, 2017
Greenwich United Way's 'Brew Ha-Ha' Set For Oct. 13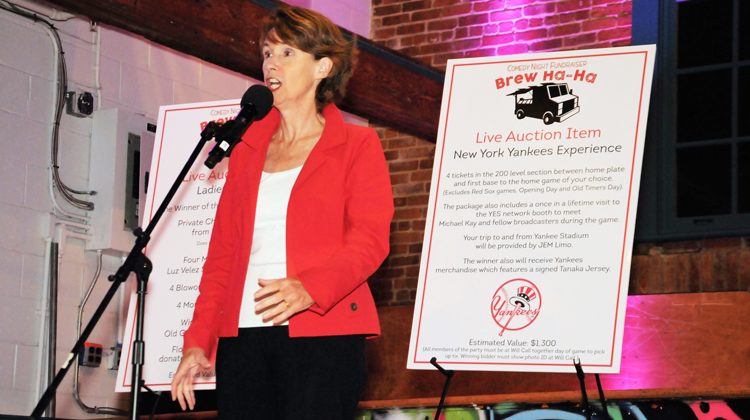 The third annual "Brew Ha-Ha Comedy Night," in support of Greenwich United Way's efforts to identify and meet local human service needs, is set for Friday, Oct. 13, at the Arch Street Teen Center, 100 Arch St. Returning to the stage is celebrated comedian and Greenwich native, Jane Condon, along with event newcomers Andy Pitz and Michele Balan. Patron tickets and underwriting opportunities are now available through the Greenwich United Way website, greenwichunitedway.org. This year's early sponsors include, Greenwich Hospital, Fieldpoint Private, Greenwich Professional Fire Fighters IAFF Local 1042, Deutsch Family Wines and Spirits featuring Redemption, Newmark Knight Frank, Greenwich Magazine – Moffly Media and New England Selfie.
Local celebrity comedian, Jane Condon, is excited to be a part of the event for the second year in a row as the evening's special guest and emcee, saying, "Fasten your seat belts, Greenwich! It's going to be a very funny ride for a great cause!" Condon's comedic style draws from her experience as a wife and mother and often includes politics and other hot topics.
Andy Pitz and Michele Balan are both seasoned comedians who are based out of New York City and are sure to entertain the crowd with their nationally recognized comedic styles.
The event will begin at 6 p.m. with beats by local DJ, April Larken, and bites from food trucks. The Brew Ha-Ha program will begin at 8 p.m. and includes a live auction. The event will also include a New England Selfie photo booth, wine pull with new customized shot glasses, and a silent auction. The Live Auction will be presented by local auctioneer, Jonathan Cuticelli, and will include many exciting donations.
"The 3rd Annual GUW Brew-Ha-Ha gives all who attends a fun and entertaining evening. Funds raised go directly to help the most vulnerable of our community as identified by the Needs Assessment," said Greenwich United Way CEO, David Rabin.
For additional information, please email Greenwich United Way Director of Development, Jeremy Nappi, info@greenwichunitedway.org or call 203-869-2221. Visit Greenwich United Way online to make a donation, greenwichunitedway.org
Tags:
Brew Ha-Ha
,
fundraiser
,
greenwich
,
greenwich united way